Quite horrible, a swarm of Flying Soldier Insects, Termites I suspect, left land in their hundreds, if not thousands and landed on our boat. They shed their wings then tried to take over, it was horrible, some of them were quite big. Most of them died on the deck, a few dozen wished they had kept their wings on as they couldn't get out of the cockpit well, I suspect some found their way inside and went searching for some wood to munch on and make a new home in. This was on Friday evening as we were anchored in Johor Strait, off from a forest/jungle section. I spent the next morning spraying all the non teak wooden surfaces with a borax solution, which should see them off fairly quickly. I'm not going through the new bowsprit route again. I'm pretty confident we wont have any problems though.
We had left the boatyard that morning, and I took these pictures from the boat as we were craned to our launching spot.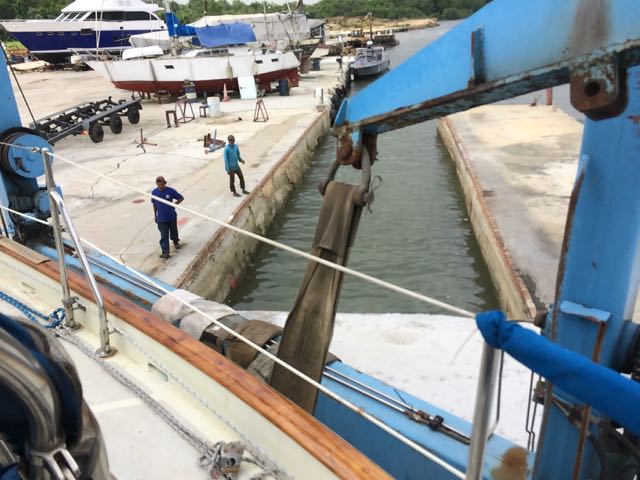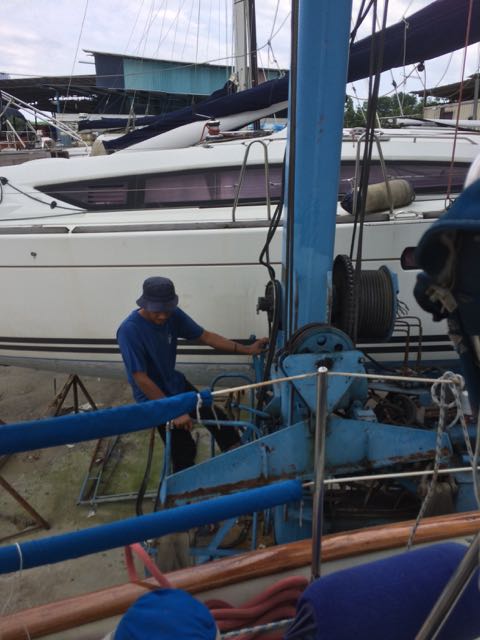 From our anchorage a few hours from the boatyard, we headed off early on Saturday morning to put some distance between us and Singapore, and all the heavy shipping that goes with it. It was busy, but we were able to keep out of the shipping lanes and stay inshore, except inshore has mostly become new docks and oil/gas terminals now, and the charts, even though they are up to date in chart terms, they are out of date in reality. It took about 8 hours to reach Jason Bay, a quiet anchorage just up the eastern side of the Malaysian peninsular. We took these pictures along the way.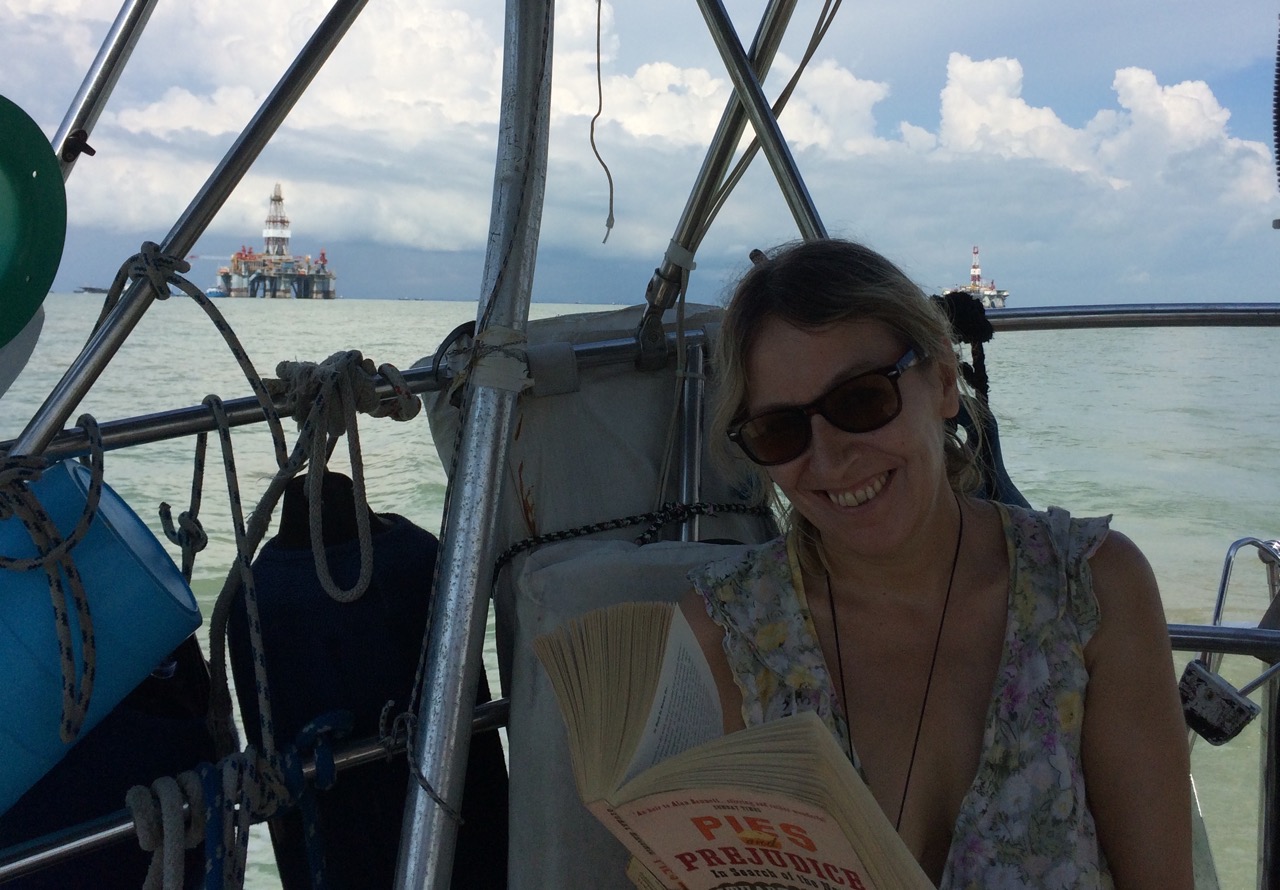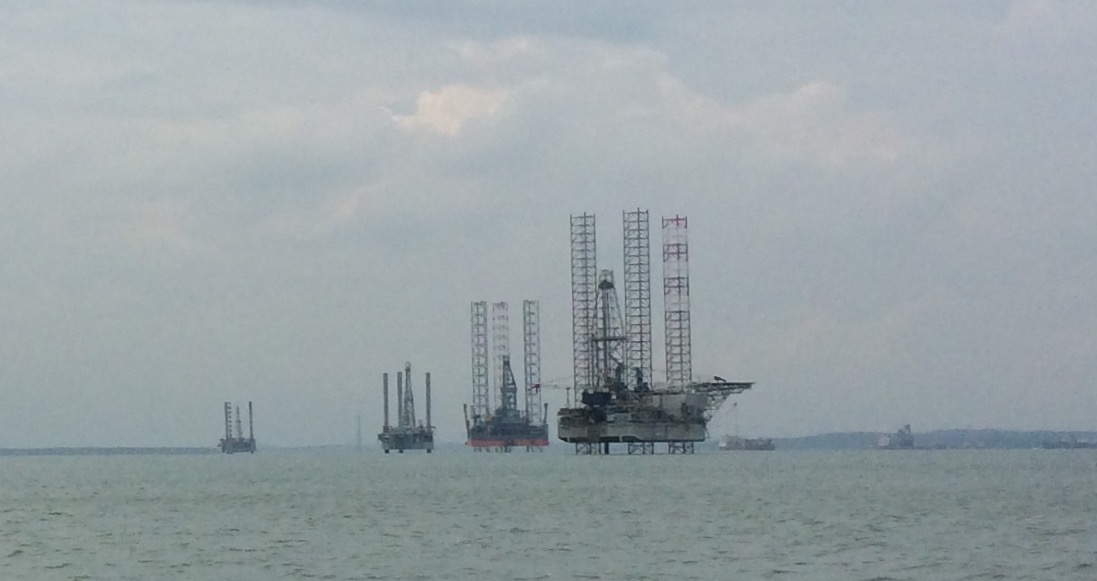 These jack up platforms are everywhere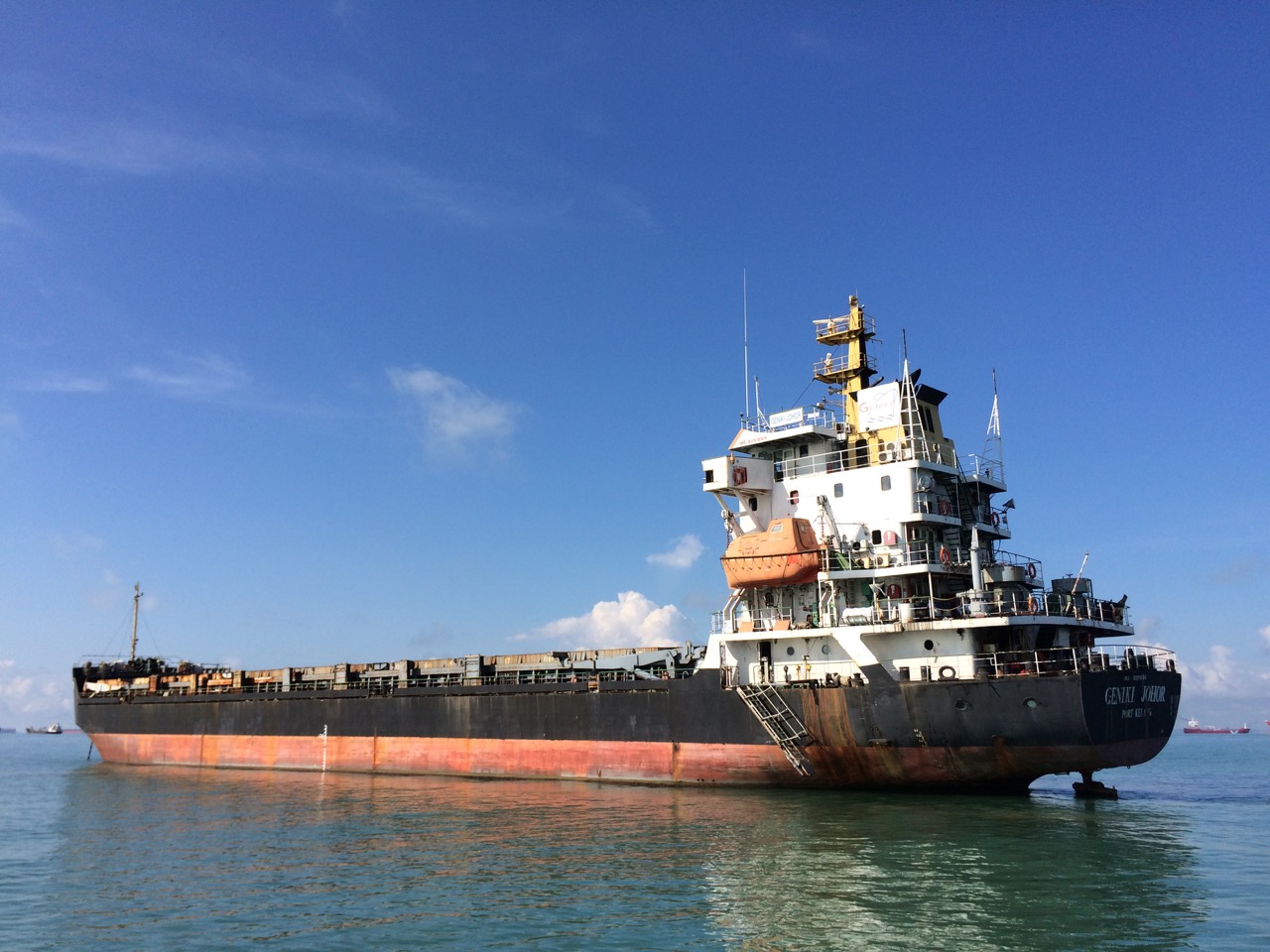 We weaved our way through lots of tankers like this anchored along the coast.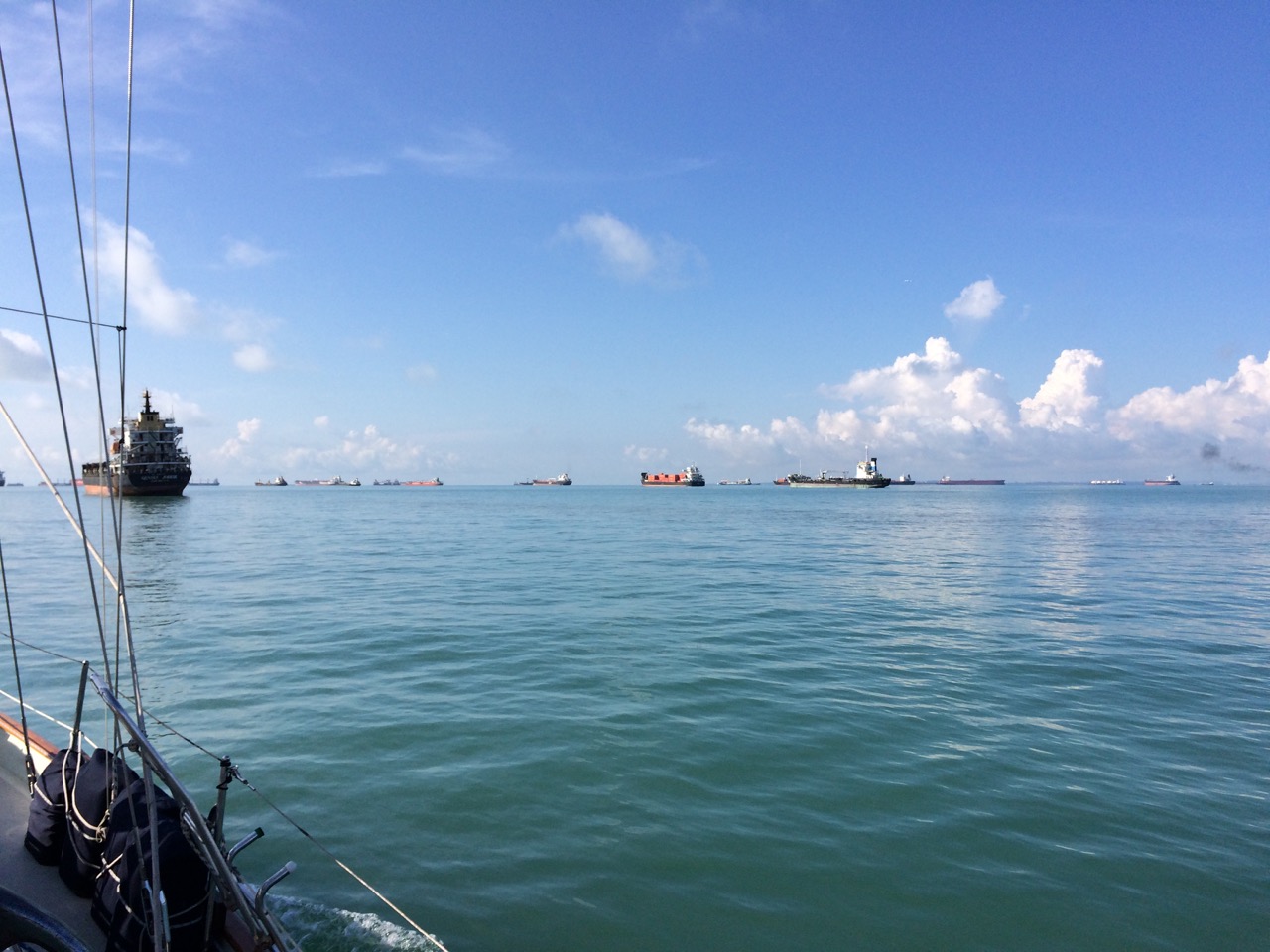 The predicted wind didn't materialise, except for a mini storm in the afternoon. It was mostly overcast and cool, which suited me. Jason bay had nothing special about it, it was just a way to break up the journey to Tioman, however it did provide us with another attack from the shore, this time smaller flying ants, they looked like little flies. They managed to fill the cabin while we had dinner. I had anchored a long way off shore in the hope nothing would get to us. By this morning, the ones I hadn't killed had left of their own accord. I'm hopeful tonight will be bug free, but you do have to accept in this climate, when so close to jungle lined coast, there are going to be lots of living things wanting to join you.
So today we had a little Sunday morning lie in before heading North towards Tioman, we had a few options but settled on a protected area on the southern coast of Pulau Tinggi, The wind had been from the North yesterday and overnight, so I figured we would be safe there from any swell that might have built.
We had only just motored out of Jason Bay, past a dangerous reef, when the wind piped up from the SSE, which was great for us, it put the wind behind us, even though there was only about 10 knots, it pushed us along between 4 and 5 knots towards our goal. The engine went off and we sailed all the way to Tinggi. however the steady southerly built and by the time we reached Tinggi, the waves were getting big, we cut around inside the reef, Kathy Tried to drive us through the reef, and I had to point out that wouldn't work, and a sharp left was made. Once behind the reef it was calmer but not that calm, especially if the wind increased, so we went for my fallback plan, which was a little cove on the north side of the island. Just 40 minutes motor away. Just as we decided that, a squall blew in causing a lot of wind, big waves and poor visibility,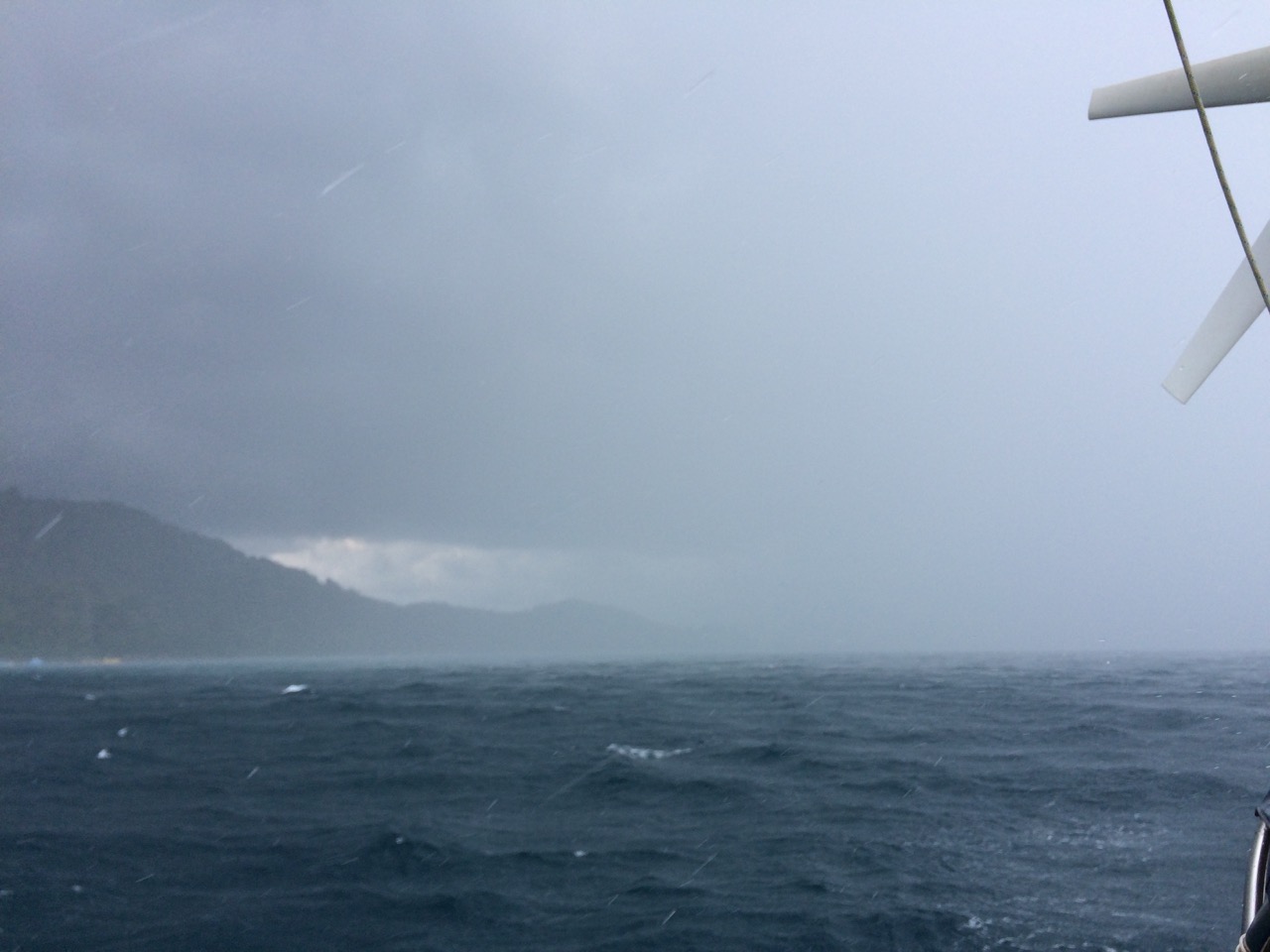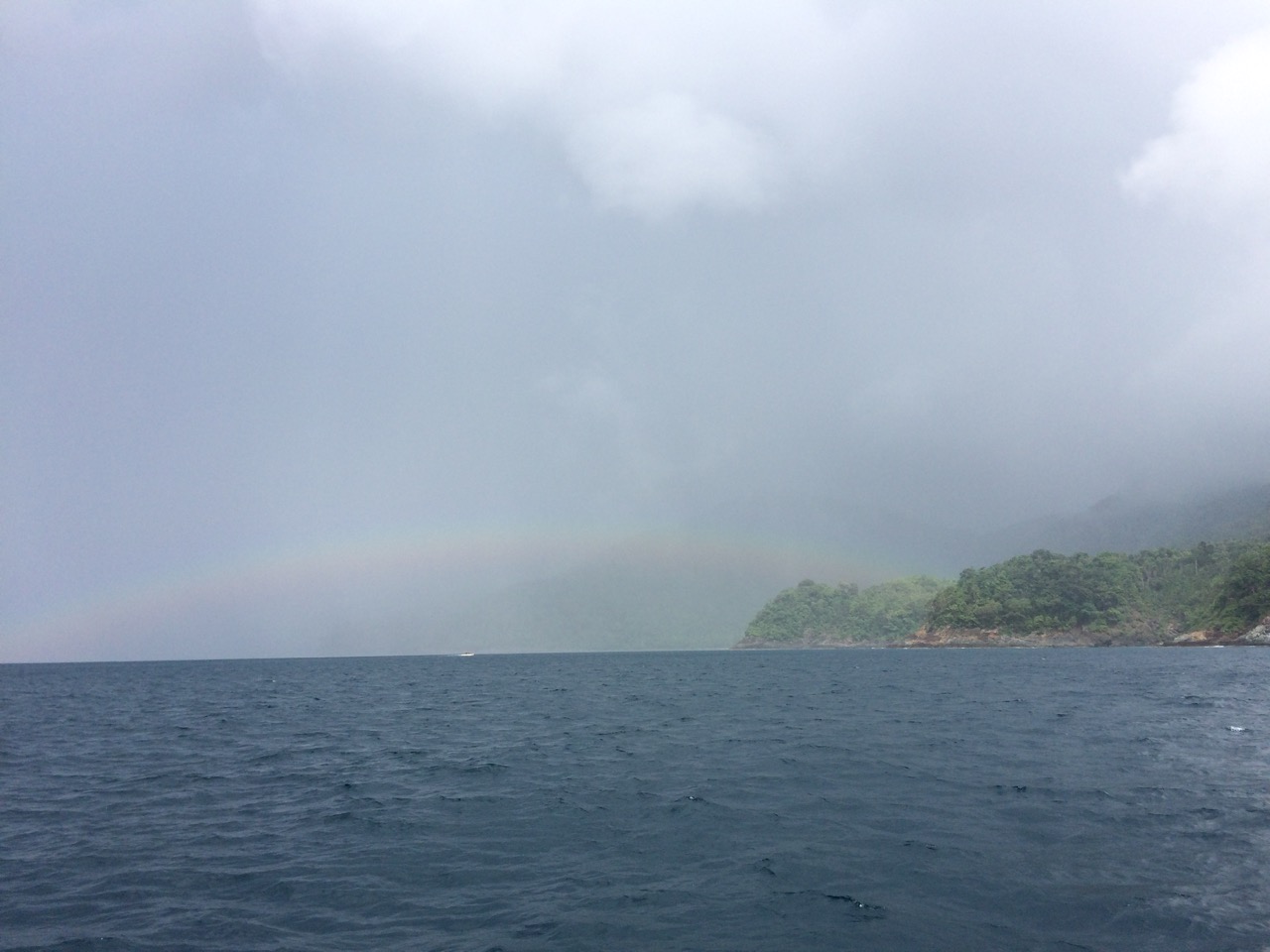 We got soaked, and I just managed to get the electronics (iThings) hidden away before they got wrecked.
There are a lot of little islands, sixty or so, within 30 miles of Tioman Island, I think they are volcanic, but they all make up a national park, the waters are very clear here, there are lots of coral areas, protected by the state, and great snorkeling. So you have to be careful and not anchor on the reefs. I had the GPS co-ordinates of a sandy spot just on the north, were we were heading to, we arrived in this massive downpour, and found the area a bit deep, so we moved just a little further along and quickly dropped the hook in 7 meters of water. The chart had this as being out from the coral also. It didn't land in sand, and as we reversed on it, I could feel the anchor bouncing by keeping a foot on the chain as we backed up. Not good I thought and hoped we would be onto sand any moment, pretty quickly the anchor seemed to dig in and we were set. However back in the cabin sheltering from the heavy rain, we could hear and feel vibration from the chain. I went up on deck, grabbed my snorkel and dived to look at the chain. What I saw shocked me, we were in fact over a lot of coral, not much sand in sight, and the anchor chain was wrapped around a few coral heads, whilst beautiful tropical fish swam all around.  I made a mental note of the convoluted path our chain took through the coral and went back up to the boat to try and get us out, without doing any more damage. It took a while of gently pulling on the chain and nudging the boat beyond some of the heads but we did it. I'm going to be a lot more careful from now on. I then went back to the original co-ordinates for the sandy bit and went offshore from there by about 50 metres until we were in 12 metres of water. I dived, and couldn't see any coral, just a sandy bottom, so we dropped the hook, no vibrations this time, and it set well.
Tomorrow I want to dinghy over to some of the reefs here and have a proper snorkel.
All in all everything is going well, the Cutless bearing seems to be fine, I suspect the engine alignment might be improved on, as there is a little bit too much vibration when I run the engine flat out at 3000RPM, which is not something I would normally ever do anyway.
Tomorrow we will probably head to Tioman where we will explore the island and neighbouring area for a week or so.
Paul Collister