I returned the car to the hire company on Monday, that was typically a Malaysian experience, the young lady who was waiting to take the car off me didn't really speak much English, even though it's compulsory at school to learn English, the Malays have no reason to use the language, and rarely do. They have a few stock English phrases that pop up a lot, like 'No have any', 'can do, and it's counterpart, no can do'. I know I'm generalising here. But this girl looked at the car, without reference to any paperwork and said 'had crash' after pointing to scratches at the front, I pointed out that they were marked on the paperwork when I took the car, the response was, 'already have'. She then pointed out the tank was empty with the phrase 'No fuel', I pointed out the gauge only worked when the ignition switch was turned, which I did and got 'Fuel ok' in return. A final 'Car OK' allowed me to leave and march on to meet Kathy who was spared the ordeal as I had dropped her off at the shopping bazaar, thereby also sparing me an ordeal of endless racks of handicrafts.
I did manage to get a couple of lovely items from one shop which specialised in timber products, especially with the local hardwood. I'm now worried that I didn't check the source of the wood, I'm assuming it's from a renewable source, but who knows, probably customs at the airport do 🙁
I also took a couple pics around town.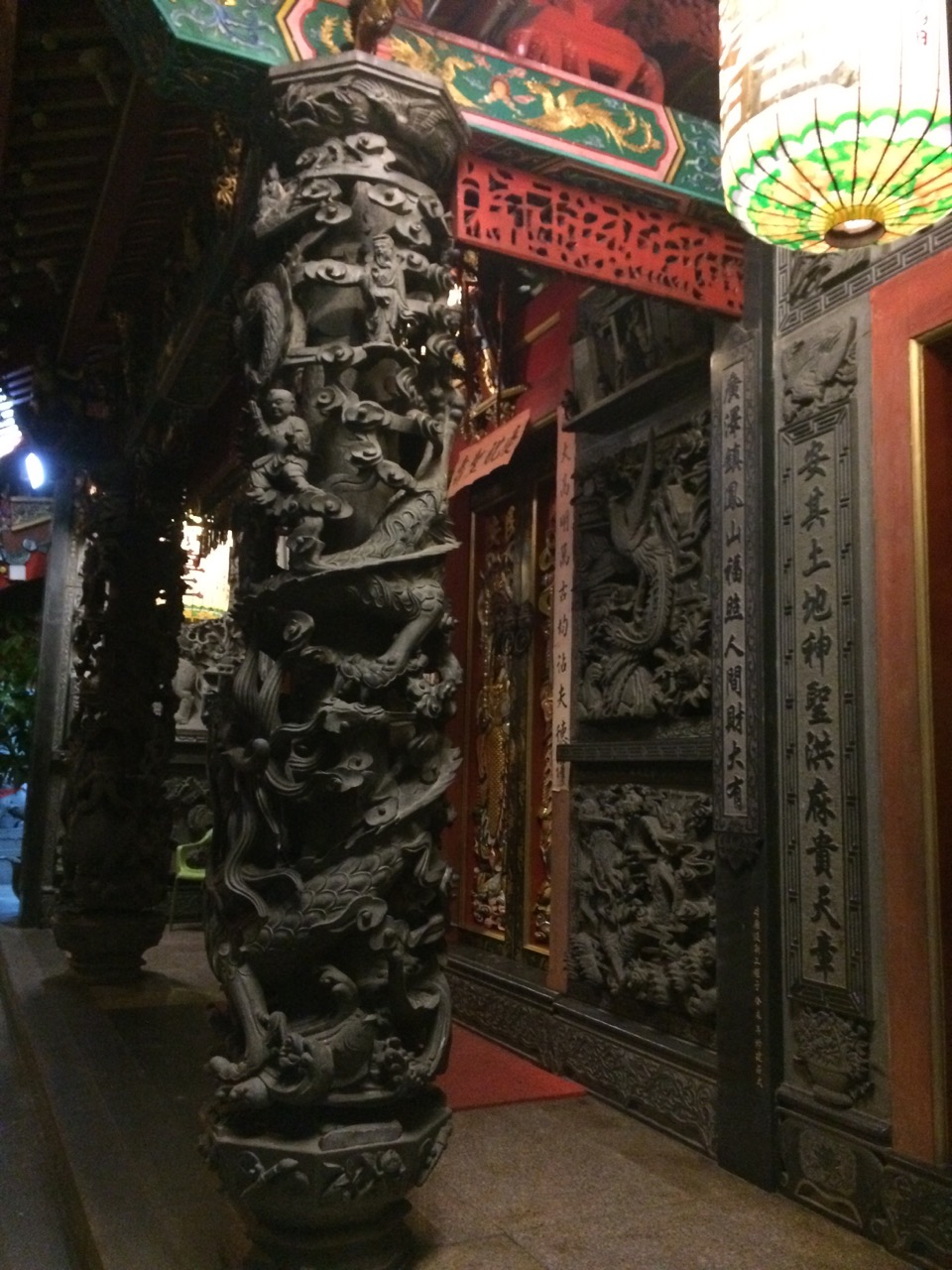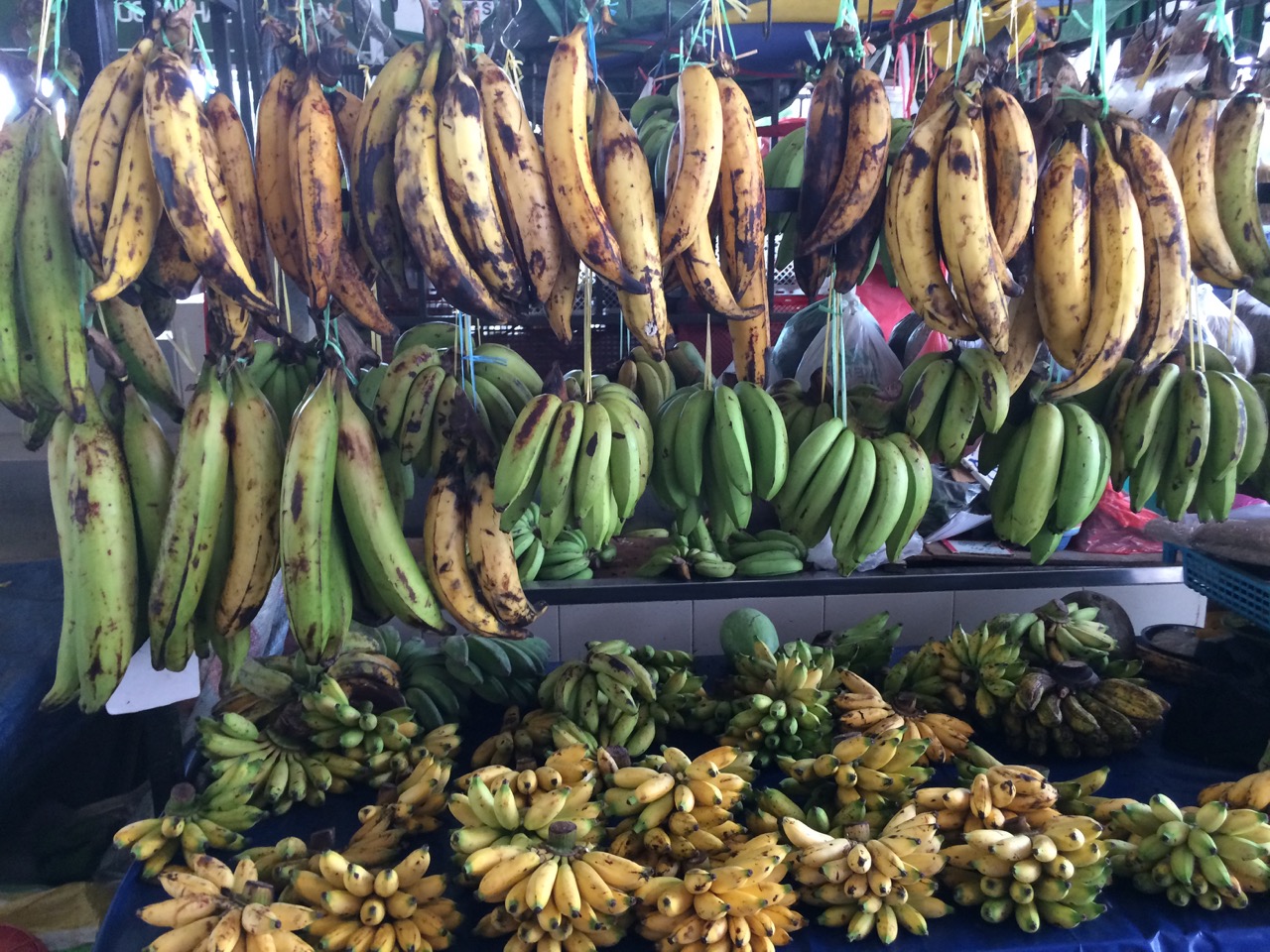 Kathy seems to be perfecting her bread making technique, just lately she has had a lot of success. I had wondered how many bad loaves I would need to produce before she took over 😉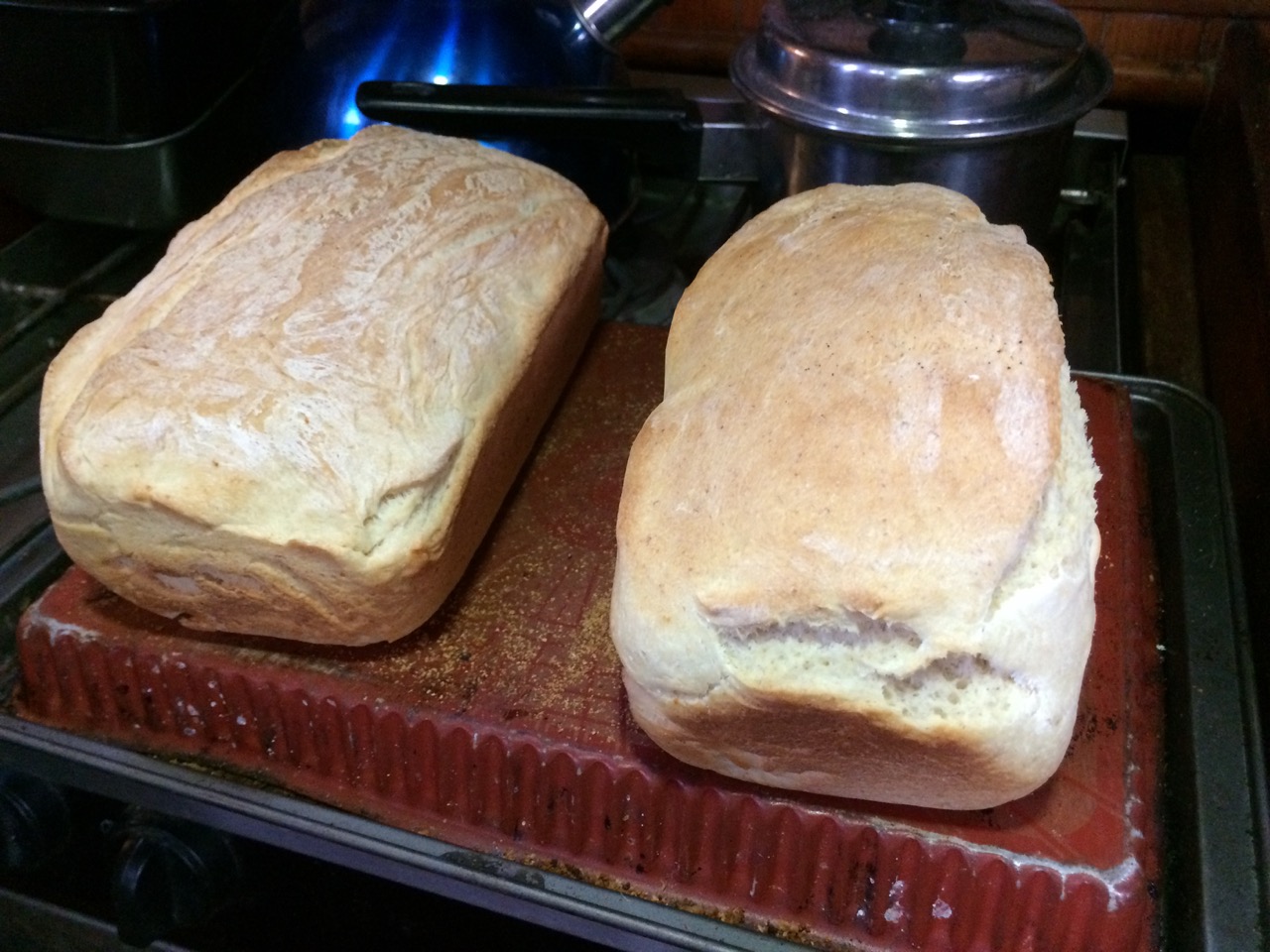 Tuesday-Thursday were spent on the boat doing chores, reading, sleeping and generally being lazy. I got a coat of varnish on the starboard cap rail, as this was flaking, so the previous 9 odd coats had lasted me through the year, but really it needs a new coat at least monthly, so theres plenty to do in Miri.
I think it was Thursday I looked out of the window and saw a branch of a tree, which was a little worrying, closer inspection revealed a tree was wrapped around the boat. I poked it with a boat hook, but it wasn't budging.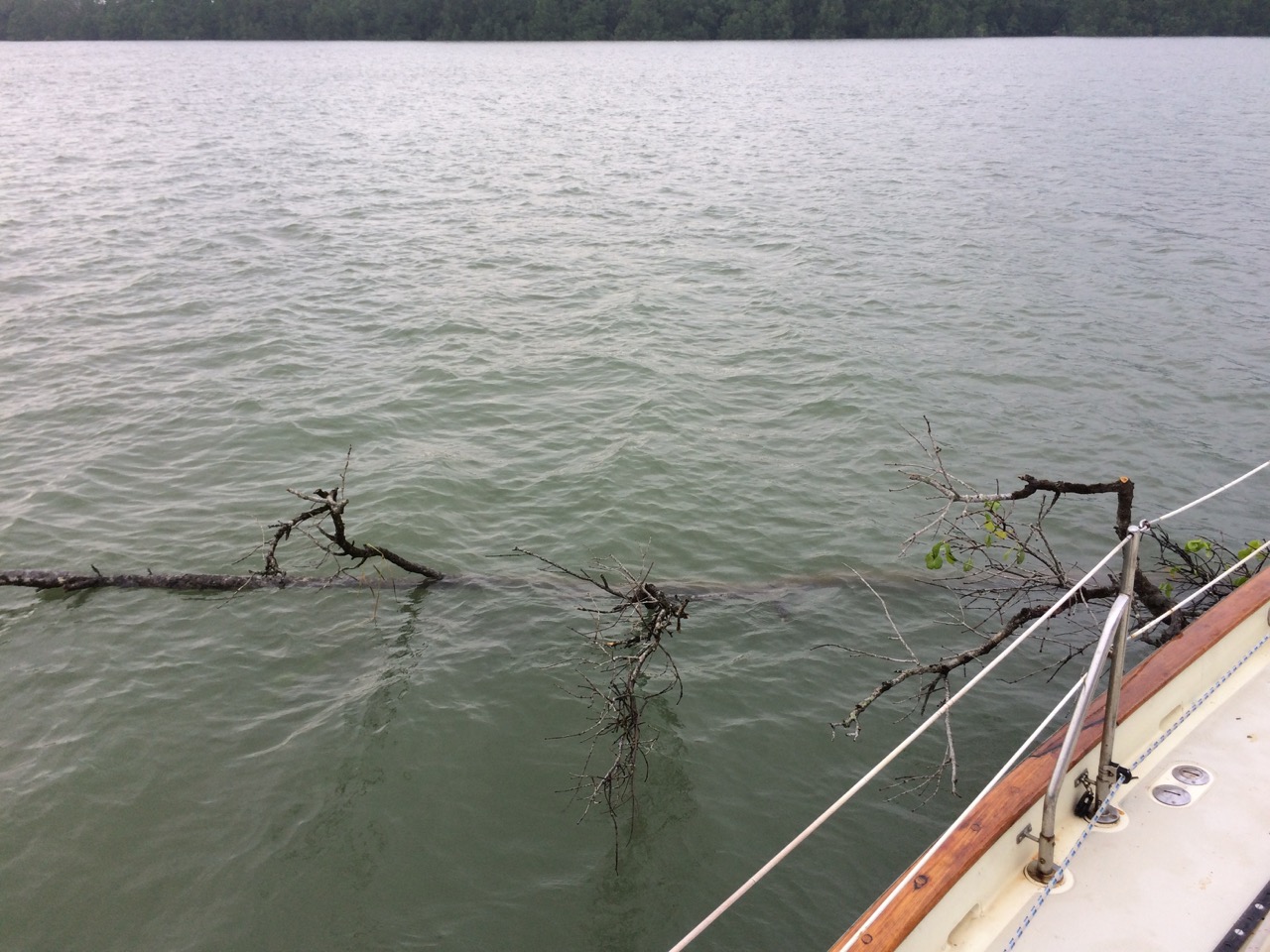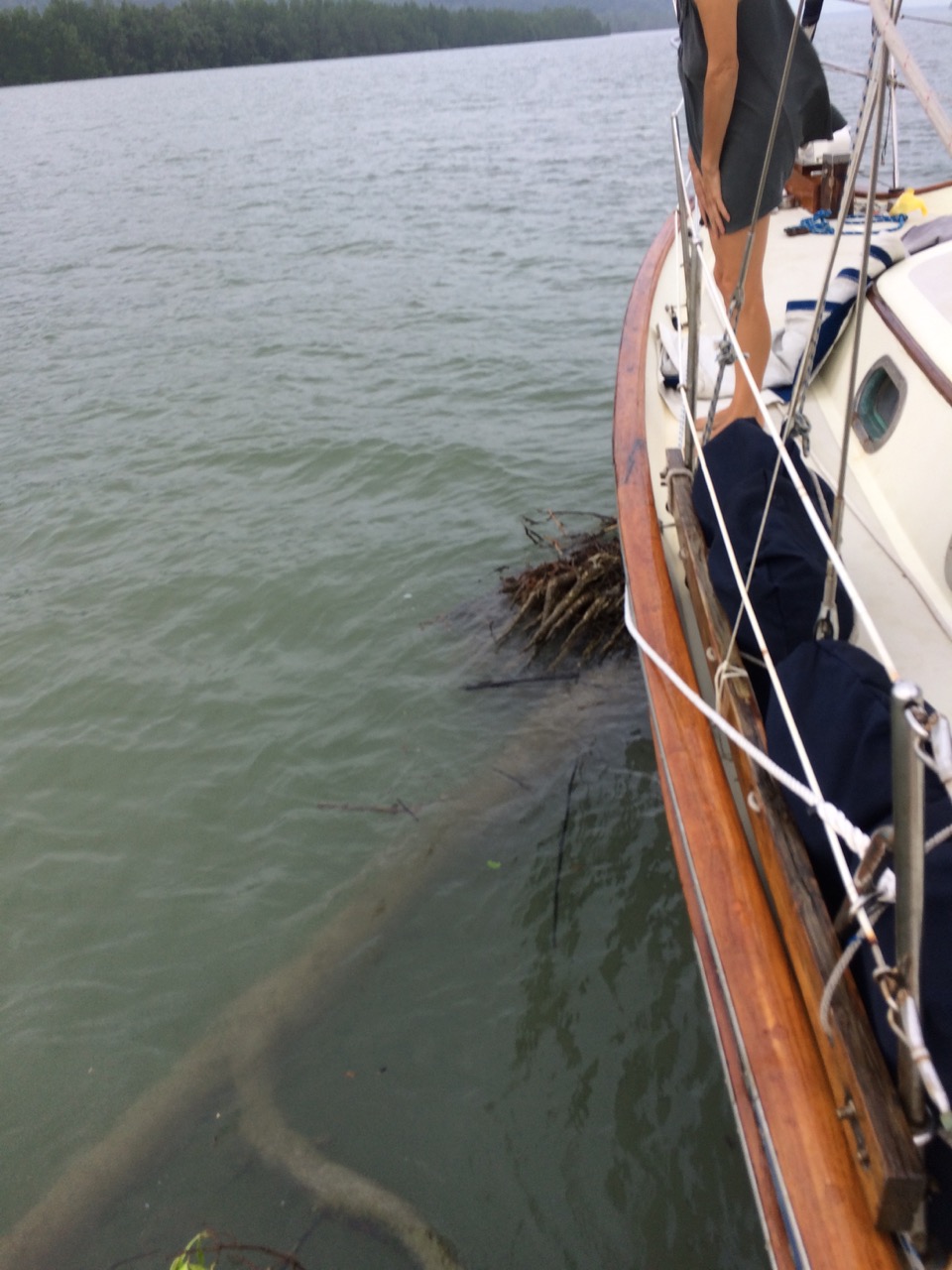 It had got caught in our anchor rode, in fact it was the rope snubber I had put out the night before that had snagged it. Which in a way was good, as I could just undo one end and it slipped through the tree roots and the tree took off at quite a pace. It was only when I realised it was making a beeline for the two fast police motor launches just upriver from me that I wondered about my timing. Bother, still it took a turn to the shore just before them and went into our little set of pontoons and then aground.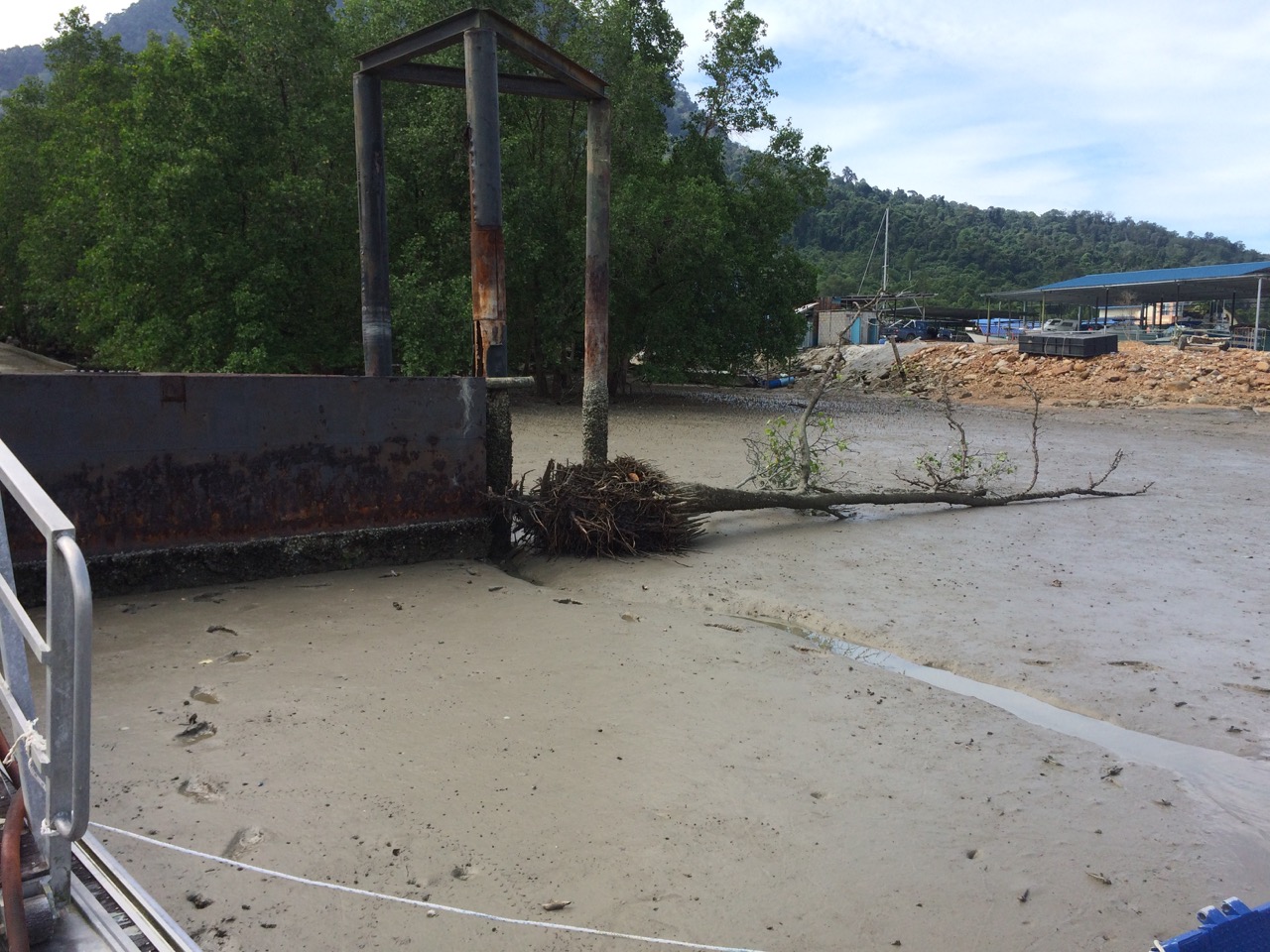 I had heard about this happening to other boats, and wondered why I never saw any trees even get close to us. I think this is what they call getting experience. I expect there to be a bit more touching up to the hull to be done now, what with the ferry imprint and the gouges from when I had the pre-purchase haul-out.
Another yacht, a GibSea arrived on Thursday, skippered by a young lady from Lausanne, Switzerland, coincidently, the home of the company I do the odd bit of work for. Small world. She had arrived to go to the Rainforest World Music Festival (RWMF). They anchored just up the river from us and came aboard on Friday morning before they headed off to the festival. It was nice chatting, she had a dream to sail a yacht around the seven seas, and had come to Langkawi a year ago and bought the boat at Rebak, something I would recommend to anyone with a similar dream. Rebak and the area has a lot of great yachts desperately in need of new owners, and there are some great bargains to be had. Off they headed to the festival, her male friend who was visiting, didn't seem 100% cool about the crocodile news we gave him.
Later we went ashore and started the 1 hour walk to the festival, I didn't think it would be difficult to get a lift, and if that failed an Uber, or GRAB, which is the Malaysian version was an option. Sure enough a charming young Indian couple stopped almost as soon as we hit the road and offered us, not just a lift to the festival, but cold beers to drink on the way!  Once we go close to the festival site officials sent us off down a side road to park, by the time we got to the park, we were almost as far away as when we started, however it all worked out once we got a spot, and we walked the final 5 minutes to the entrance. There were no queues, in fact despite quite a decent attendance, the place felt spacious and everything was available without a wait. They even had wine for Kathy, but given this is Malayasia, don't chose this country to become a wino, unless you are very rich.
The festival is held on the site of the cultural village we had visited a few days back, so we knew our way around. It comprises of two main stages, were the bands alternated during the evening, and in the day there were performances by regional/cultural artists in various buildings around the site. A lot of the traditional houses were host to workshops or performances during the day. I particularly loved the various groups that had kept their traditions alive with exciting music and colourful costumes. They seem to have such a rich and until very recently, alive culture. It made me wonder if we don't have any more to our culture in the UK in the way of dance and costume and rituals, than the somewhat sad Morris dancers I have seen. Kathy reminded me that we had Maypole dancers once, but that is going back a long way. The performers seemed to genuinely enjoy putting on a show and loved working with the audience, getting them onstage and performing the moves.
I have come to realise that the Sarawakans, and I'm sure the rest of the inhabitants of Borneo have a very rich culture and a fascinating history, which I plan to explore as much as I can. I think there is a very distinct difference between the Malaysians from Peninsula Malaysia and Sarawak/Sabah.
There were all the usual stalls you might expect selling t shirts and merchandising, some excellent craft shops, and government sponsored stalls about things like biodiversity and rainforest preservation. There was a stall promoting synthetic oils, of the engine, rather than massage type. This seemed odd to me, but I was temped to visit, as I have a need to buy some oil for the boat and had wondered why people say I shouldn't use synthetic oils, but decided it would be just too odd to be discussing engine oil viscosities and the like at a rain forest music festival. There were lots of regional and national food stalls, I went for a local tribal food, which the man became exasperated with trying to explain what everything was to me, the fruit that was part of the chicken dish was somewhere between an apple and a pumpkin, there is no translation, so in the end he told me it was all very tasty and to just eat it and stop asking. He was right.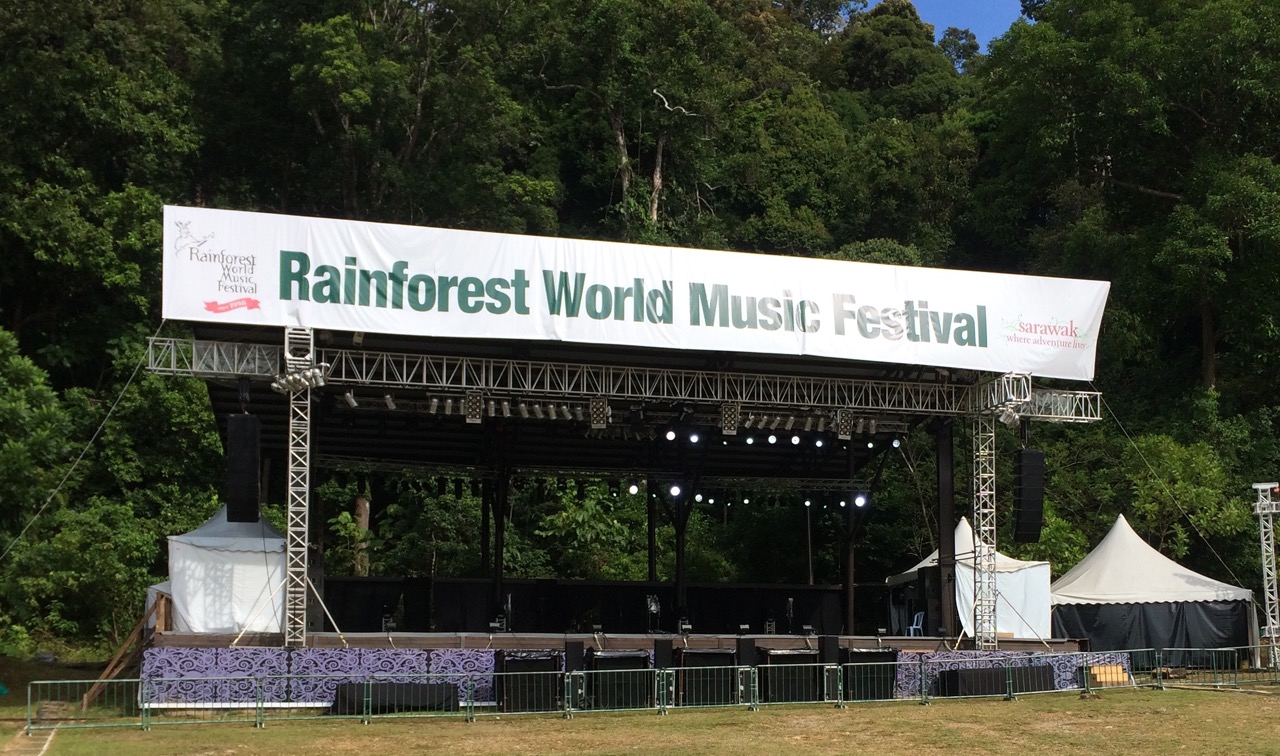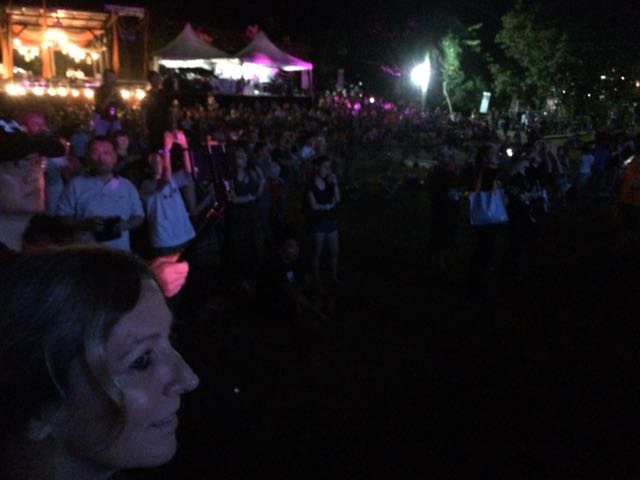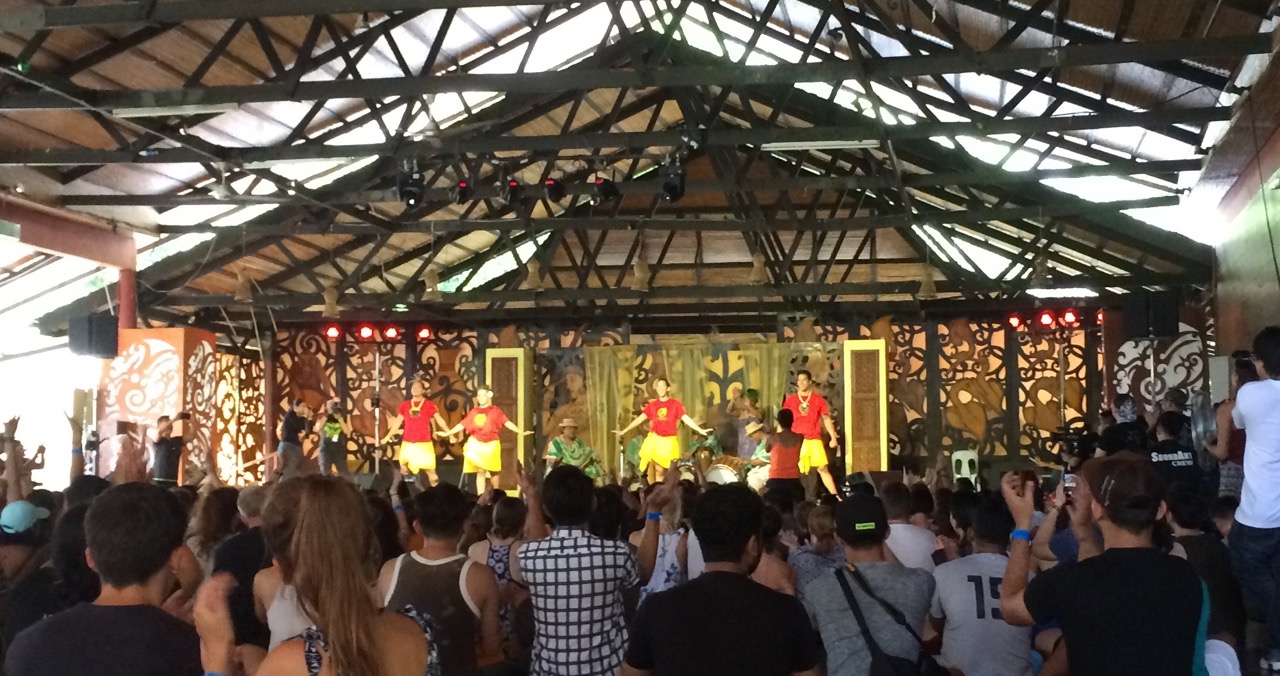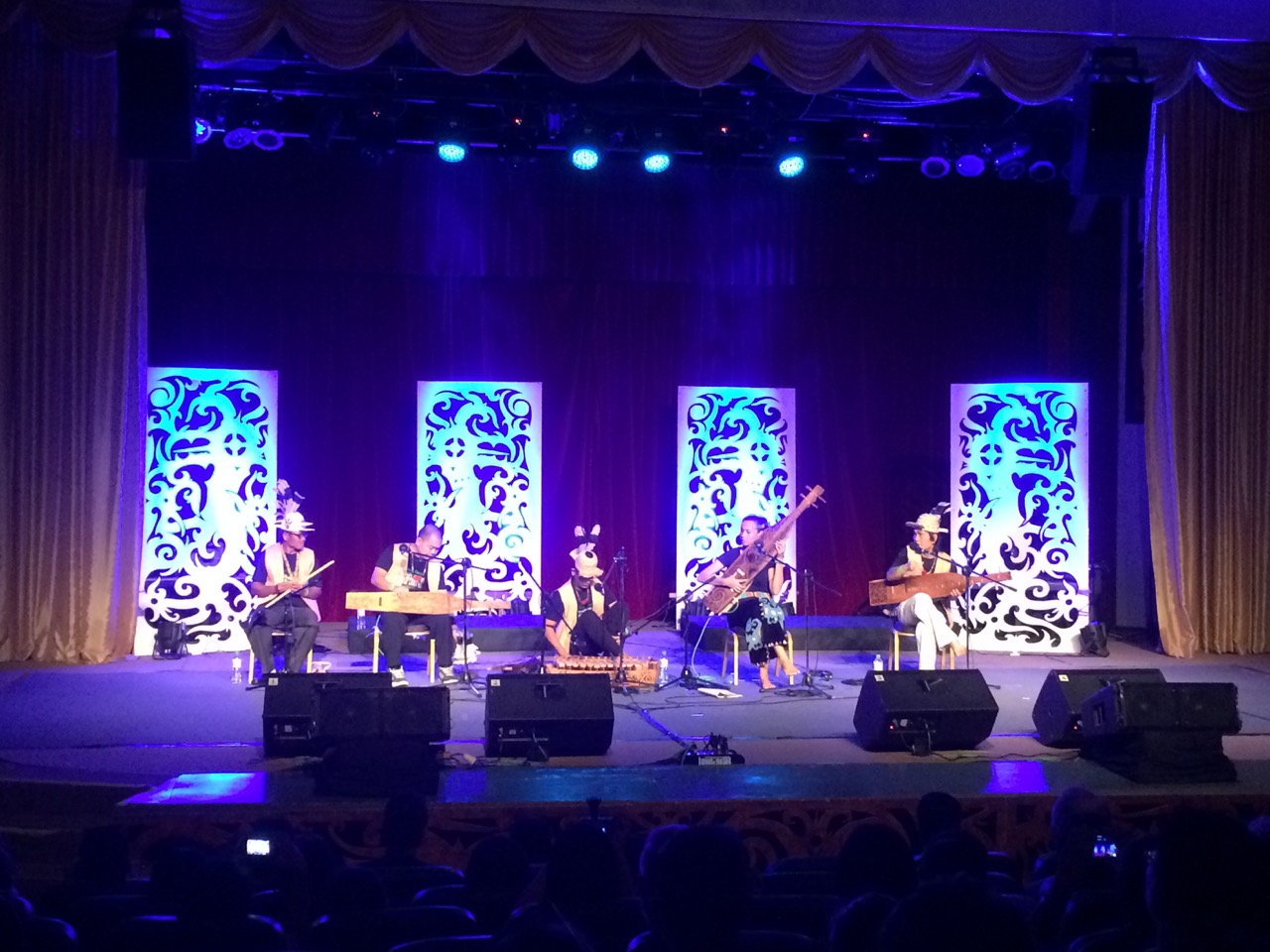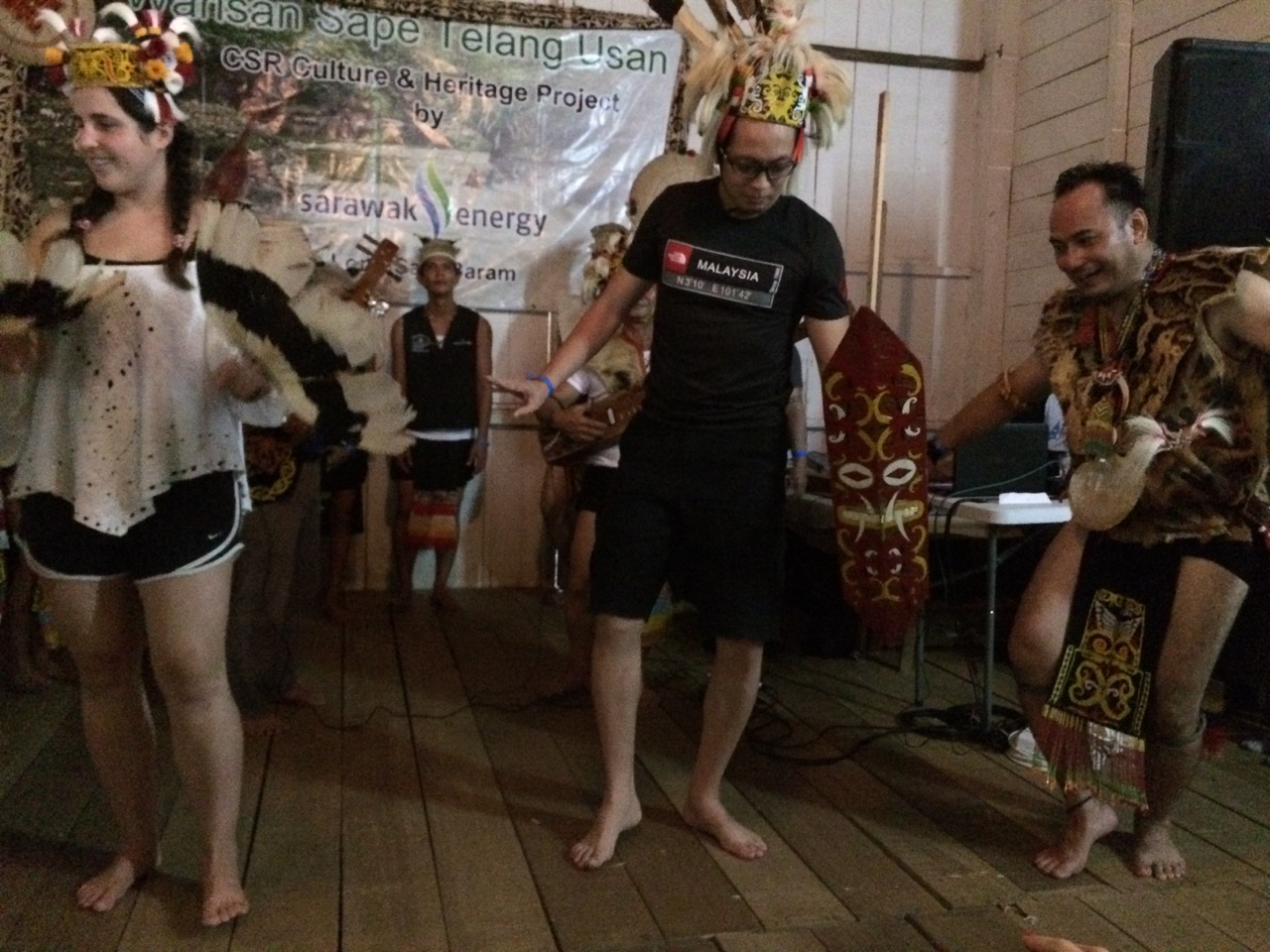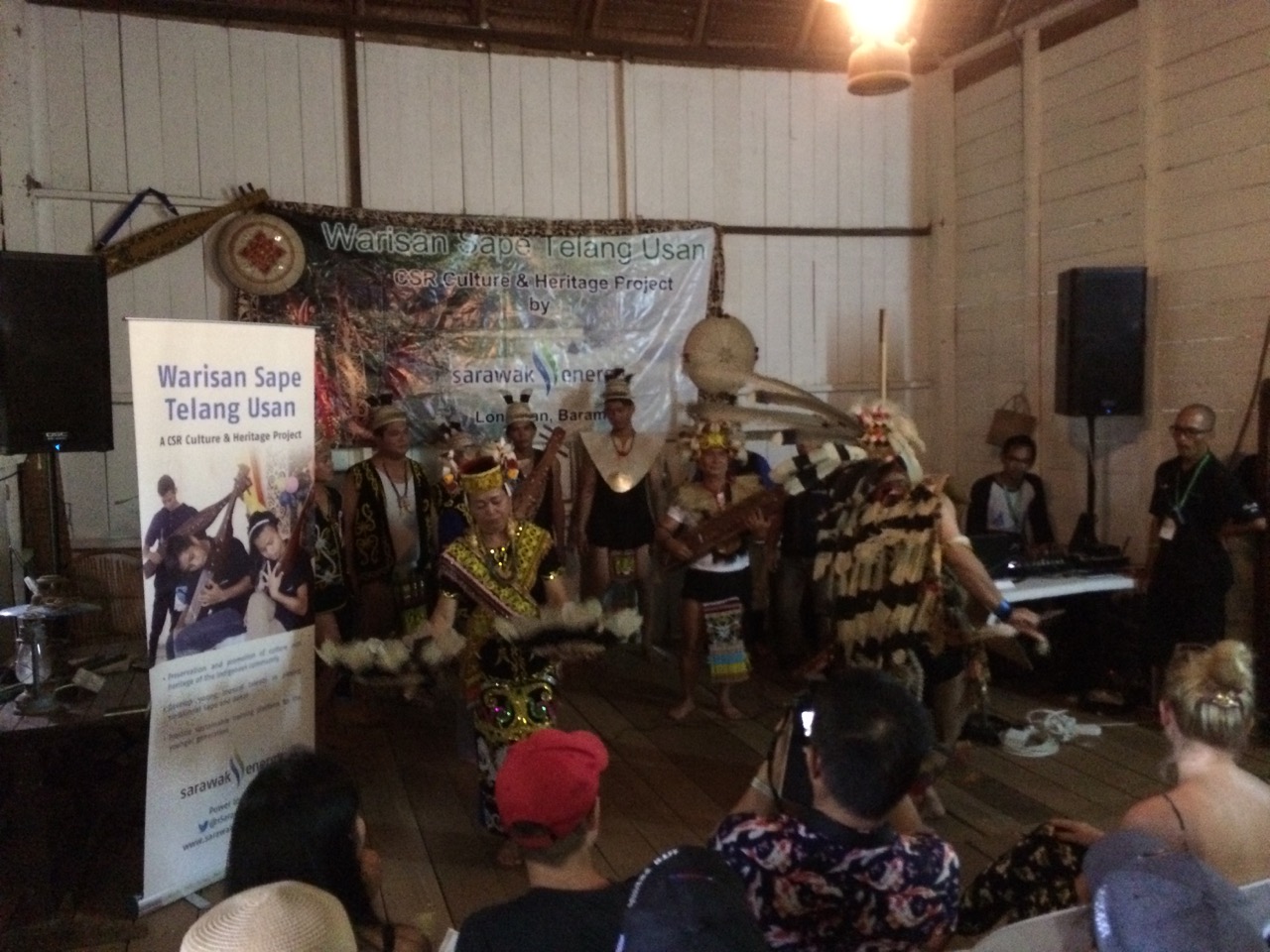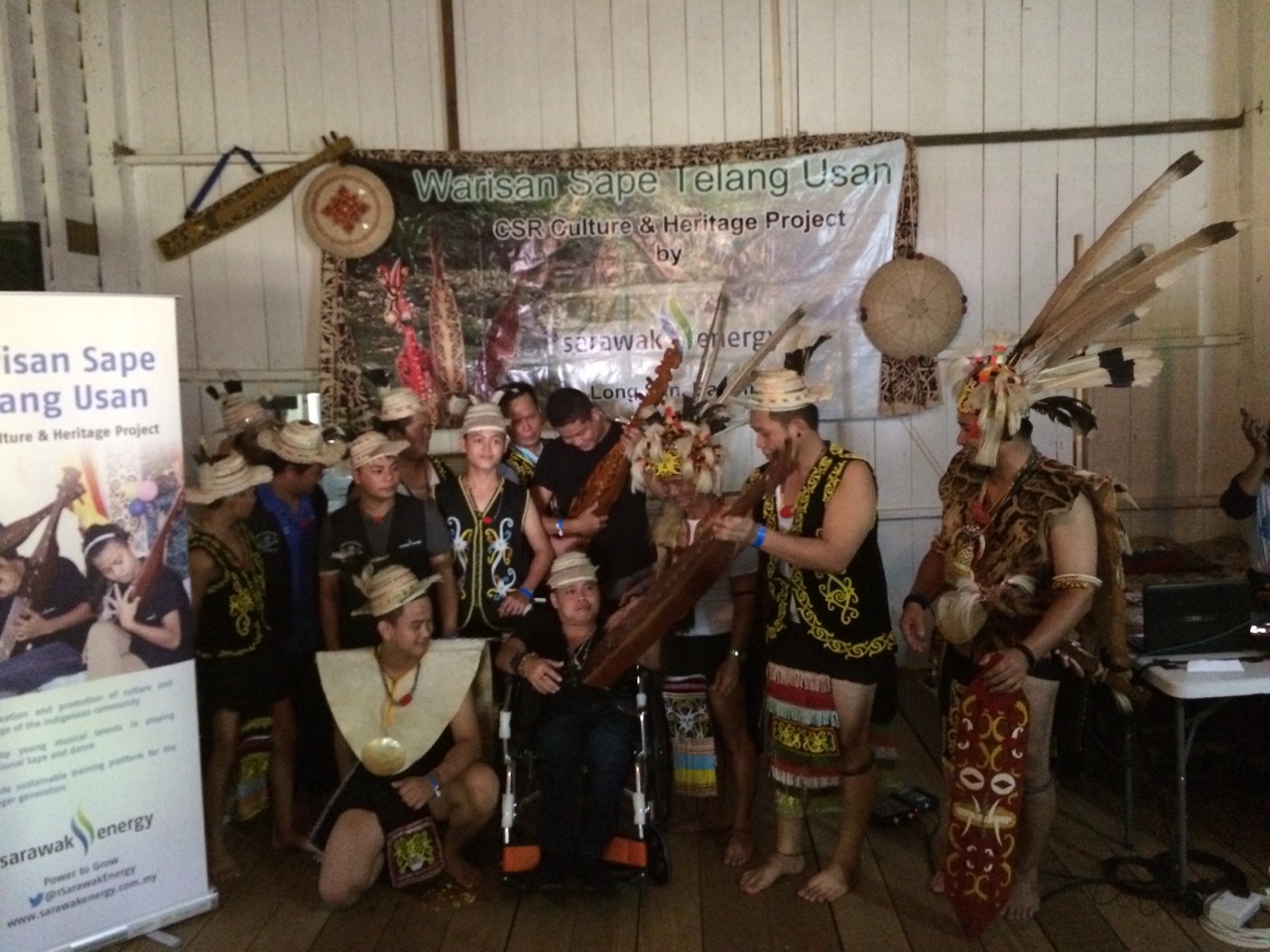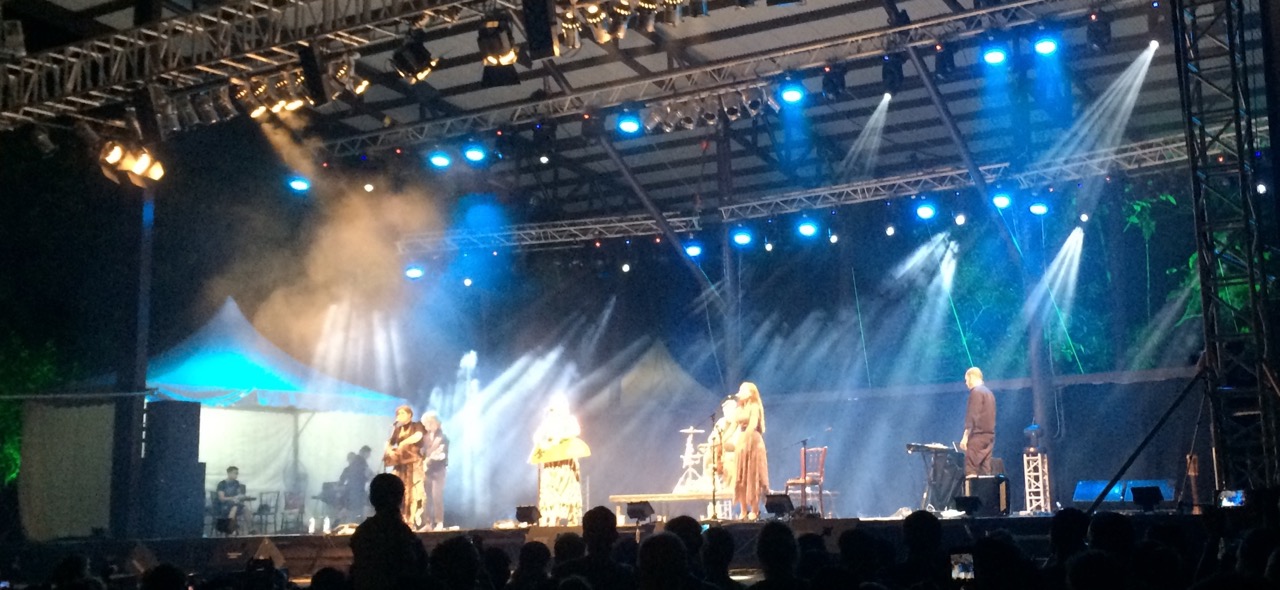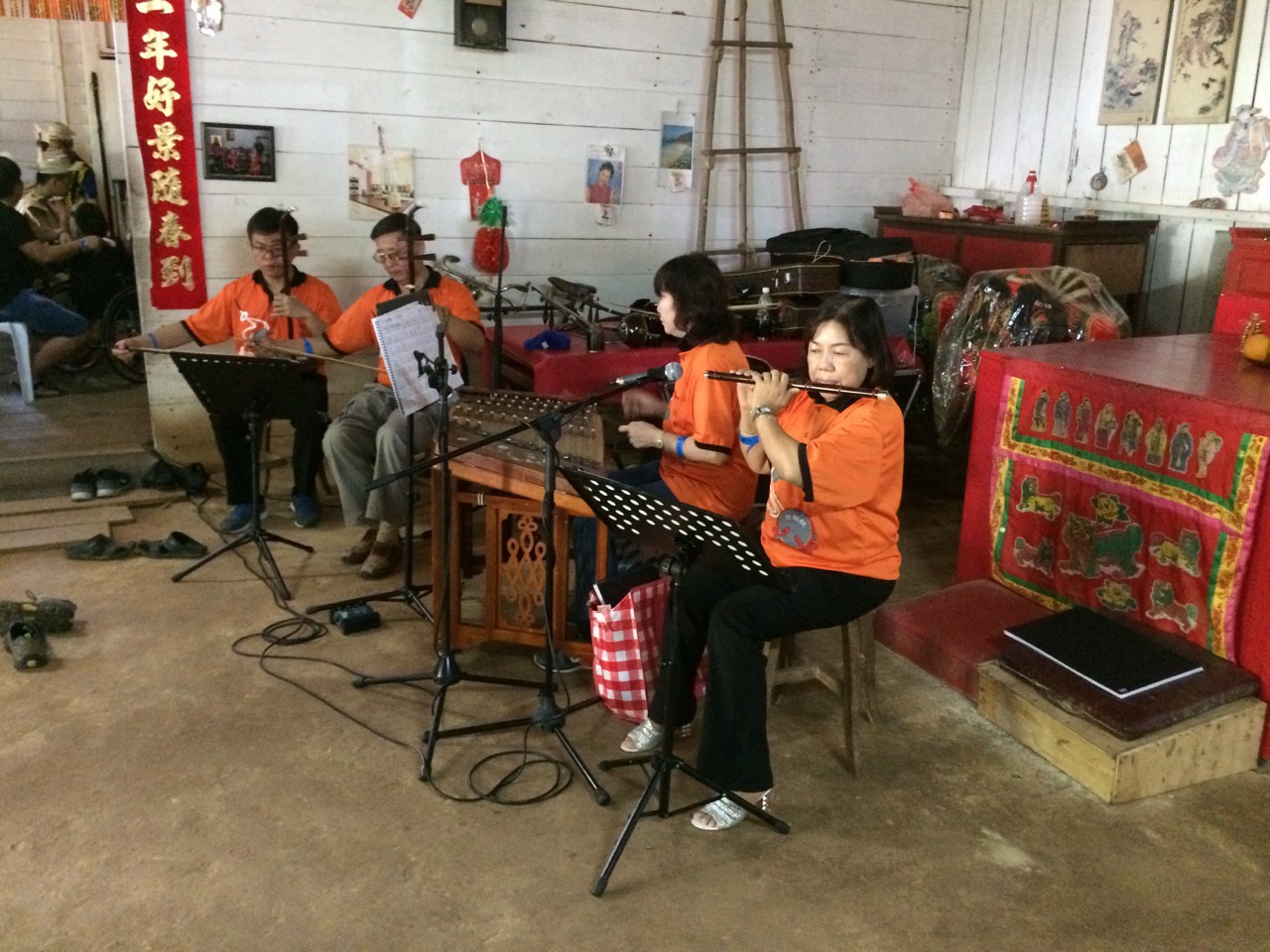 The bands from around the world put on a great show,
but we left before the last band came on, they were an Indian British band, from London, I didn't think Kathy would like them. We were both feeling our age a little, plus we had to be back before low water at about 2AM so we left summoned a grab taxi for the ten minute ride back to the river. I was relieved to see that the dinghy was floating on the pontoon, in another hour we would be high and dry, our options being to wait about 6 hours on the pontoon for the tide to return, or wade through crocodile infested mud in the dark until we were in deeper water. The video below shows how lively the Mud is here, so lively that there is no way Kathy would go in the mud, I could drag the dinghy to water, then carry Kathy across, but I might slip, and the screaming that would then ensue might be too much for the residents of Santubong.
Today (Saturday 5th July) we upped anchor, along with quite a bit of organic/fishing line debris and motored out of the river. The chain had a healthy coating of pre-barnacle growth for it's 2 weeks in the river, yet the prop seemed to work. As we left the river I revved up to max revs to give the engine a bit of a work out, and found we can only get about 75% of our normal speed, so I think the prop will need a good clean soon. We motored, no wind at all, to Pulau Lakei about 5 hours east of here. We tucked behind the island to get away from quite a big swell coming in from the NW, however as always the swell managed to find a way around the island and we have had a rolly day here. We passed this mark on the way into the anchorage,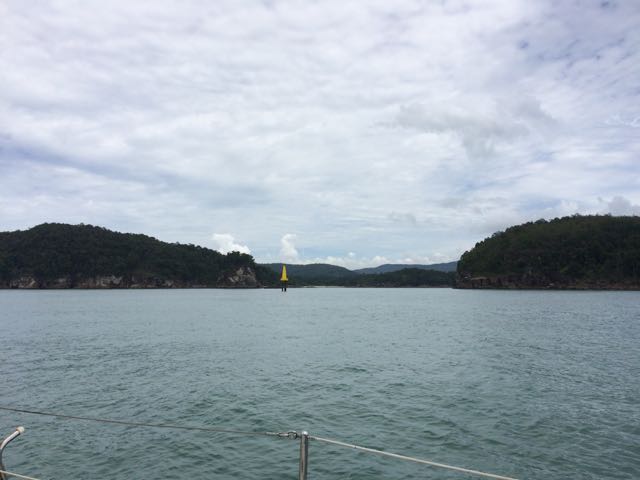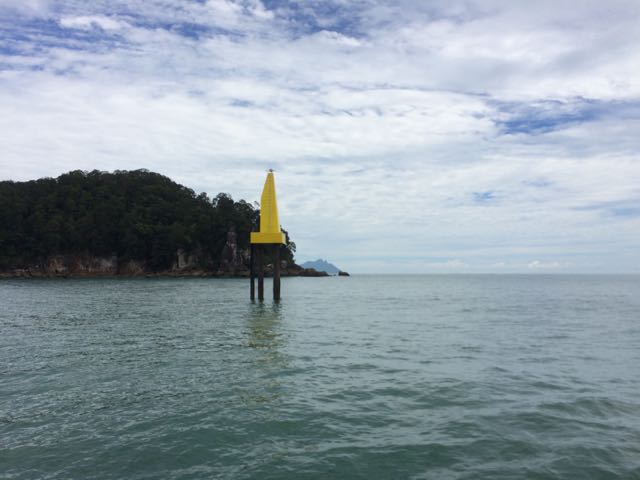 It's not on the chart or any notice to mariners I have seen, so I'm not sure what it is, however I now know it doesn't light up at night, so it's a hazard in itself. It's pitch black outside and we have rocks all around us, it's quite a tight anchorage, and right now all the cliffs around the anchorage are being fished by local boats, Is it Shrimps or Squid they are after? I'm hoping the tide only drops the 4 metres the tide tables say, as that will leave us with about 1.5 metres under the keel at low water at 3:30 AM, I don't want to be woken then with a thump.
Tomorrow we do a 55NM trip over to Sungai Rajang (Sungai means river) where we will took into the first bend in the river. We have just had a strong storm warning come in for the sea area just north of us, I'm not expecting that to be a problem, but it may well send some big swell our way, which make for an uncomfortable passage/anchorage.
Paul Collister