I started on the bowsprit early because the epoxy was taking to long to get hard and sandable on the cap rail repairs, so rather than finish that I jumped into the stripping the bowsprit. This required removing the anchor, then it's chain, as I thought this would be a good time to inspect it all and check out what the little cable ties signified. The PO used an interesting system. After the first ten metres of chain goes out there are 5 cable ties over a few chain links, or at least there would be if one hadn't broken off at some point. These 5 mean that there are another 50 metres of chain available. Then after another 10 metres has gone out there are 4 cable ties, indicating that there are 40 metres of chain left. This continues to near the end of the chain, where there is one cable tie on the chain, indicating 10 metres left, which in fact is more like 5. I like to work out how much chain I need to put out, so say I'm anchoring in 4 metres of water, I want 5 times as much chain, that's called a scope of 5:1, so I put 20 metres out, I think that is the same as saying I have 40 metres left, not the most intuitive system.   I have some lovely bright Day-Glo fluorescent cable ties I will add to the chain, 1 for 10 metres out, 2, for 20 etc etc.
So today and yesterday was all about preparing the bowsprit for varnish, Kathy stayed indoors mostly enjoying the cooler climate, and helping with jobs below. There was fun last night when the power went to the pontoons, and when we yachties tried to reset it the master trip kept blowing, so we ended up disconnecting boats to find the offender, which we did in the end, but not before we had upset one of the residents here, but that's another story.
Tomorrow I hope to get the first coat of varnish on the rail and bowsprit, but first we have to clean out the chain locker while the chain and rope are out. That should be fun, I believe it contains several inches of sea bed samples (mud) from everywhere between Hawaii and Penang, and who knows what might be in that mud. You can take it as read that Kathy wont be digging through the mud 😉
Hoping to do some more sightseeing on Tuesday, perhaps a trip to the big park / funicular railway up the hill.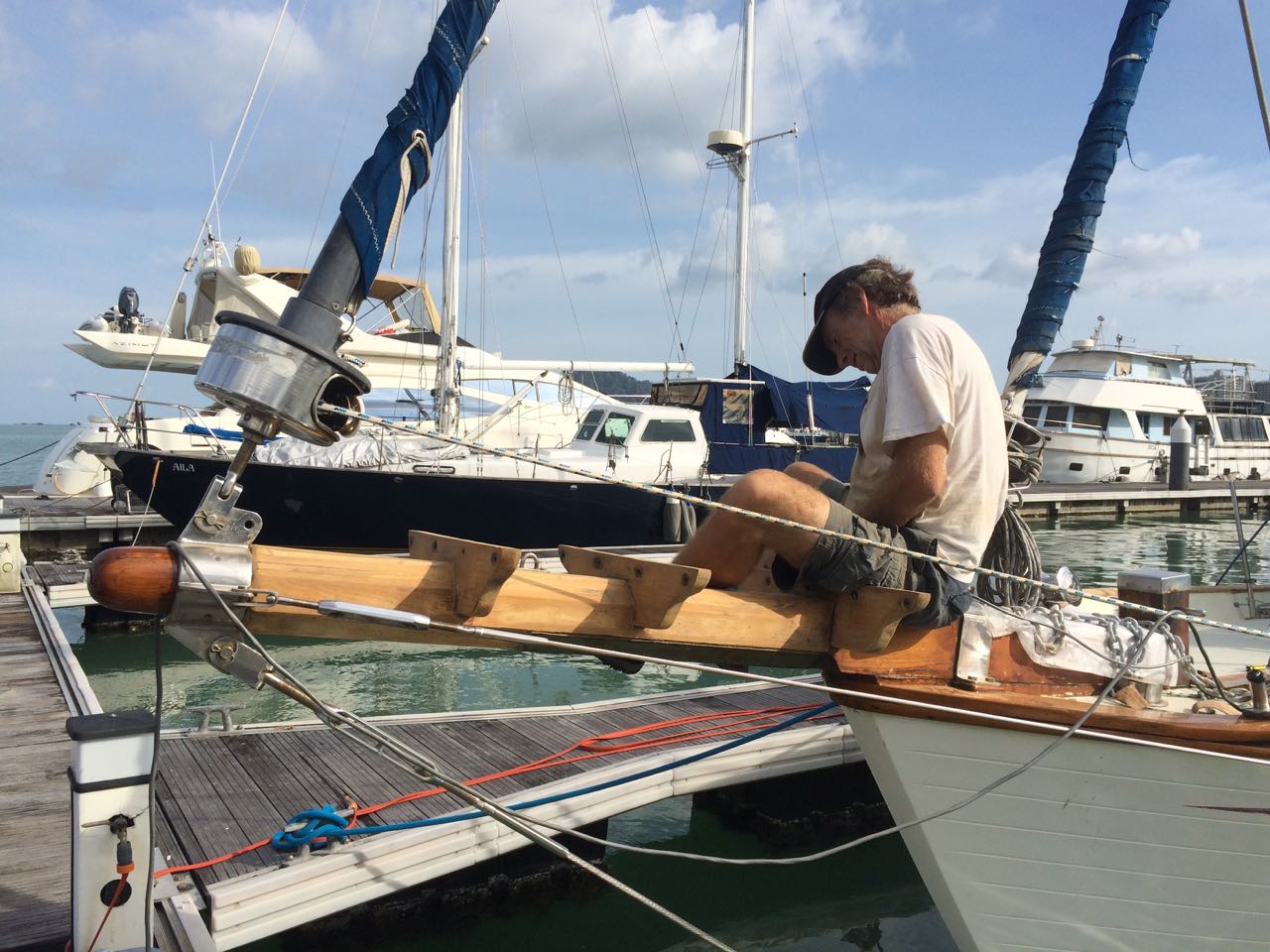 Paul C.