Monday 10th Jan
Kathy and I spent the week before our trip keeping our heads down, we had to take a covid test 24hr before our departure, if we failed it, we would be looking at more lost flights, hotel bookings, car hire etc. After the fiasco of Christmas and France/Switzerland we didn't want to take any risks, we had hoped to hook up with lots of friends over Christmas, but that will have to wait.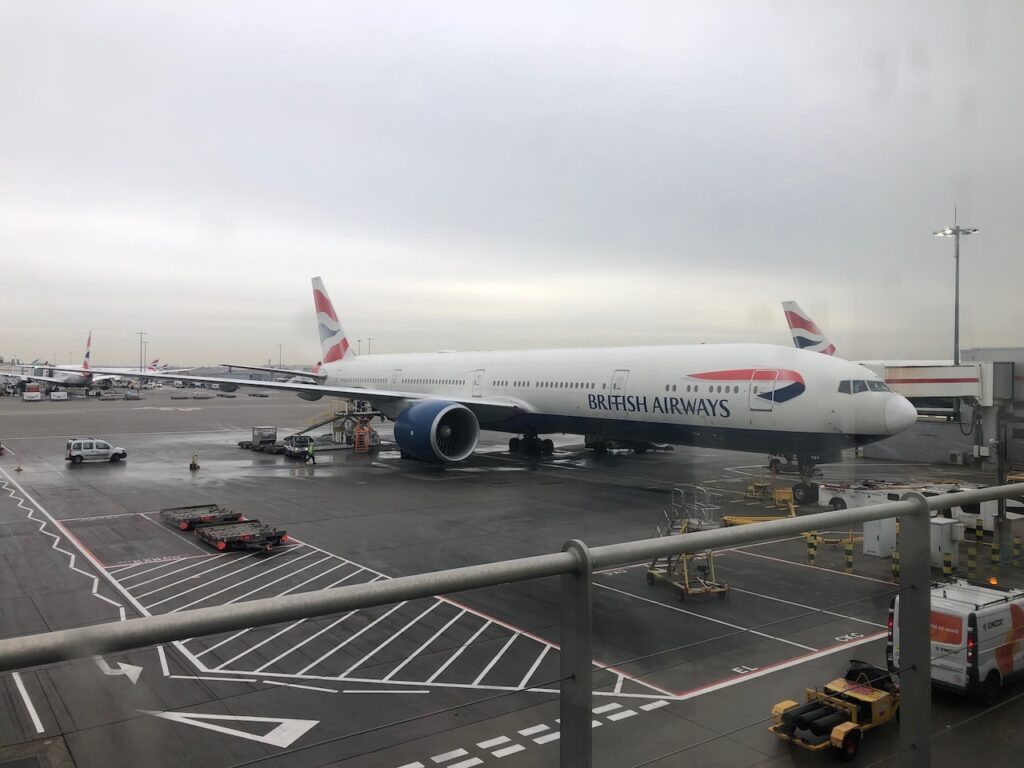 So with an early start (6am) and a quick taxi ride to Manchester airport for our flight to Phoenix Arizona, with a few hours at Heathrow on the way. Arriving in Phoenix Sky Harbour, we picked up a very snazzy BMW 5 car and hit the freeway to our Sonder room downtown. Sonder do a serviced apartment where you basically have a studio flat with a very decent kitchen/dishwasher/clothes washer etc. The plan was to use that as a base for the first 4 days while we get over any Jet lag.
Arriving at a huge complex of apartments around 8pm, we located our room only to find another couple in it. A double booking? Not a good start, it was 3am our time, so I was not mad at the idea of chasing around for a bed. However a phone call to Sonder revealed they had changed our room and the email notification hadn't reached me yet (It finally arrived just as we were leaving 4 days later). It was a great apartment and very relaxing
Tuesday 11th
In the morning we drove to Cave Creek, an old frontier town just outside the built up part of Phoenix. It seems to just be a tourist spot now, lots of shops selling lovely trinkets and clothes. I think most of the original town has gone and what we saw were recreations. We had a lovely lunch there before returning to our base.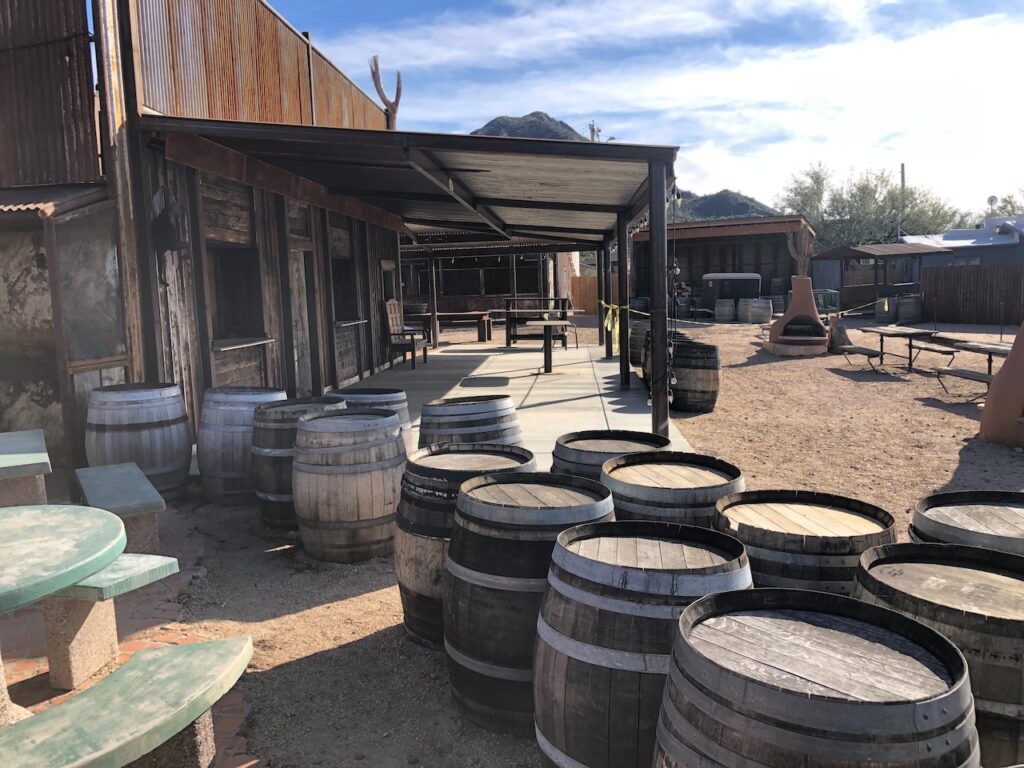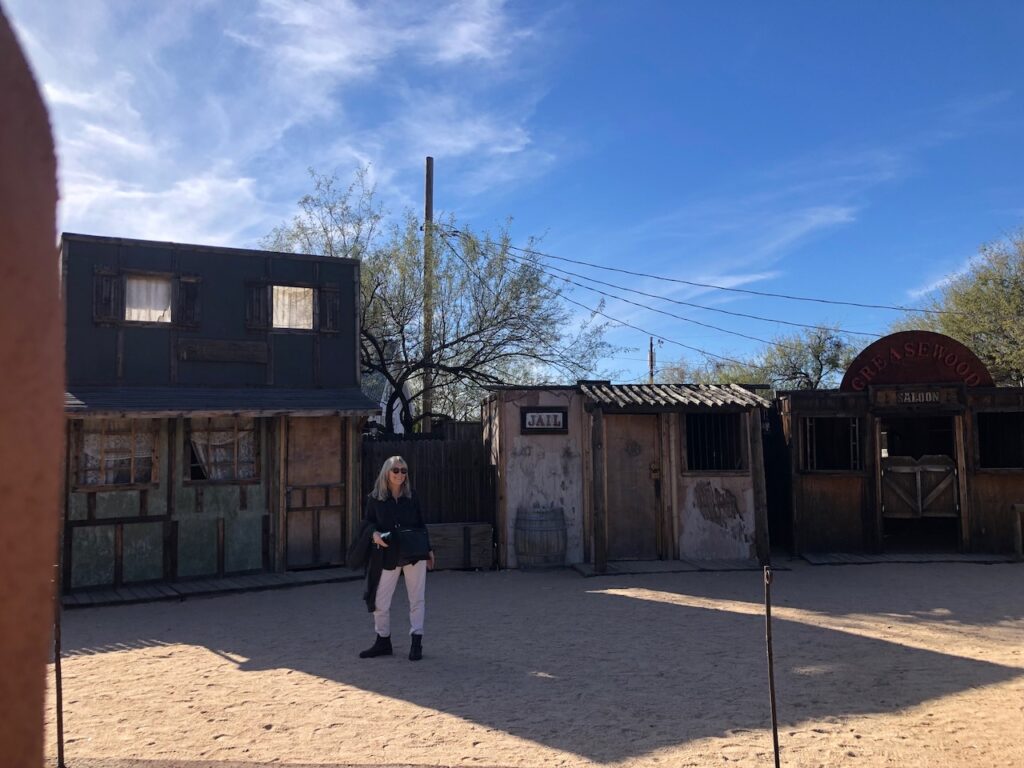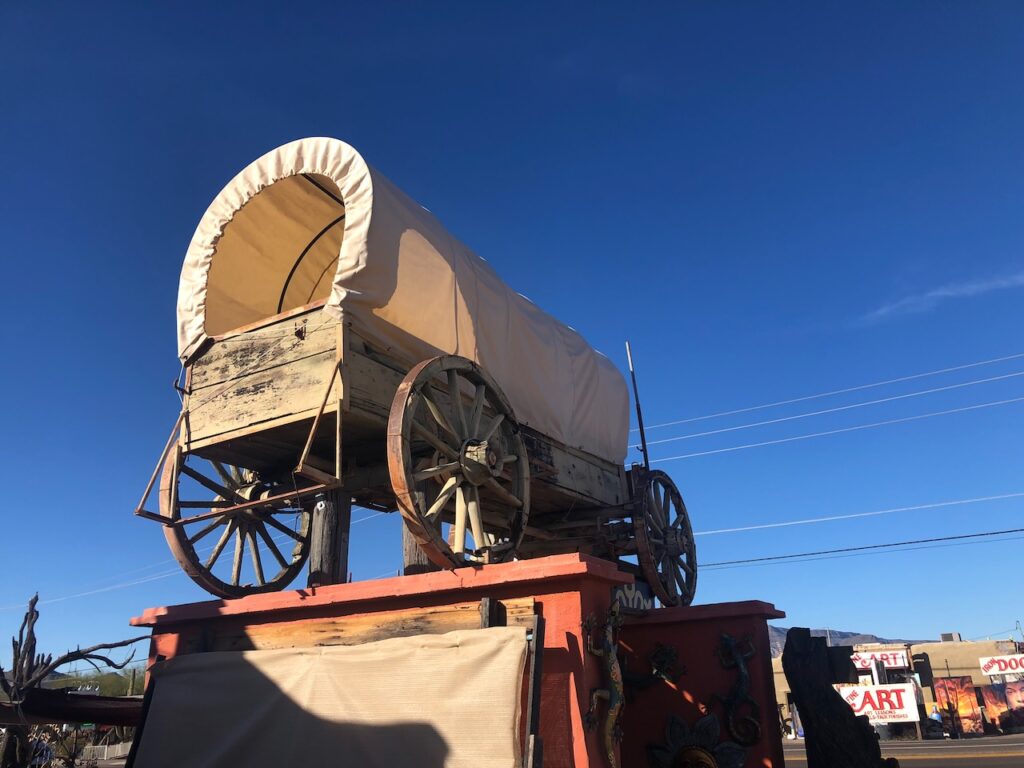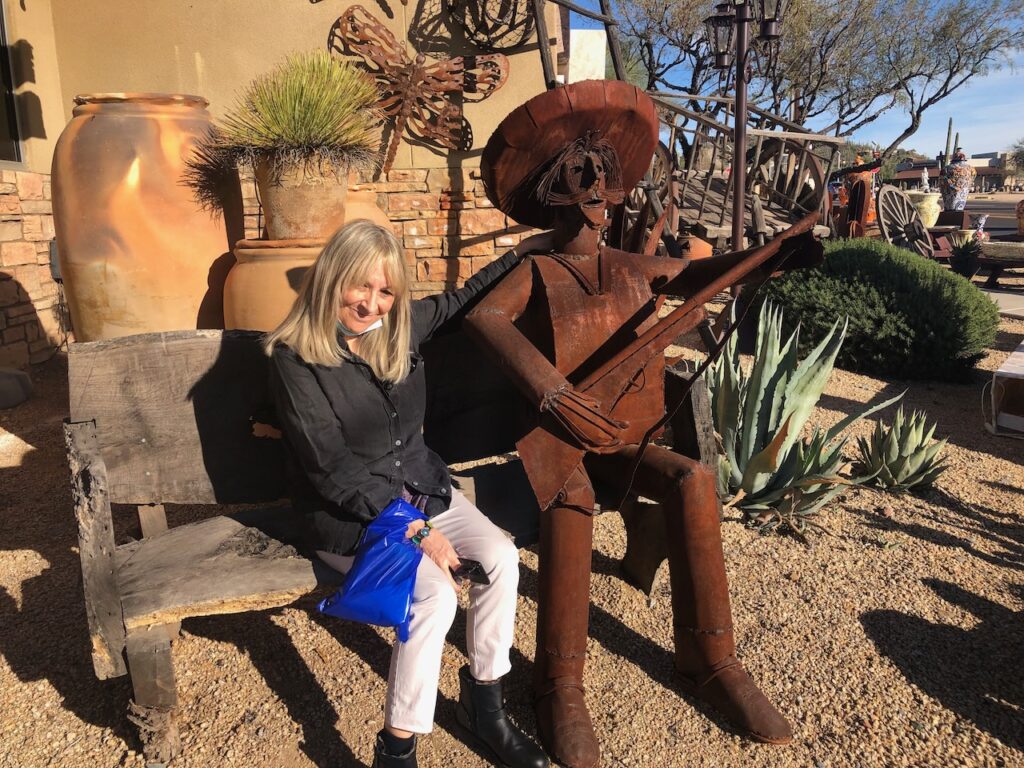 Wed 12th
A lazy start then a 15 minute walk to the downtown centre of Phoenix. There's a heritage square with some of the original buildings that have been restored and house a visitor centre and museum. Frankly it was a tad disappointing, the square was small and mostly closed for winter. The buildings were old, but not as old as most of the houses I have lived in back in the UK. Outside of the square comprised of soulless high rise offices, hotels and apartment blocks. We looked for a shopping area as Kathy and I both had a few things we needed to buy that we had forgotten. We could only find a few artisan or high end designer stores. We wandered back to the apartment disappointed, but did come across a funky bar area a little way from the centre and stopped for drinks.
Thursday 13th
We decided that Scottsdale was the place for shopping and it also had a pretty old town. The town is more like a village that has been amalgamated into Phoenix, but sits away from downtown on the banks of a canal.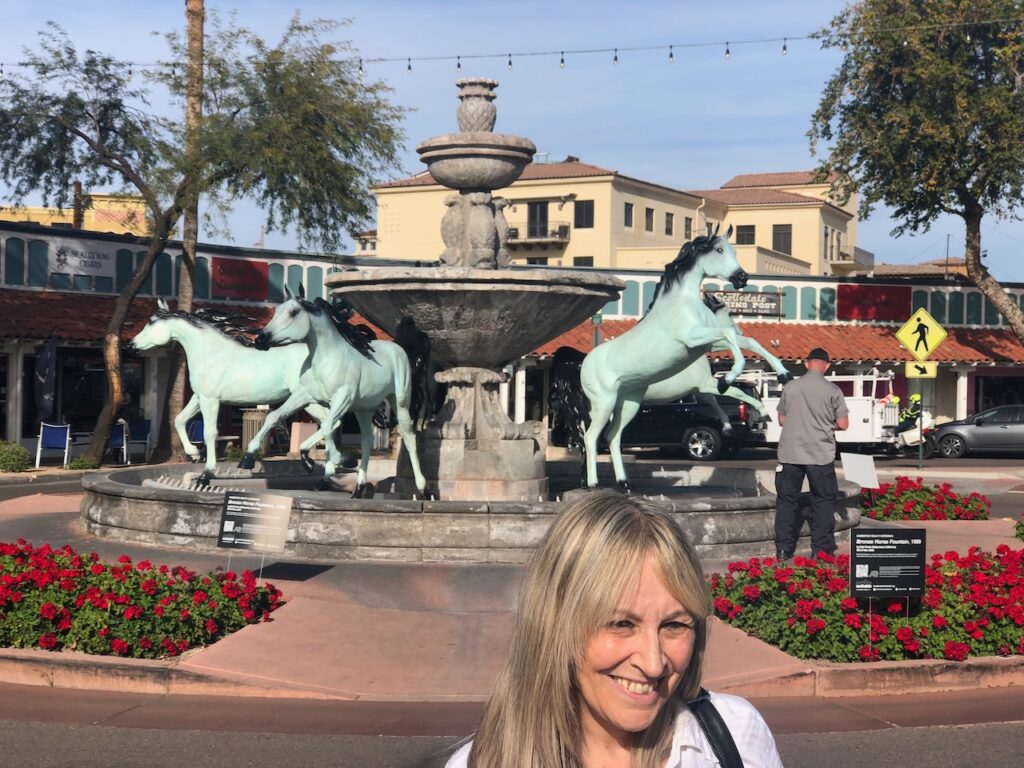 We stumbled on a lovely little Mexican restaurant for lunch, I had a very tasty Huevos Rancheros (Ranch Eggs) and Kathy went for Salsa and chips.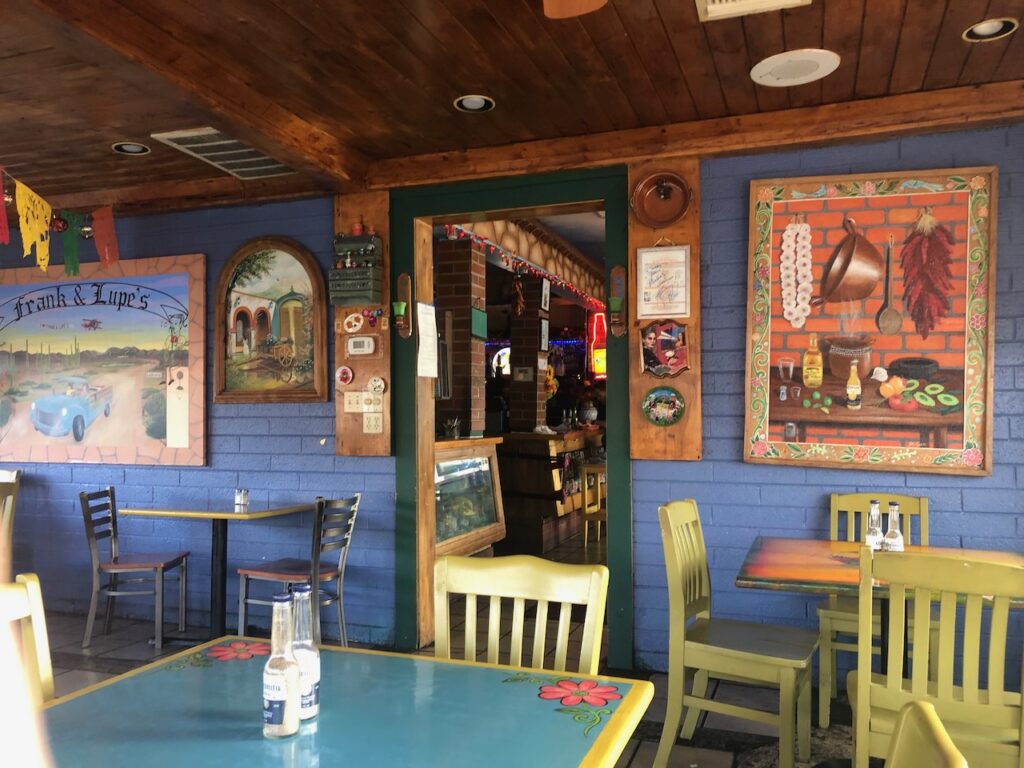 We wandered around the artisan shops and the old town, which was totally visitor orientated.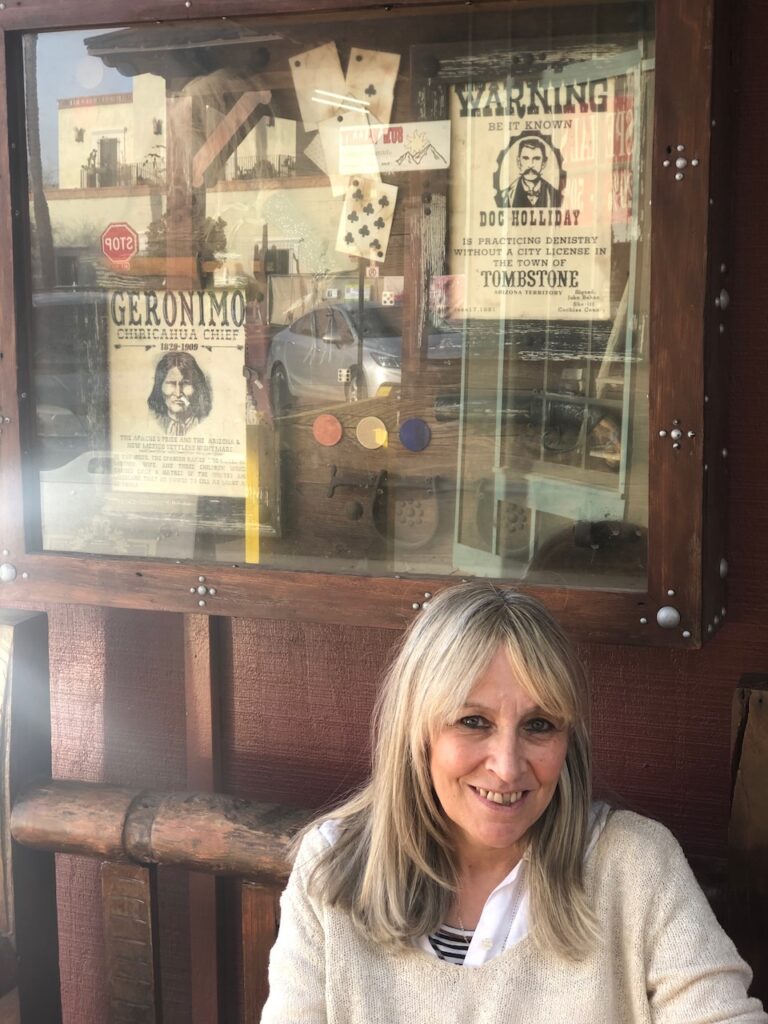 Friday 14th
Time to check out of our Sonder and drive to Flagstaff. Flagstaff is an interesting town, and central for several excursions we plan in the area. It's just a few hours drive north from Phoenix and we break the journey up by stopping in the lovely town of Sedona. The scenery in the area is stunning. Vast aresa of flat desert then rocks jumping out of nowhere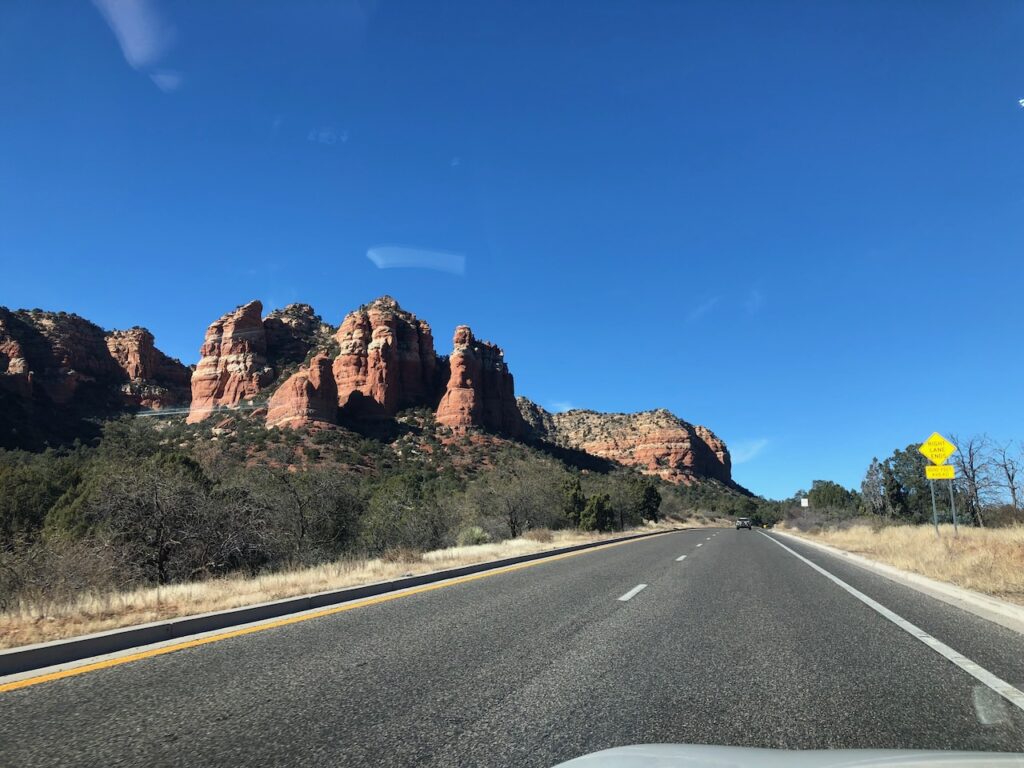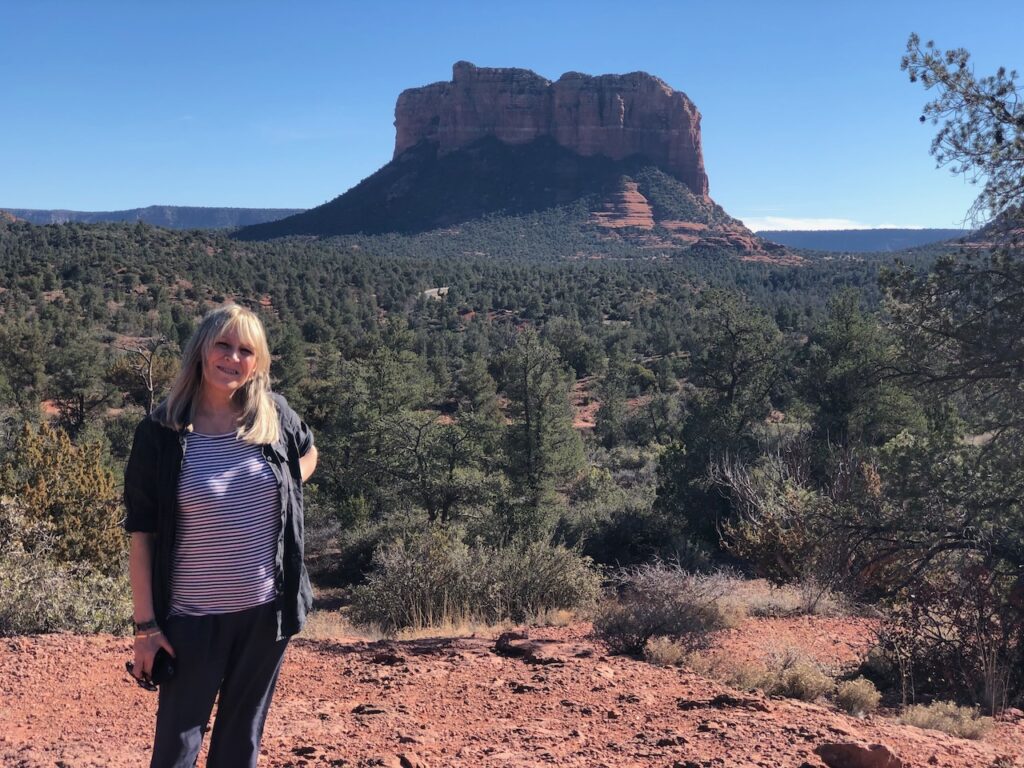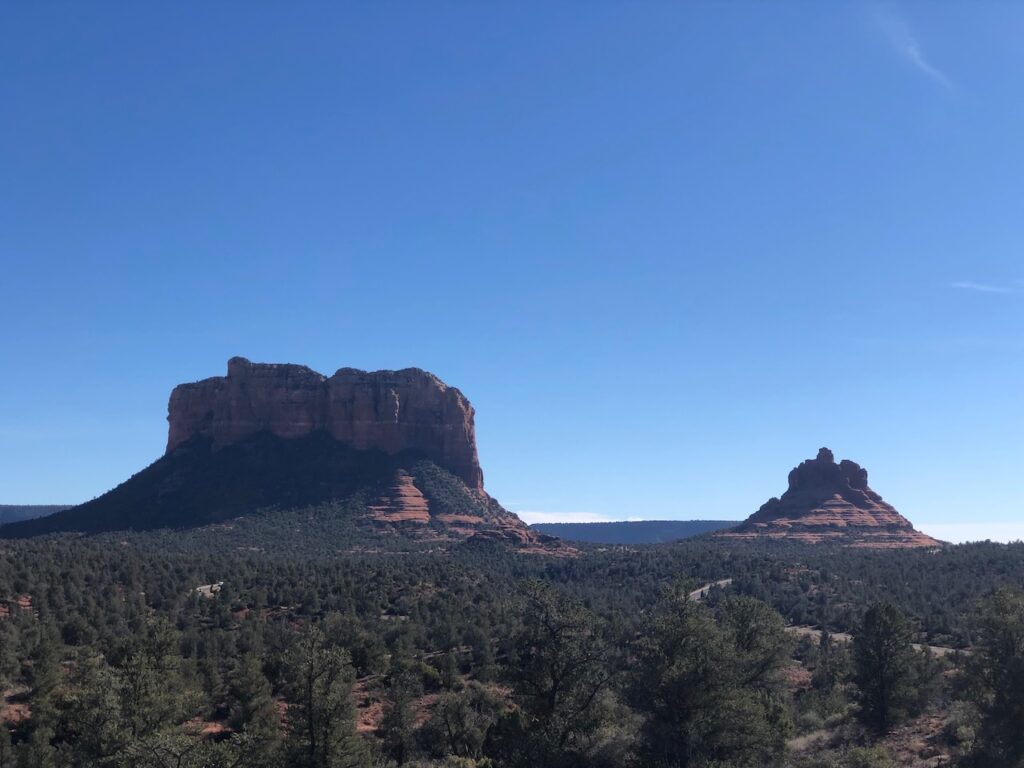 As we travelled north we gained altitude towards 6000 ft, the temperature plunged quickly from a very warm Phoenix to a cold and snowy situation.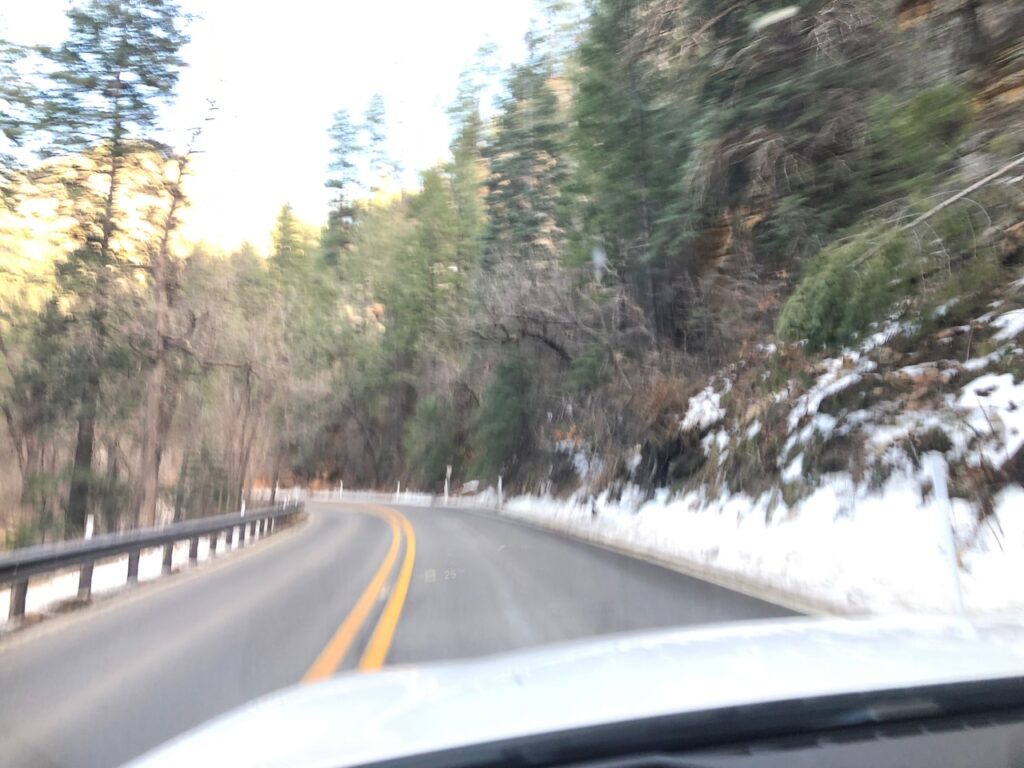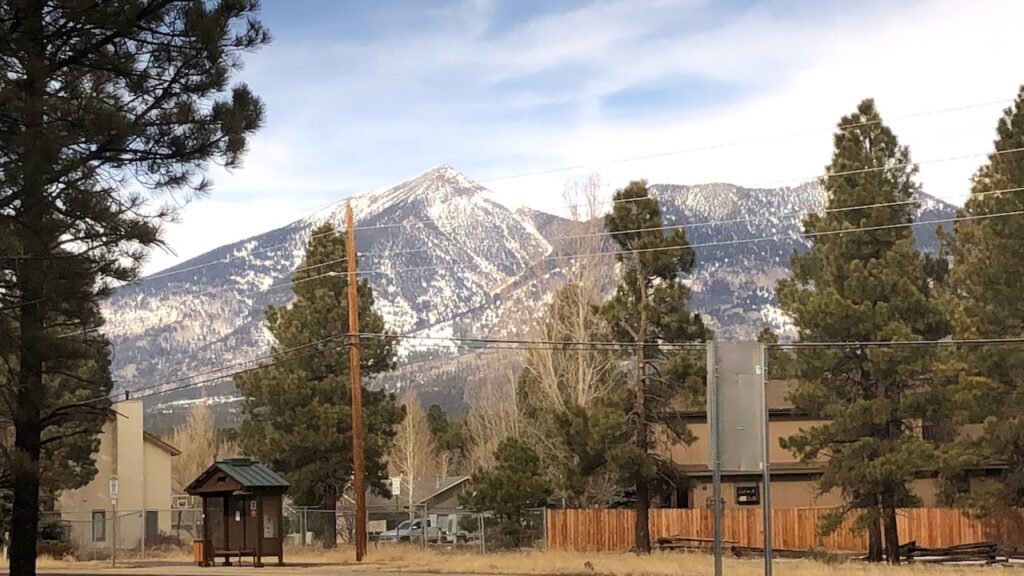 The view from Flagstaff.
In flagstaff we checked into one of the zillions of motels that exist along the side of the highways here. They are very basic, and quite small, but cheap and cheerful, and do the job. We have the room for 4 nights, and it works out just fine. The motel is on a very special road here. It's got a new number (I40) the I is for interstate, but it is also called 'Historic route 66' Most of this historic route has long gone, but bits remain, and for reasons I struggle to understand, it has taken on a great mythic status. From here on in, it will be impossible to avoid Route 66 memorabilia. Kathy, like most people is very thrilled we are travelling this famous stretch of road, I'm enjoying trying to understand what has happened and if I could make Meols Drive just as famous back home. I think getting your road named in a few big albums helps.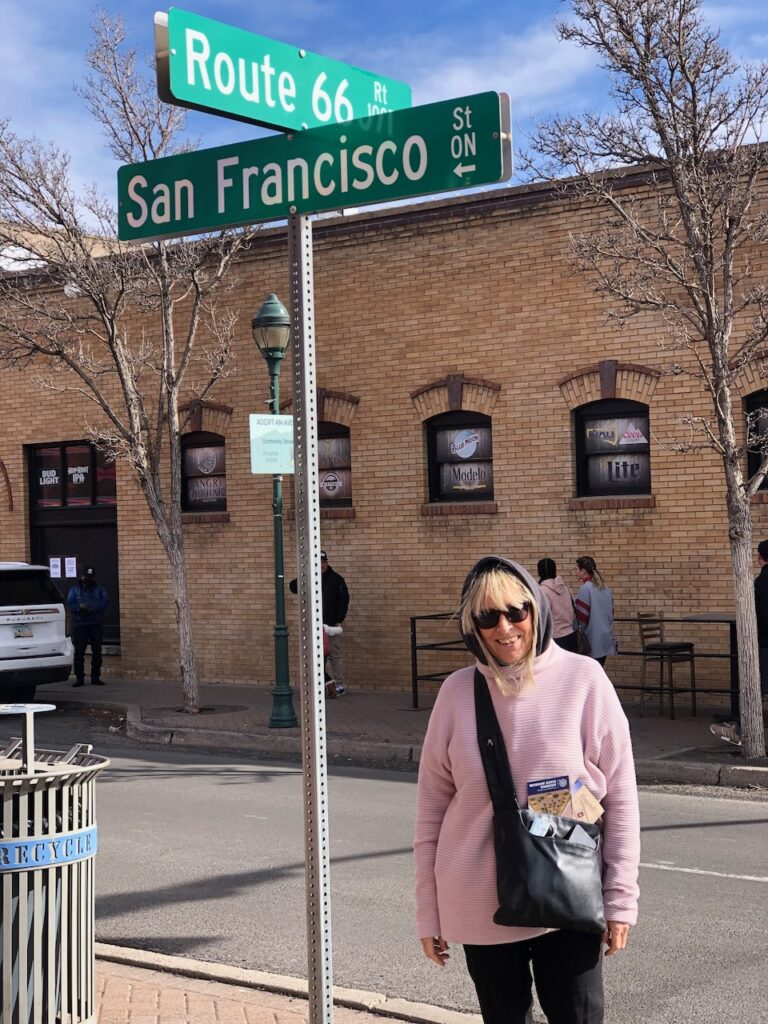 Saturday
We head to downtown Flagstaff and wander the streets getting coffee at one of the trendy cafes here. It has a lovely laid back feel and we pop into a thrift shop to buy some cutlery to eat with when bringing back food to the motel.
Something we had stupidly overlooked was how cold it is up here in the winter. There is snow piled up everywhere we go. I was just thinking La Paz Weather all the time.
From the town we drive north to the Northern Arizona state museum. I'm keen to know about the area before these towns were built, before the railway and route 66 arrived. The museum is fantastic, well worth the $15 admission fee (It reminds me how lucky we are to be able to go into museums and art galleries for free back home). I learn a lot about how the lands were occupied by various groups of peoples over time, more recently the well known tribes of the Hopi Navajo and Apache people. The Apache being two separate distinct groups bundled together into one tribe for convenience by the European settlers. To exist in the harsh lands here, the tribes initially were nomadic and relied on a great understanding of weather, crops, animal migrations etc in order to find areas with food at any particular time in the year. Learning about the First Nations in Canada and the pre-hispanic peoples in Mexico has opened my eyes to the indigenous people across the whole of this continent. Later I try to visit a Hopi settlement.
After the museum we head into a national park to look at a volcano rim that has spewed lava in a massive river which has set. It's quite a sight.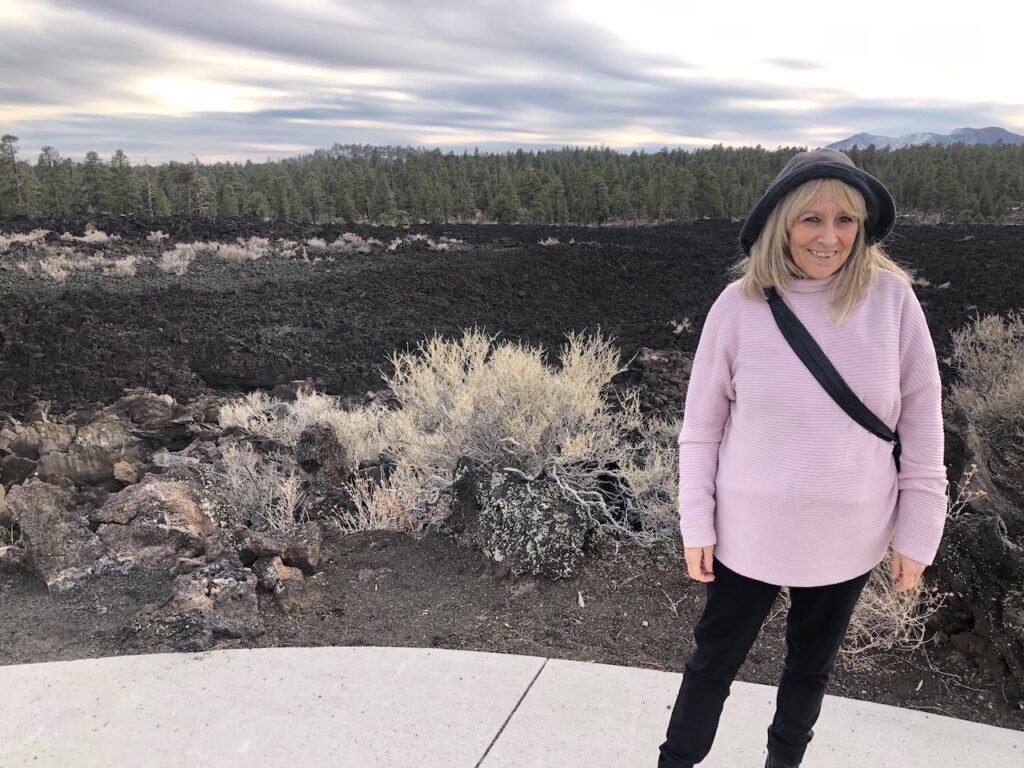 From the lava fields we head to see some ruins at Wupatki National Monument. The website states:

"People gathered here during the 1100s, about 100 years after the eruption of Sunset Crater Volcano, gradually building this 100-room pueblo with a community room and ballcourt. By 1182, perhaps 85 to 100 people lived at Wupatki Pueblo, the largest building for at least fifty miles. Within a day's walk, a population of several thousand surrounded Wupatki.
Although it is no longer physically occupied, Hopi believe the people who lived and died here remain as spiritual guardians. Stories of Wupatki are passed on among Hopi, Zuni, Navajo, and perhaps other tribes. Members of the Hopi Bear, Sand, Lizard, Rattlesnake, Water, Snow, and Katsina Clans return periodically to enrich their personal understanding of their clan history. Wupatki is remembered and cared for, not abandoned."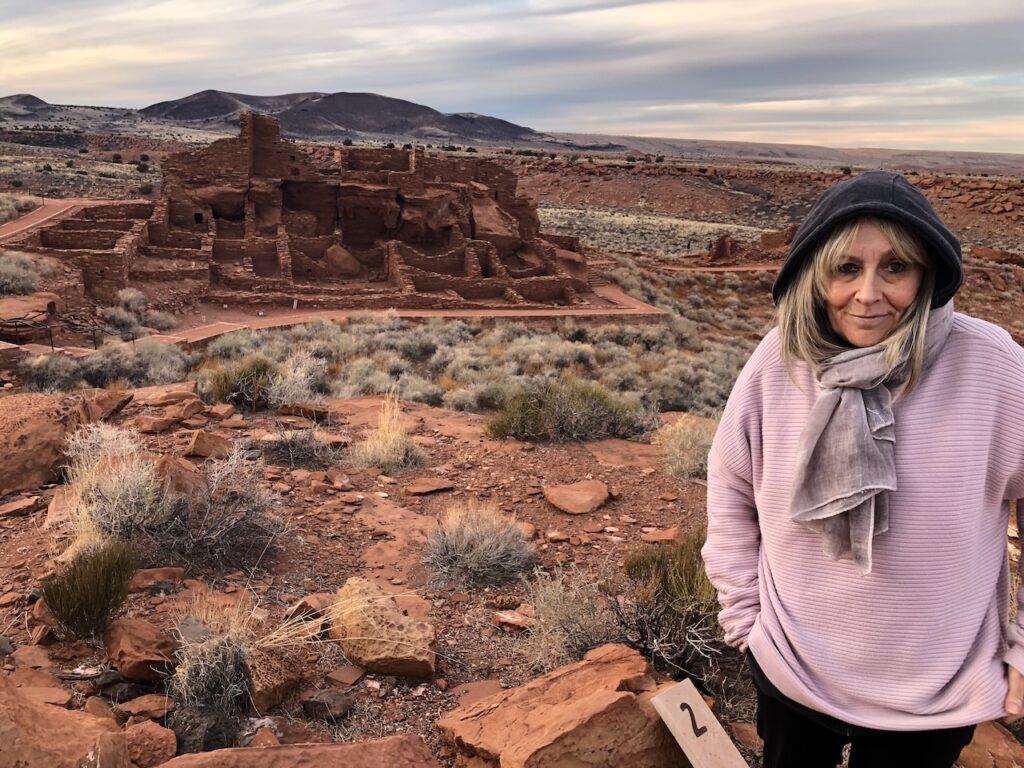 The area around here is called the painted desert and is quite stunning. The vastness of the prairies contrasting with the eroded rocks that rise up with big flat tables on top (Mesas).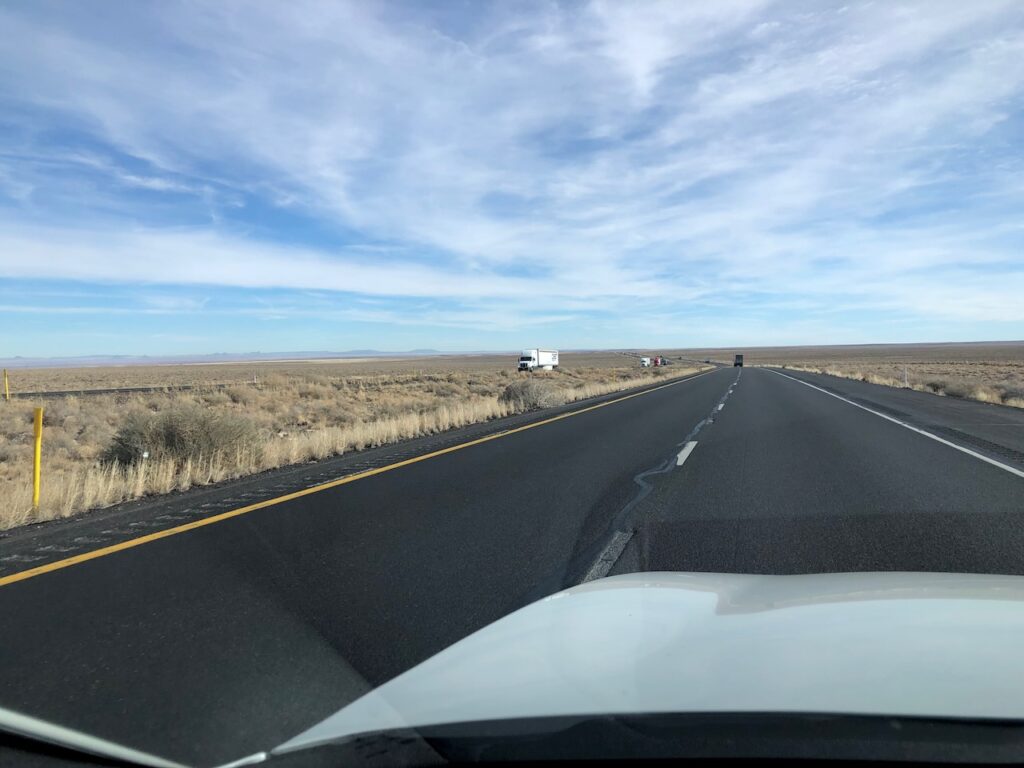 On the way back we call into a pizza place and order a takeaway. an experience in itself. The smallest pizza we could get was way too big for the two of us, also the same price as a night out in Liverpool.
Sunday
We head off in the morning to Meteor Crater, this is a huge hole in the ground. It's quite amazing to stand on the rim and look down.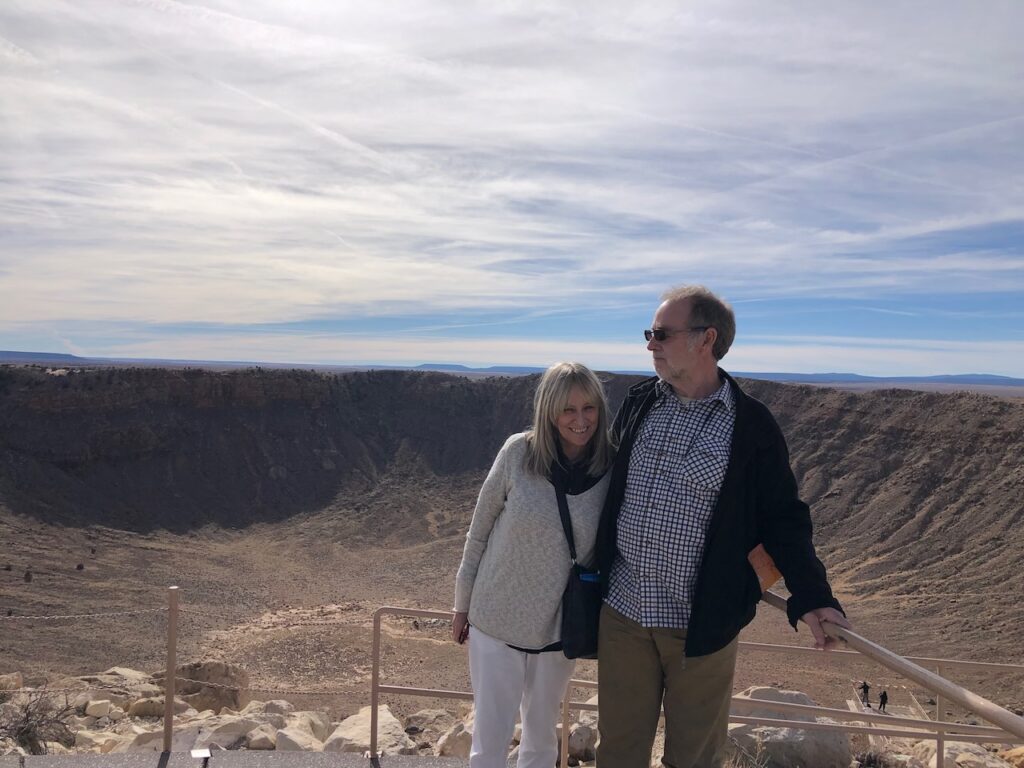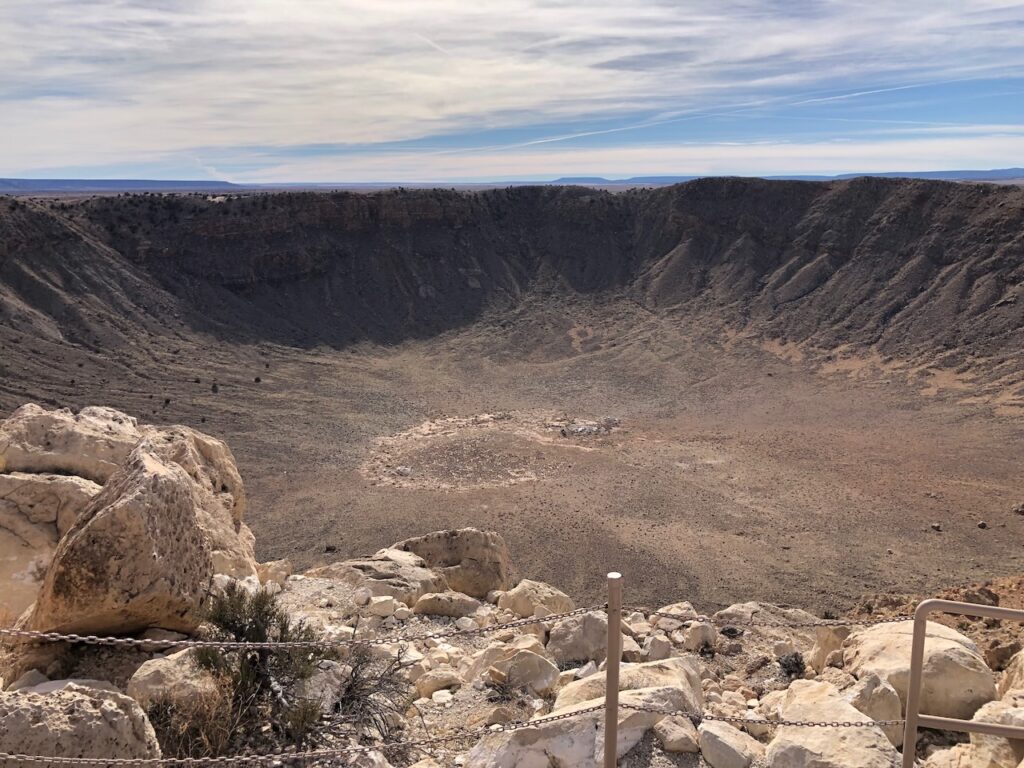 It's hard to appreciate the size, it's over a kilometre across (.75 mile) and 170 metres deep (560. feet). There's an astronaut fully decked out in space suit standing at the bottom. Something to do with NASA training them here (or where they filming something ?). The onsite museum had a lot of interesting information on meteorites.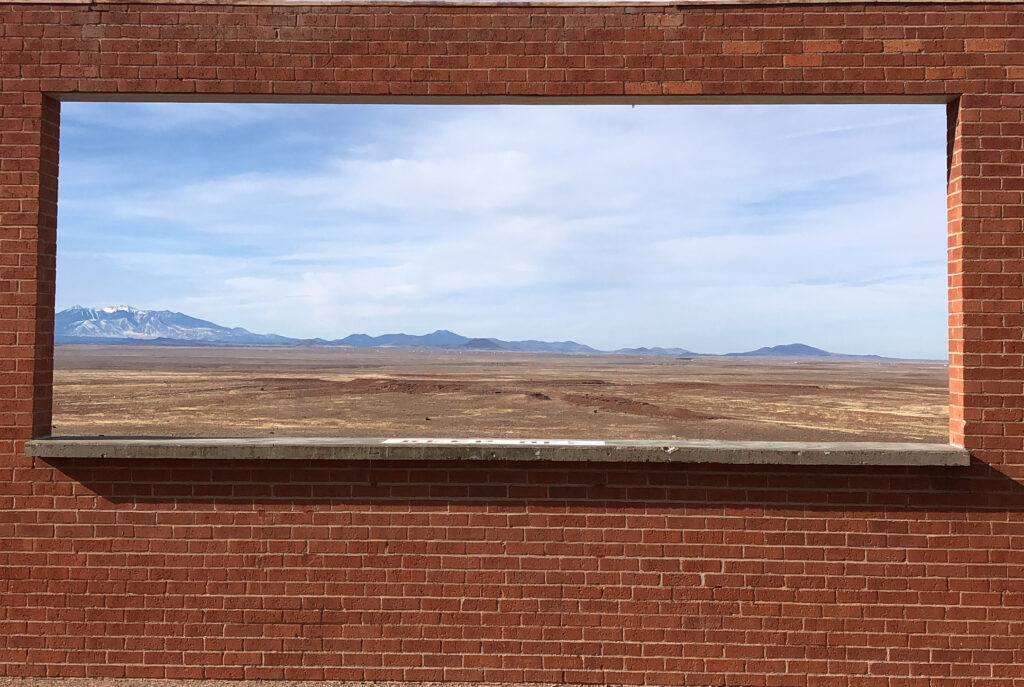 We accidently ended up taking a wrong turn on the way here and ended up on a bit of abandoned route 66.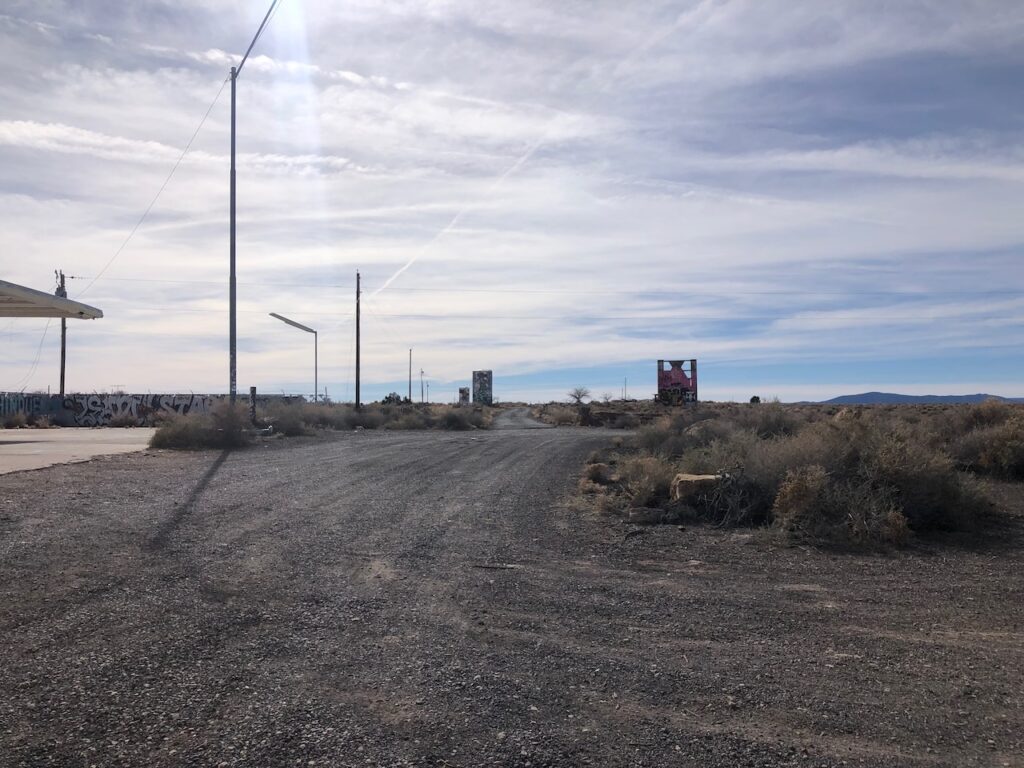 So next we head to Winslow so Kathy can stand on a corner. I think that's actually the whole reason we are in Arizona for three weeks. The Eagles have a song with the lines:
"Well, I'm a standin' on a corner in Winslow, Arizona
Such a fine sight to see
It's a girl, my Lord, in a flat-bed Ford
Slowin' down to take a look at me"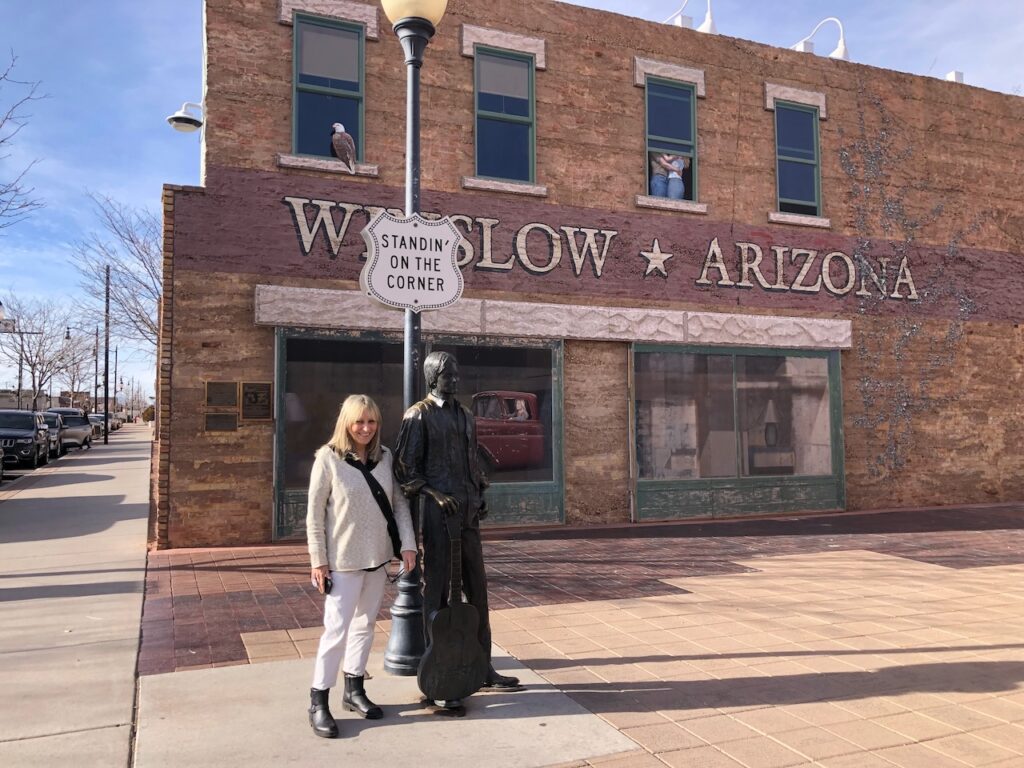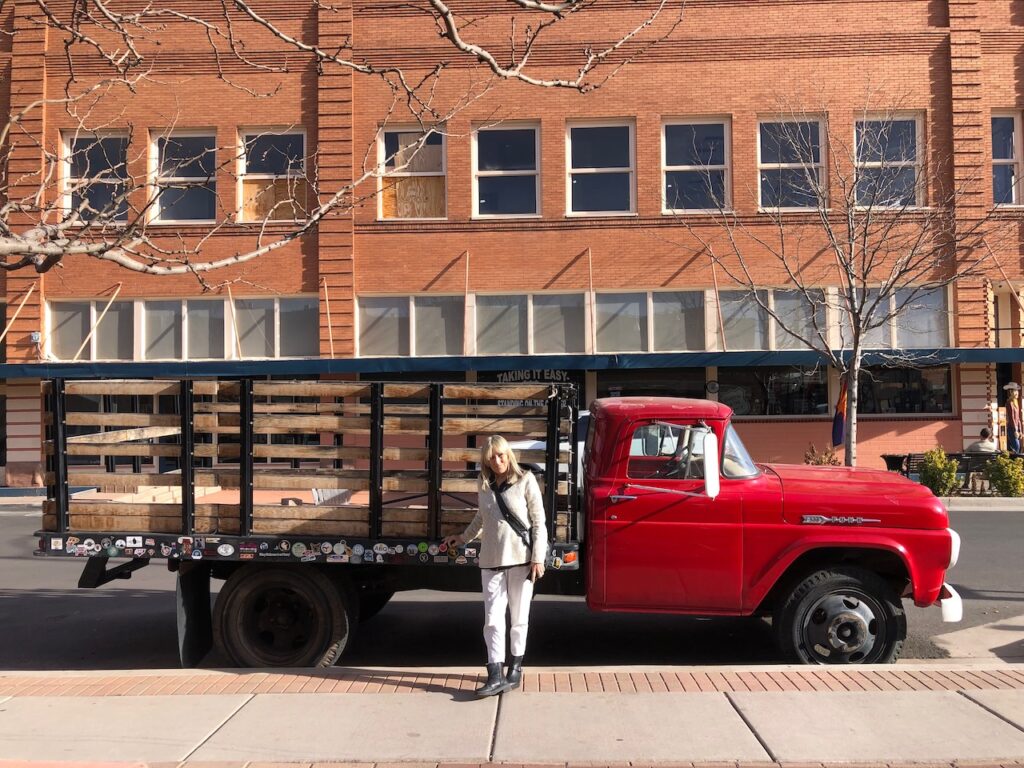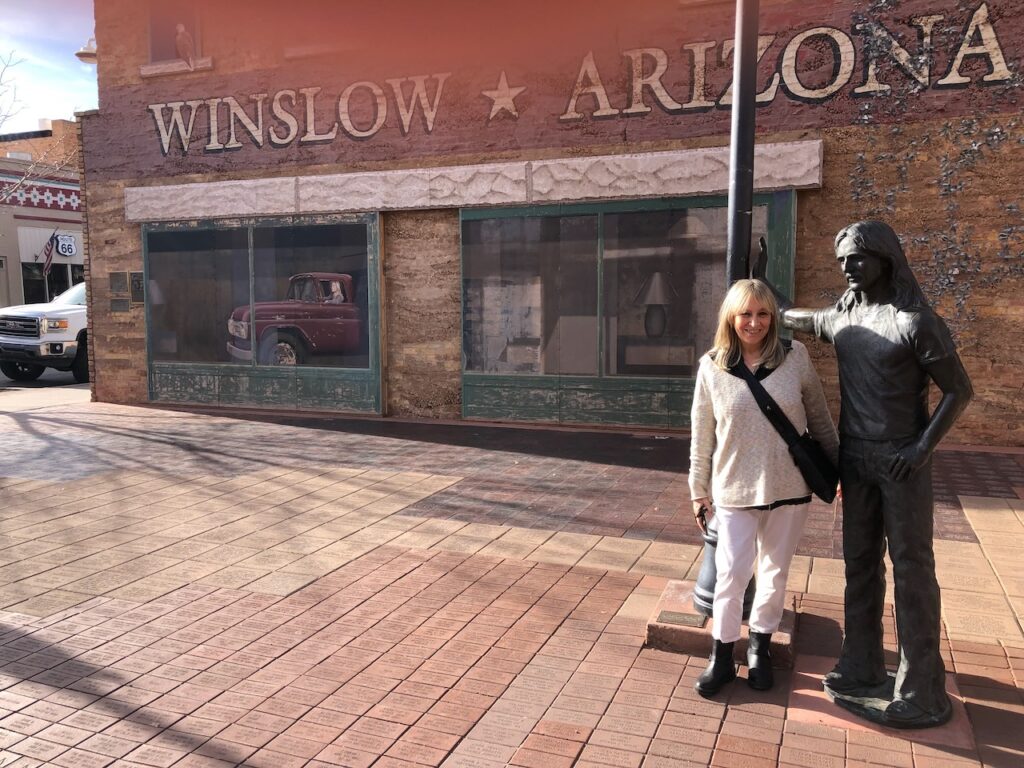 We are not the only people there wanting a piece of that corner, we have to queue for our pics, but it's a laid back atmosphere and probably a lot busier in season. there's only a few shops open as it's a Sunday, but thankfully they have a lot of 'standing on the corner' merch for Kathy to sweep up.
I'm much more interested in an antenna just behind the corner. I presume it's a microwave dish, but I can't remember ever seeing anything this shape before.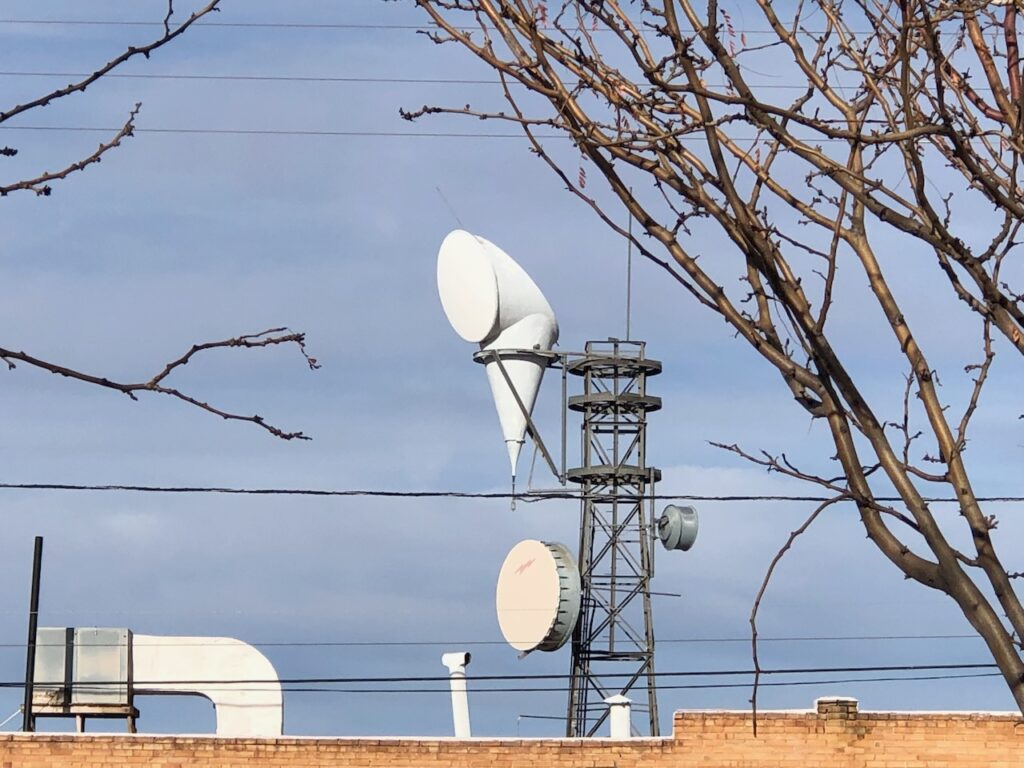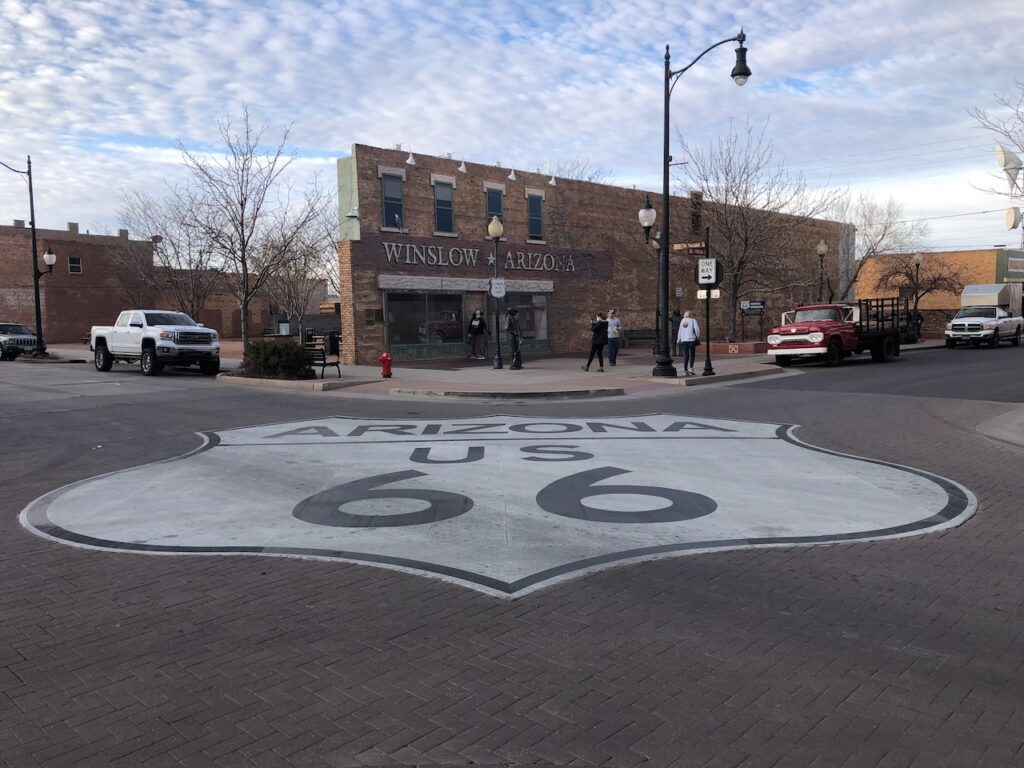 On the way back we are mostly following the Santa Fe railway which brought much prosperity to the area when first built. It runs from the east coast to the west coast, and takes in our motel front garden. The nuisance is offset by the Casey Jones hooter you hear every now and then, and the clanging bell. You have visions of the old railroad transporting cattle or pigs to the big cities. The reality is more of hundreds and hundreds of 40ft Shipping containers full of Asian goods heading east from the east. These trains usually have three locomotives at the front and sometimes two or three in the middle as well.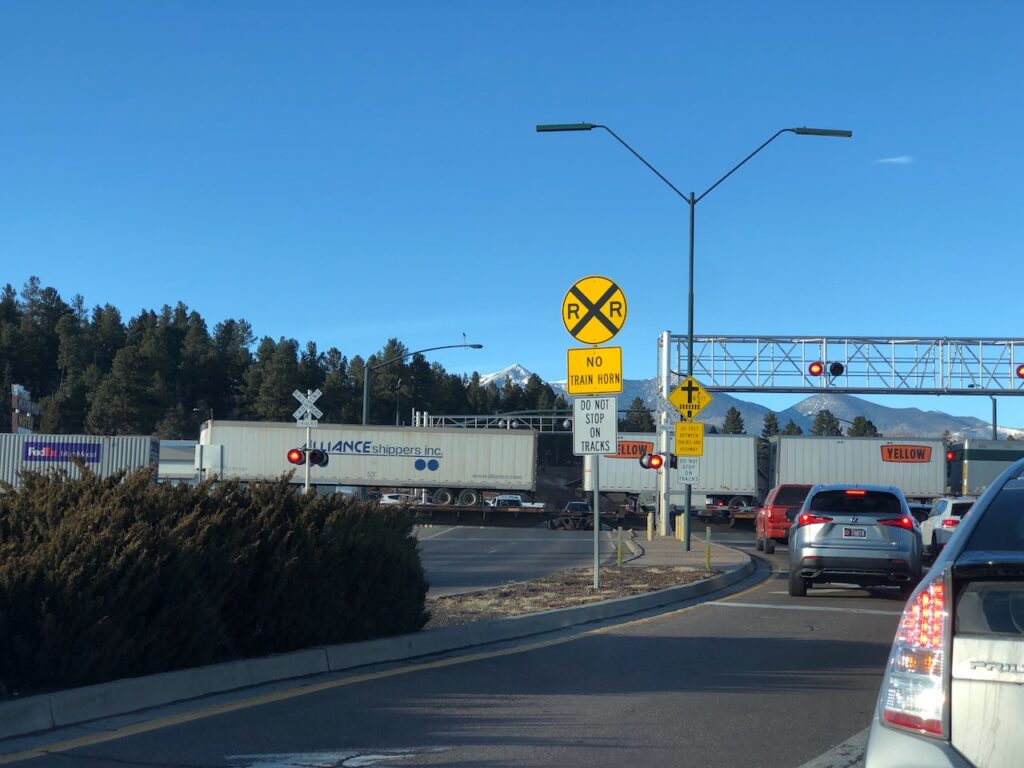 On the way back from Winslow we take a diversion to visit a Hopi tribe settlement and ruins, however it's too late and the park rangers have closed the access road. I have often wondered about the Hopi since I first saw the film Koyaanisqatsi as a young man. It had a massive effect on me then, as did the soundtrack by Philip Glass.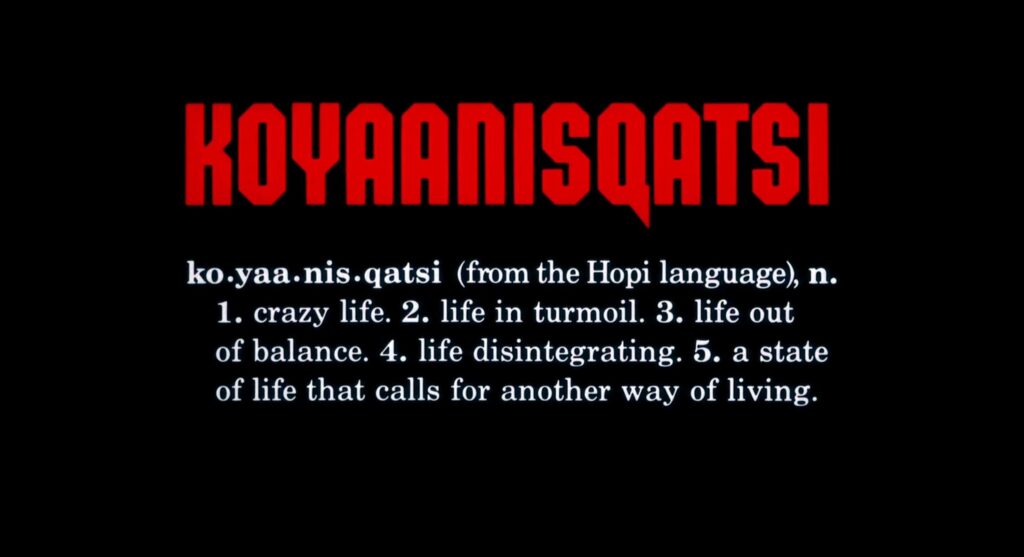 We have such action packed days that I'm going to do a blog post very week, otherwise I will be overwhelmed with photos of places my failing memory won't be able to recall.
Next stop the Grand Canyon, tomorrow on Martin Luther King day, nothing to do with the fact that National parks are free on MLK day.
Paul Collister