21st April 2020
Location on google maps
As I mentioned in the last post Kathy fancied a trip to Mazatlan, she hasn't been there before and although I had spent plenty of time there thanks to pigeons and strong weather, it seemed like a good run for the boat. Mazatlan is 240 nautical miles from La Paz, we plan our trips based on averaging 5 knots, which is 5.75 mph, or the speed of a good jogger. So it works out that 240/5 is 48 hours passage non stop. Leaving at midday on Easter Sunday meant we would miss Easter Sunday in La Paz and arrive midday Tuesday. If we made good speed, we would arrive at best at first light Tuesday, and if we were slow we should still get there before sunset. The plan was to head for one of the three Marinas in the newer part of town to the north.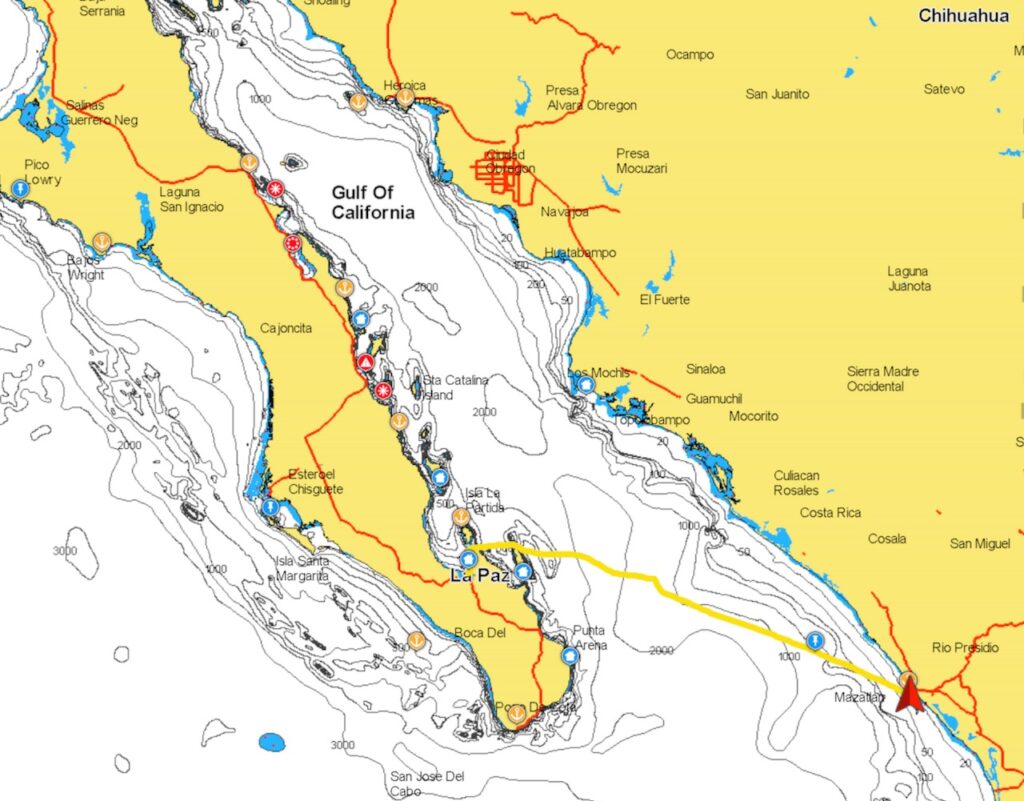 I suppose we must be getting the hang of this sailing thing as we didn't fuss over preparing for two nights at sea, one trip to the supermarket on our trusty bikes sorted out the provisions, a couple of hours organising various ropes around the boat, sheets, jibe preventers etc and we were ready. We would have left early the following week, but Sunday was meant to have the only decent blast of NW winds for a while so we wanted to catch them, however as Sunday approached the forecasts showed lighter winds each day. The forecasts turned out to be quite accurate in the end and we left under motor for a few hours until we cleared Isla Espiritu Santo and caught some good wind.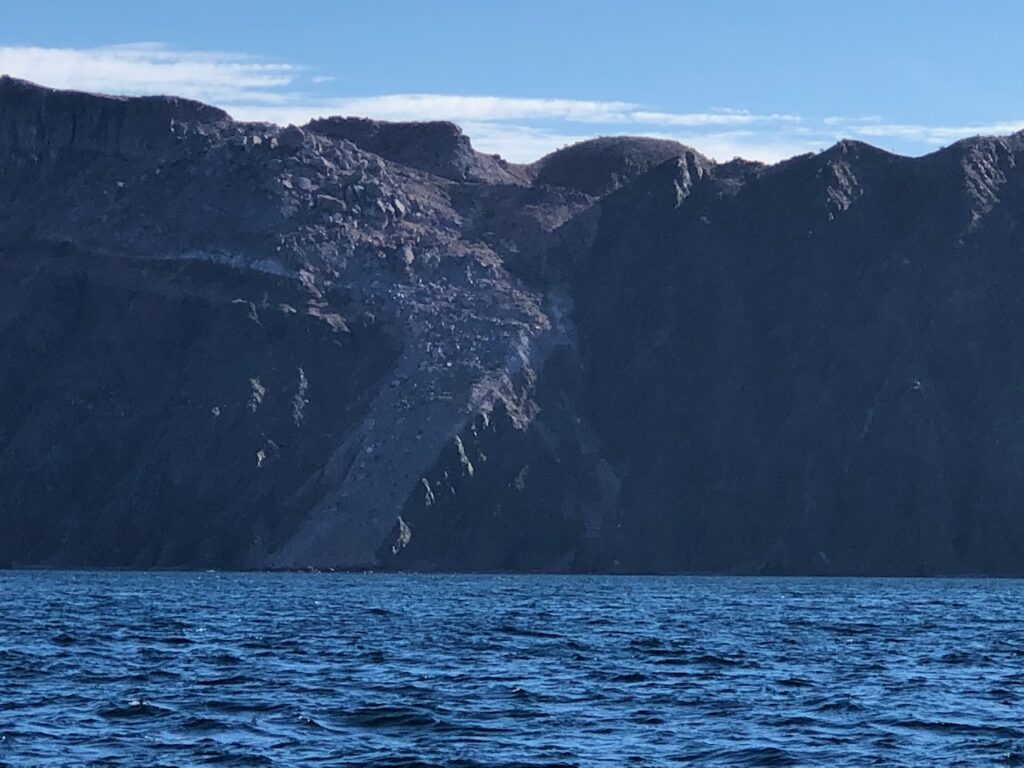 For the next 24 hours we flew along at between 5 and 7 knots. However the waves were much bigger than expected and were more on the beam, causing a lot of rolling and a small of amount of crashing inside the boat. The new Basil and Jade plants took a hit. The second day the wind left us, so on went the motor for the rest of the passage. Six hours before Mazatlan the wind picked up to ten knots on the nose, and the waves started to build from that direction, so it wasn't the best of rides, but as we approached land the wind calmed and the waves dropped making for a lovely sunrise and entry into the old commercial harbour anchorage.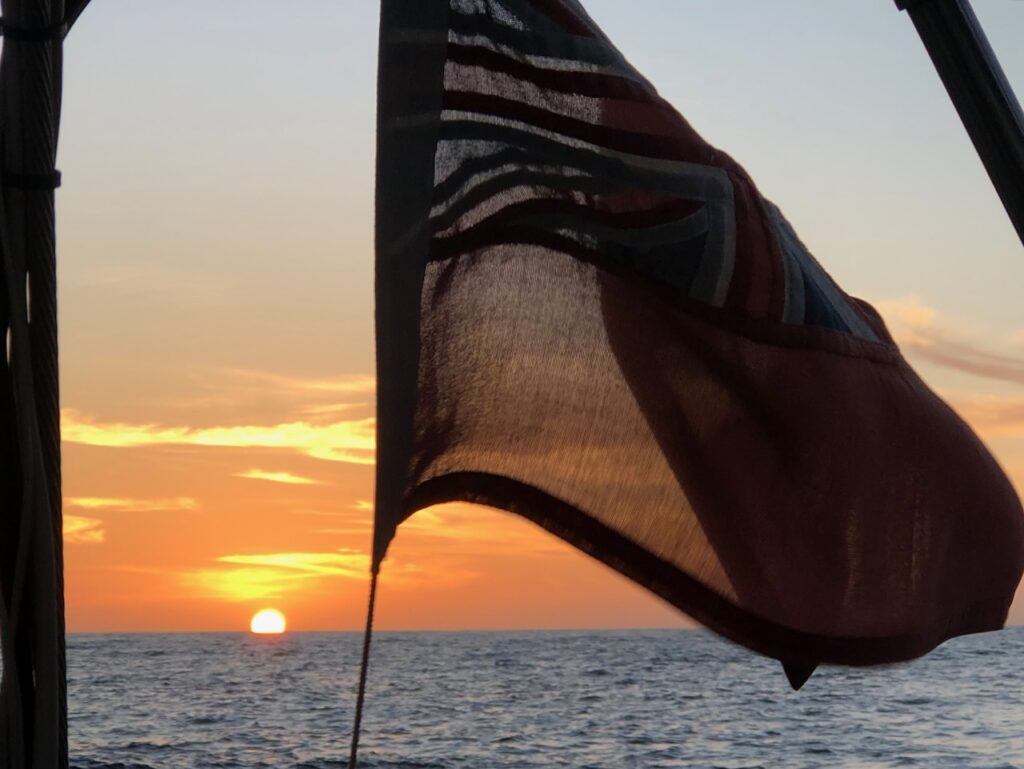 All in all it was a good passage, we were joined by dolphins and a few whales, one young whale coming very close which worried us a little, we didn't want any agro with the mother. A hundred miles from land a gull decided to rest for a bit on Sister Midnight, it circled several times getting closer each time, before finally trying to land on the arch at the rear of the cockpit, sadly it didn't see the vhf AIS antenna sticking up and flew into it. It broke the antenna off and also lost control and fell into the water behind us in a most ungracious manner. I think it was ok, it recovered its composure and sat on the water until we were out of sight. The AIS Antenna is now held together with gaffer tape and seems to be working. We had a full moon to enjoy, Kathy got to see it rise on her first watch and I saw it the next night. After sunset and before the moonrise the sky looks amazing, so far from land with no clouds the Milky Way is very clear. It should be better on the way back with no moon at all.
On passage it dawned on me that as Kathy would mostly want to see the old part of town there was no need to go to the Marina district, it's pricey and requires a taxi to go anywhere. We are so self sufficient on board now that anchoring in the harbour where we can use a nearby dinghy dock for $3/day and we can walk to the old town seemed the obvious choice. Once I had a 3g cell signal I messaged Dirk who had stayed in the old harbour before and he confirmed it had everything we needed. The only problem here is that they built a huge waste water treatment plant next to the harbour and when the wind blows the wrong way it's a bit whiffy. Also you need to bring your dinghy onboard at night, but that's a wise thing to do in any anchorage.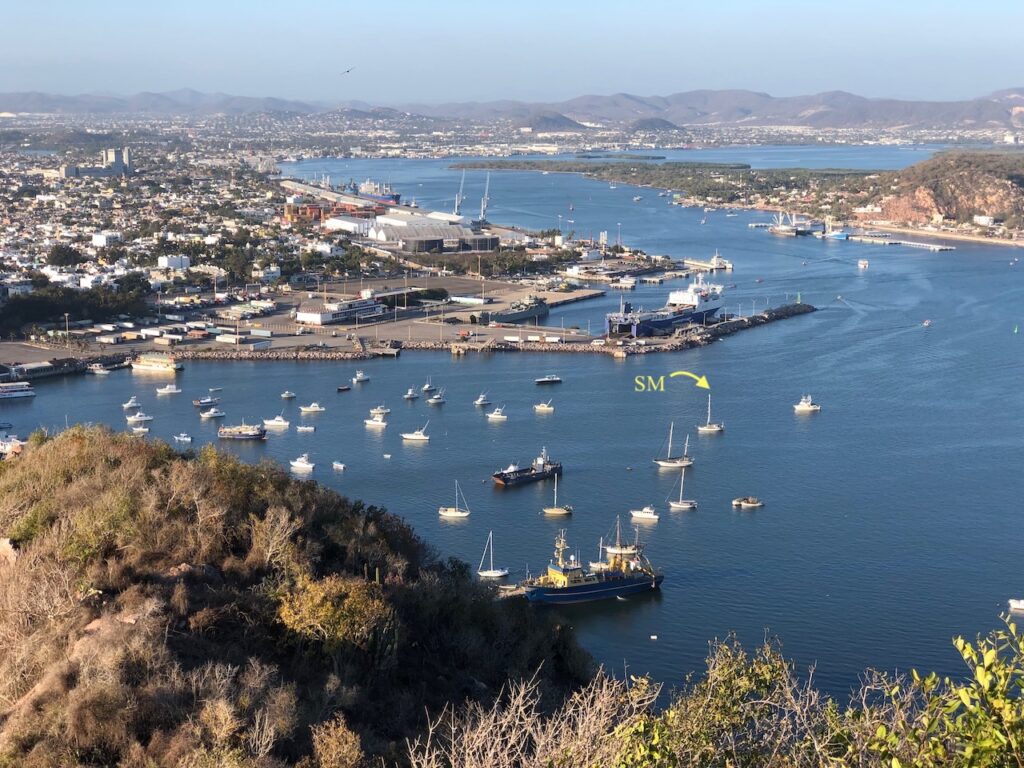 I won't bore you with details of our trip around town, other than my highlights, which consist of buying some amazing Atún Ahumado (Smoked tuna) from the market, along with some very tasty Manchego cheese. Hopefully Kathy will post a blog with her first impressions of the place.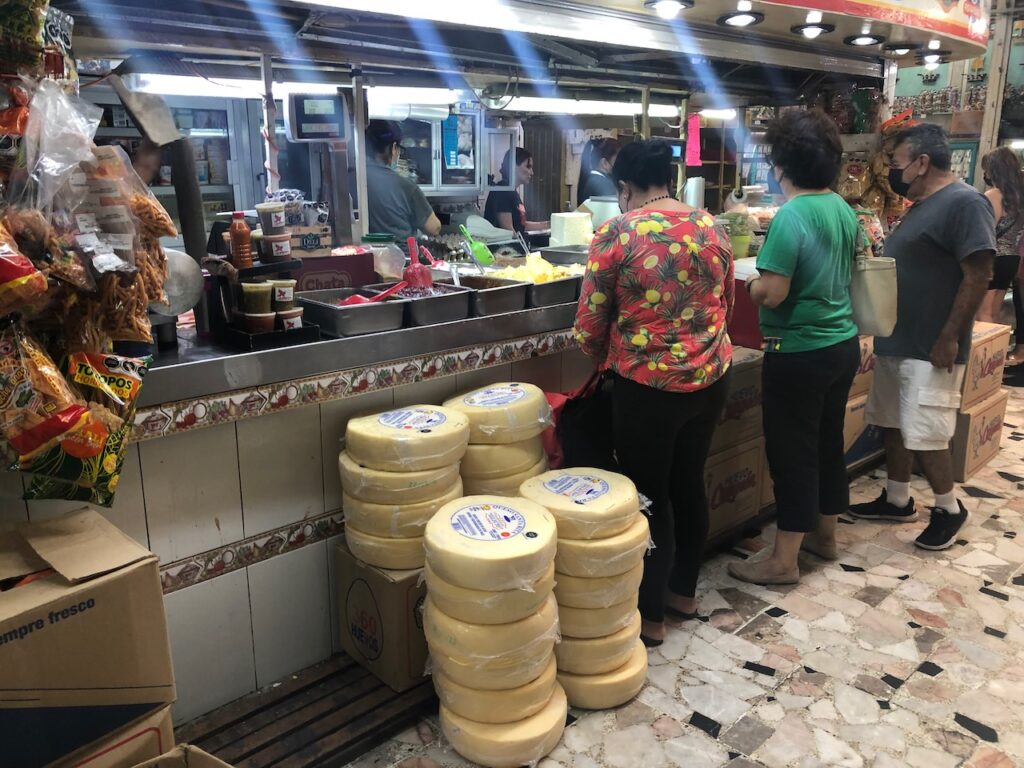 Friday 22nd April
I have been trying to take advantage of the local produce lately, Fresh Mangos, Pineapple and Melon, all very cheap and wonderfully fresh and tasty here. Today I made Agua de Jamaica, which is also know as hibiscus tea, it's a very Mexican or Latin drink made by boiling up a load of Hibiscus flowers with various spices like cinnamon and ginger, straining it and cooling it. I made 4 litres which will last for a few days. It's very refreshing, especially as the days get hotter here.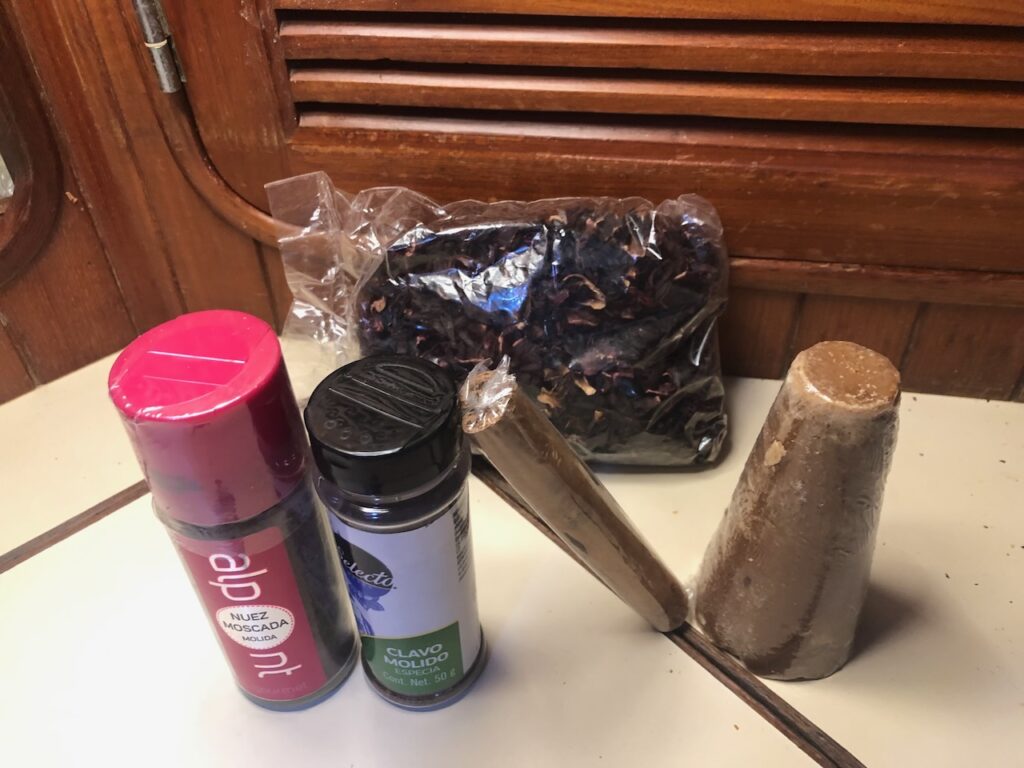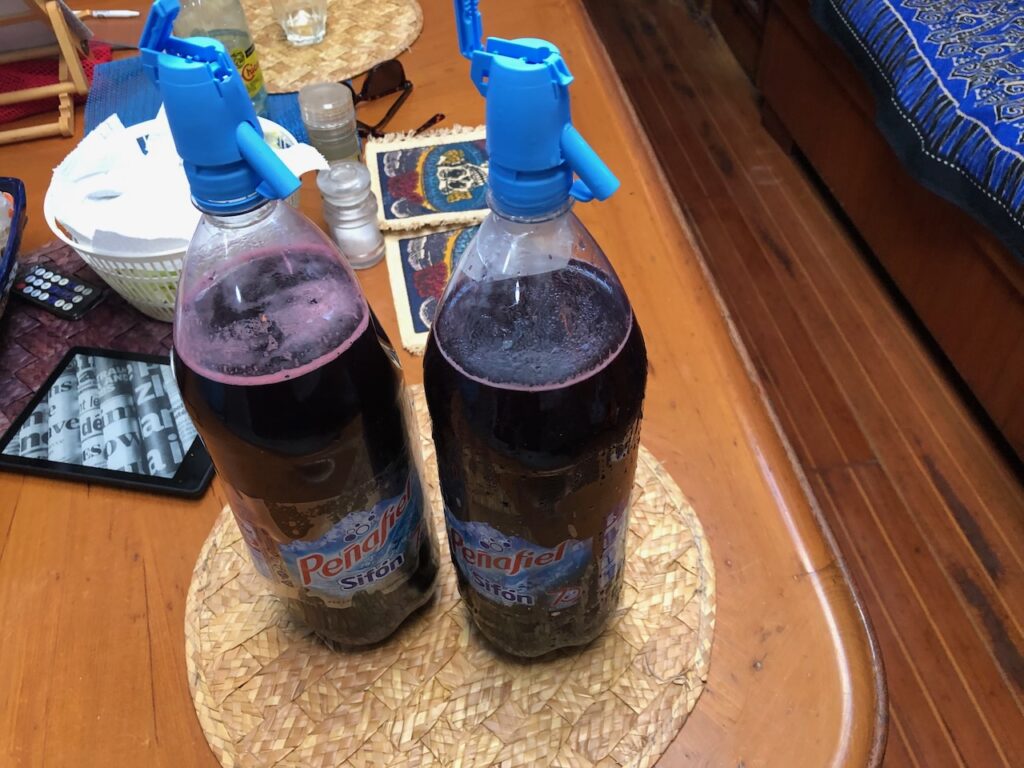 Chafe problems.
This is a big deal on boats especially when doing long passages, I noticed that the plastic jerry cans that I have on deck to carry spare fuel had worn thin underneath. I expect 10 years of rocking ever so slightly around on the hard non-skid deck covering has shaved off some of the plastic and two of them will have to be ditched. The last thing I want is 20 litres of fuel sloshing around the deck. They are tied down, but must be moving just a little. I also noticed the mainsail is looking bad where it rests on the aft lower shrouds, the batten sleeves are cut through.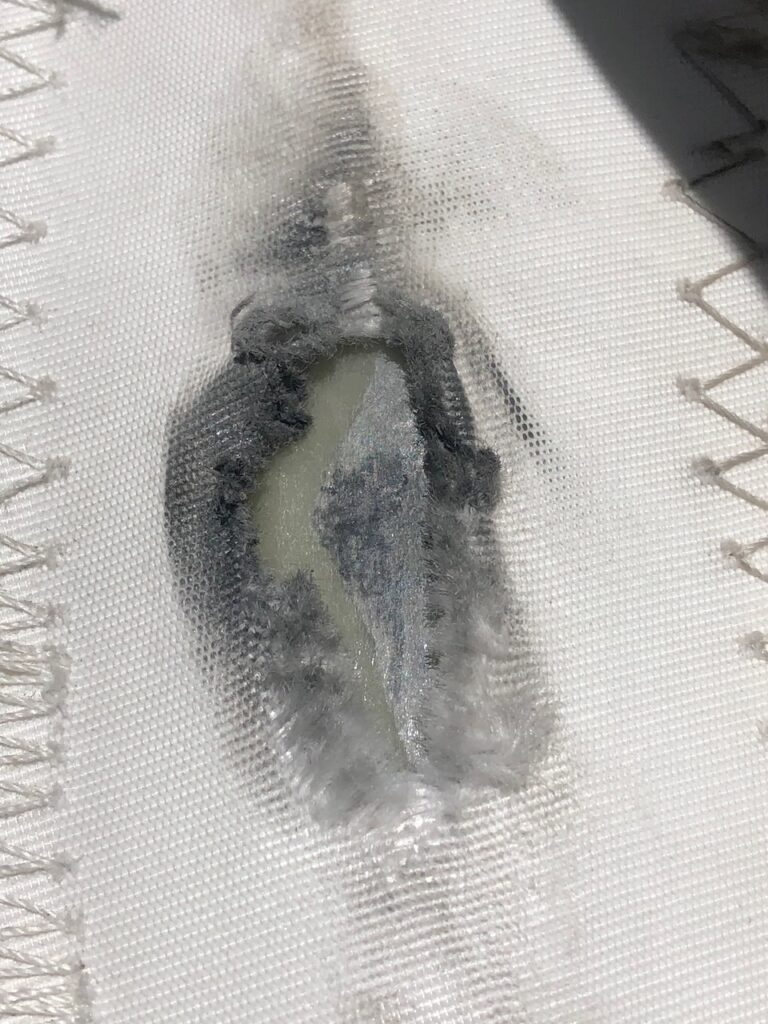 So we headed off to the hardware store today and I bought some non skid matts which I cut up and put under the cans to help remove the friction there. I wanted to buy some of the foam pipe lagging, readily available back home, the stuff you put on water pipes to stop them freezing, but I failed to even get people to understand what it was, freezing pipes is not something people know a lot about here! I did find some flexible stuff 1" outside and 5/8" inside, presumable to protect pipes so bought a few lengths and I have attached them to the port shroud to see how they work, I figure we might have northerlies on the way home so that would be right, but looking at the forecast later it seems we might get southerlies, in which case I will be wrestling them onto the starboard shrouds crossing the Sea of Cortez.
Monday 25th April
We hauled the anchor up and left the harbour in the morning. We headed to the marina area in the north where there are two fuel stations. The forecasts showed that we may well be motoring all the way back, so we would need to top up the tanks. My plan was to get fuel and then anchor overnight off one of the two islands that face the main malecon and leave Tuesday morning early. To get to the marinas with the fuel you have to enter a somewhat treacherous channel, the entrance gets battered with big surf and is very shallow. Best avoided at low water with any wind/waves.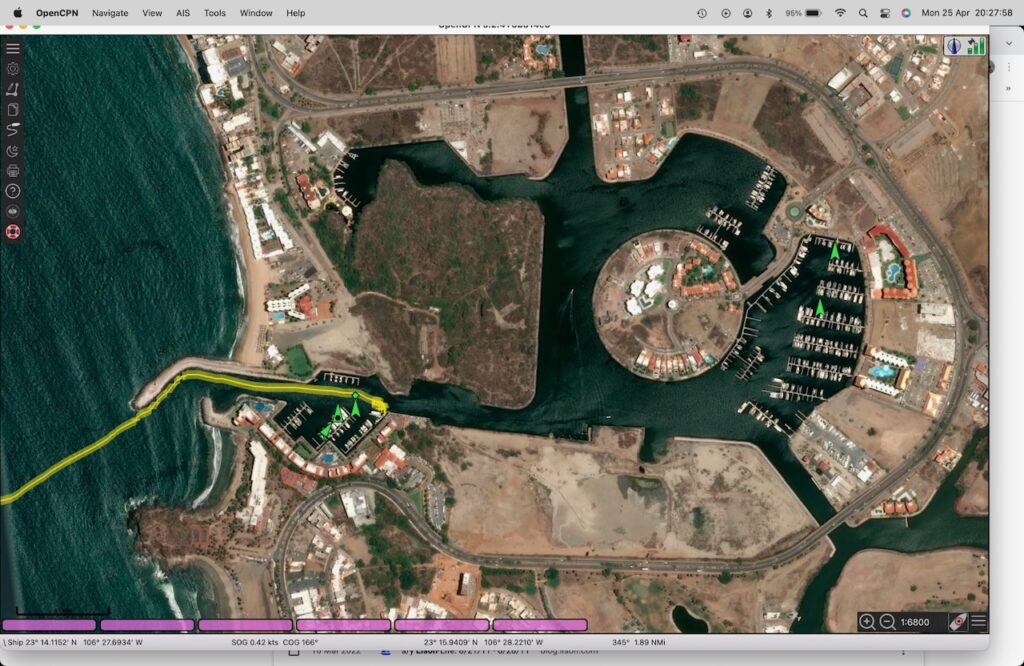 However it turned out to be close to low water when we wanted to go, but there didn't seem to be much surf. I phoned up the marina El Cid to see what conditions where like. The number I called didn't want to talk to me, I wrongly assumed that I had a wrong number, I searched the web for El Cid marina and was put through to the marina office, I asked if the channel to the fuel dock was ok, and got into a strange conversation, based around everything being fine, but they needed my passport details and visa info. I thought this was odd, but went along with it, then she asked were my last port was and I stated Mazatlan harbour, thinking that might stop the questions, but then I was asked how I got there from Mazatlan and had I come via the Panama canal. I told her I didn't think I had and surely something was wrong that she should ask me such things. I was transferred up the chain and it became apparent I was talking to El Cid Marina in Cancun on the other side of Mexico in the Atlantic!
I then phoned the original number, this time with my microphone turned on and spoke to the friendly staff at El Cid Mazatlan, who said, the channel was clear, deep and I should head in without any worries. If any attorneys are reading this, can you get in touch please 😉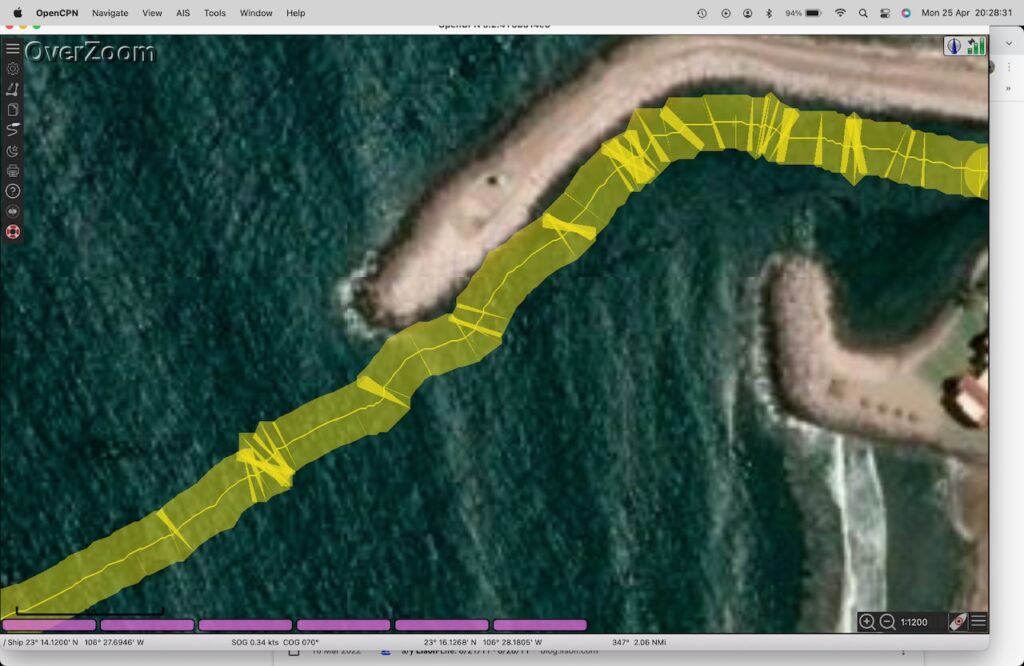 We headed in, I knew from previous trips that it is only deep close to the breakwater and you really have to hug the wall, way closer than is comfortable, as we approached and started our turn, a big roller raced in behind us and lifted the stern high, pushing us forward at which point we hit the ground with some force, the wave continued to lift and spin the boat, the bow swung to port violently, and Kathy thought she was going to be thrown out of the cockpit. I could see we were seconds from having the bowsprit ripped off and being thrown onto the wall. This was the first time I ever thought we could lose the boat in all the scrapes we have been through. However the big wave raced underneath us and lifted the boat out of the silt we had grounded in and I turned hard to starboard, gave it max revs and we swung away from the wall and into 7 ft of water and out of the waves. A quick visual check and the boat seemed to be intact and behaving and I started breathing again. I doubt my actions made much difference as the wave had so much power in it I think it threw us wherever it felt like. We refueled and I spoke to the staff on the fuel dock who didn't understand when I explained the problems I had had, they just said it was very safe and I would have no problems. I felt it was best to leave right away and get this behind us rather than sensibly find a spot for 3 hours to let the tide in, so we headed back, running aground on the way out, with Kathy exclaiming horror as the depth gauge showed us dropping to 1.7 metres, we need 2.0. I wasn't too worried about driving into the surf, especially as I was turning into it this time, so full revs agan, and we slid through the silt into deeper water, turned into the surf and we're away. I won't be returning at low water again, that's for sure.
We had a pleasant night at anchor, despite many tour boats arriving and blasting out their music. A few boats would arrive with a mariachi band on the bow.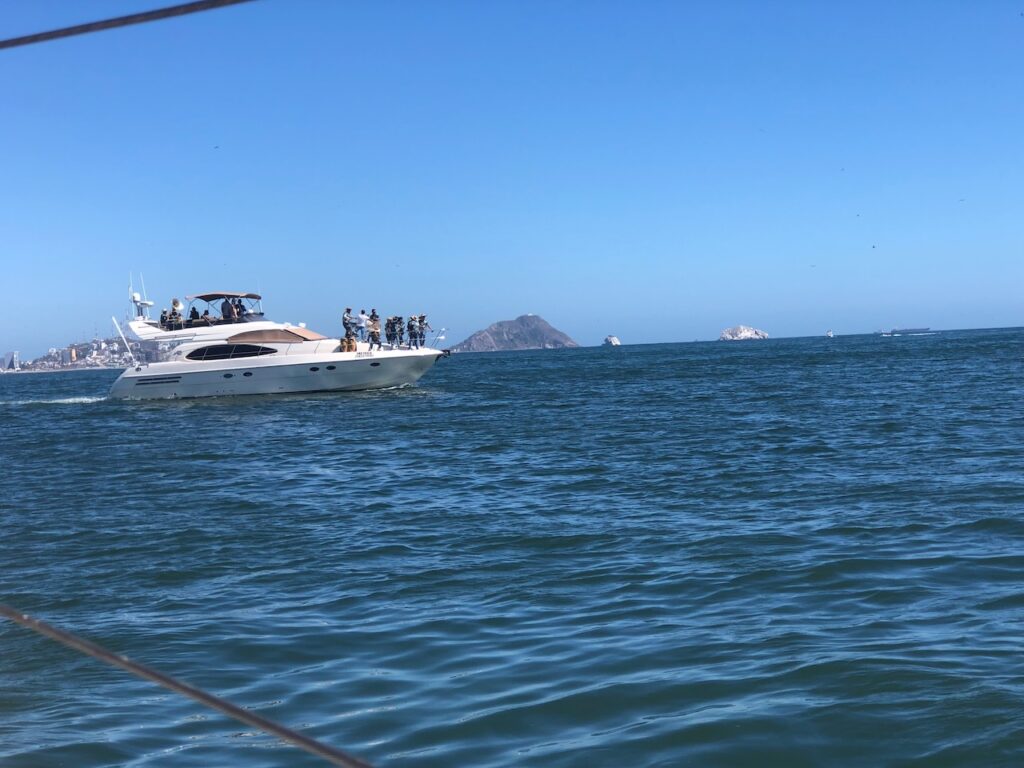 Tuesday 26th April
We left our anchorage around 07:00 to try to get back to the La Paz area before night on the 27th. We ended up motoring for most of the trip and arrived at Bonanza bay at 3:30 on thursday morning, slept for 7 hours then headed back to our spot in the marina arriving at slack water around 14:00.
The trip back was notable for the number of Jellyfish, Portuguese man o' war, turtles and various other creatures we saw. No wind and flat seas makes these much more obvious.
Pictures of Mazatlan as we wandered around: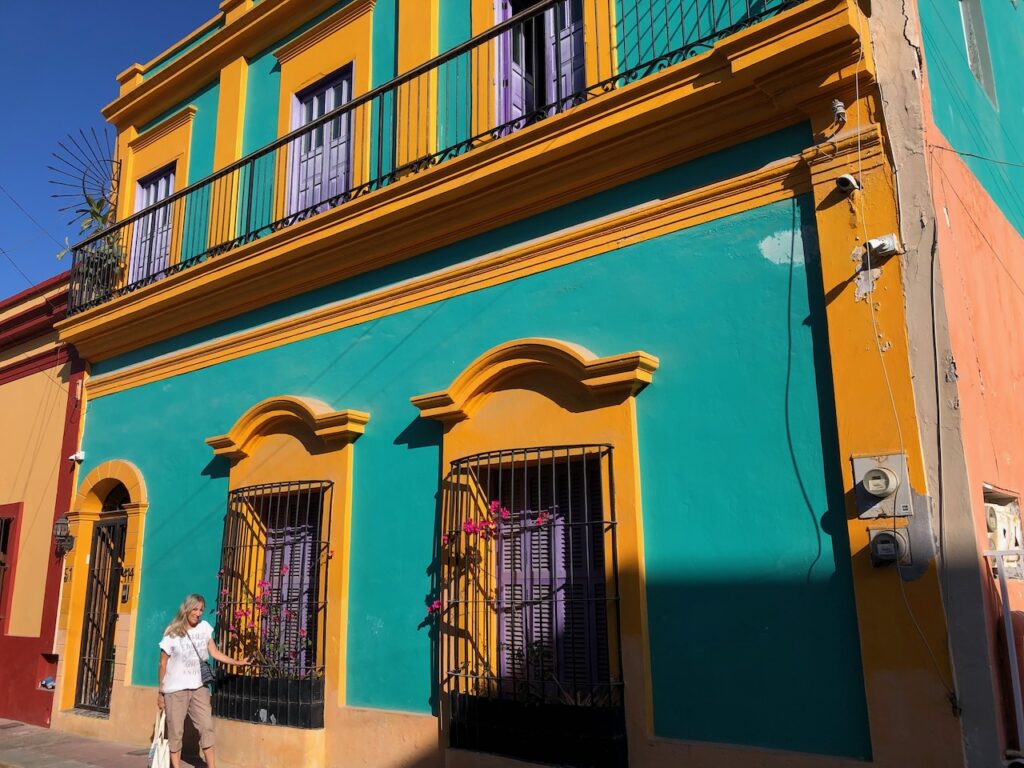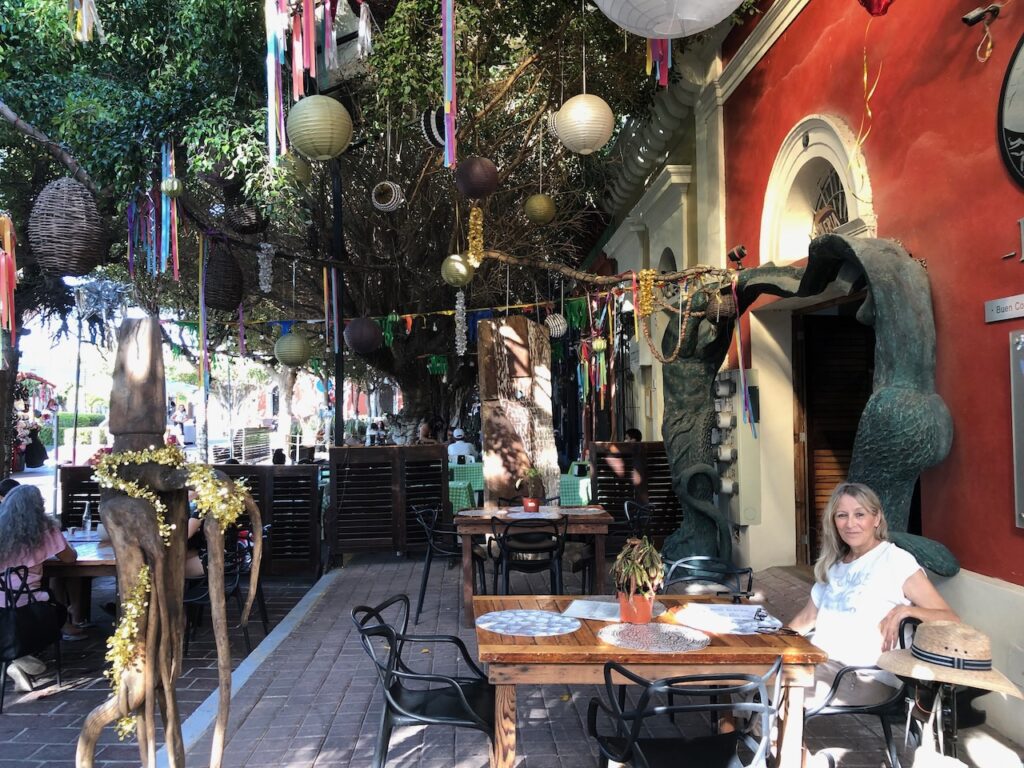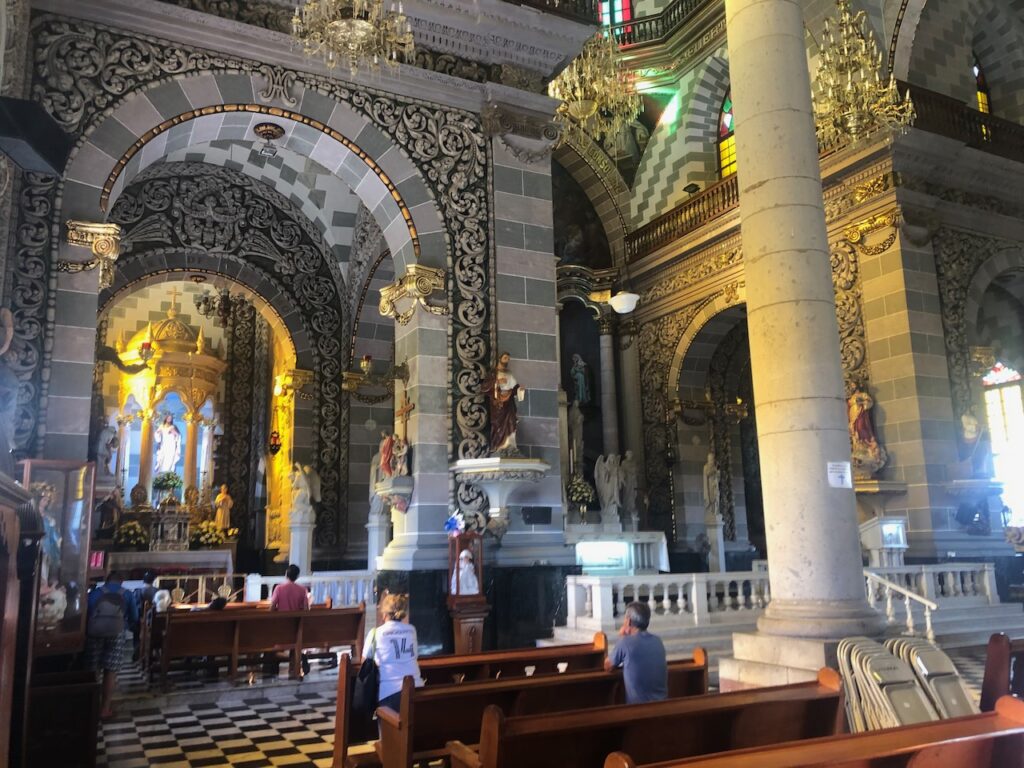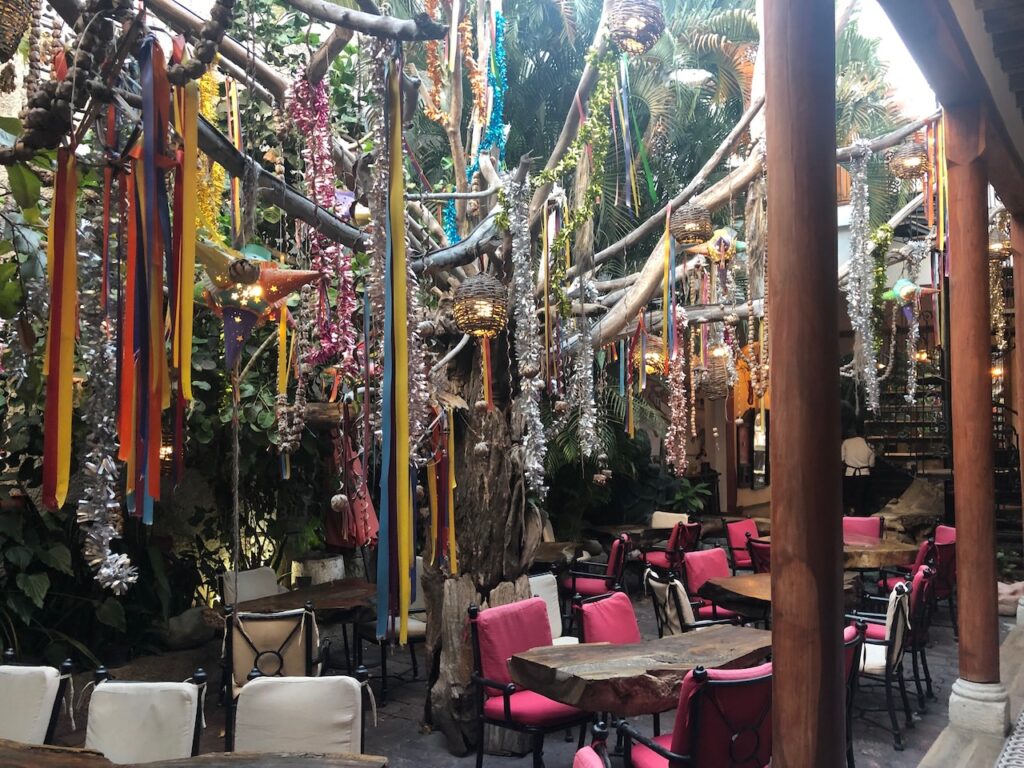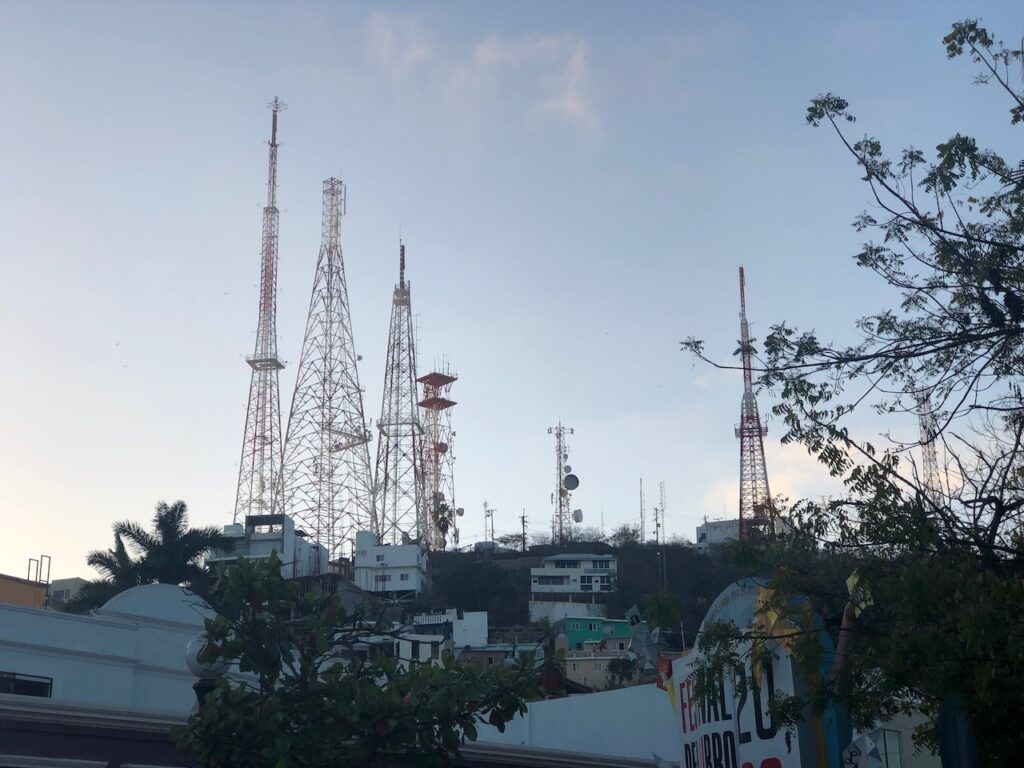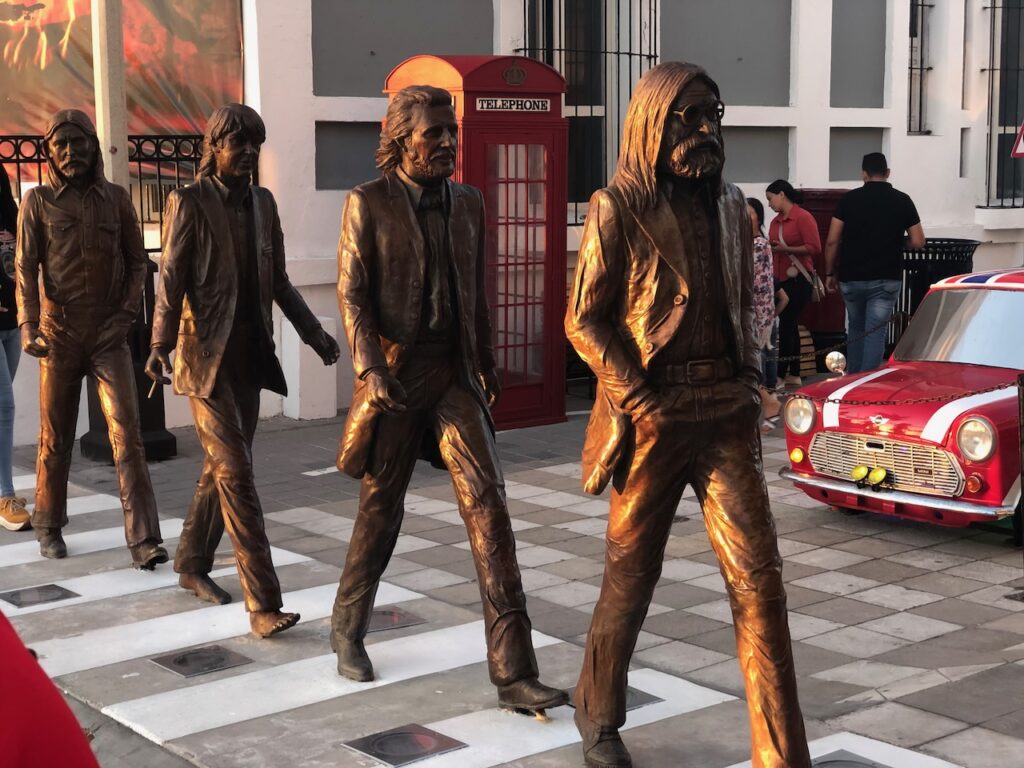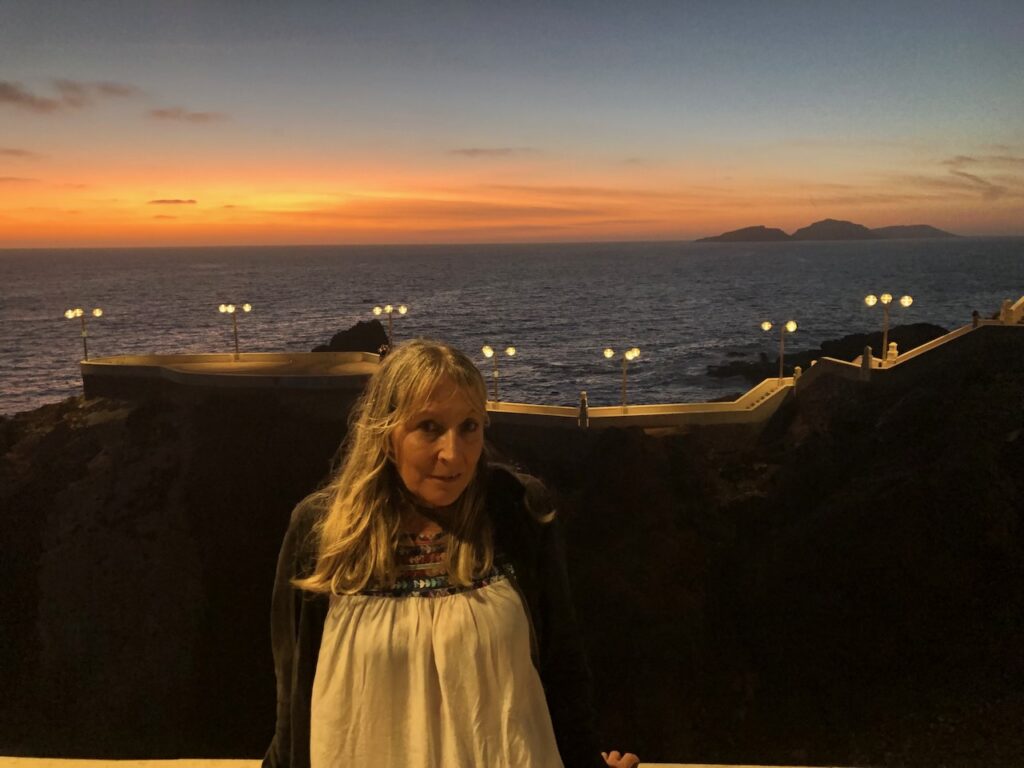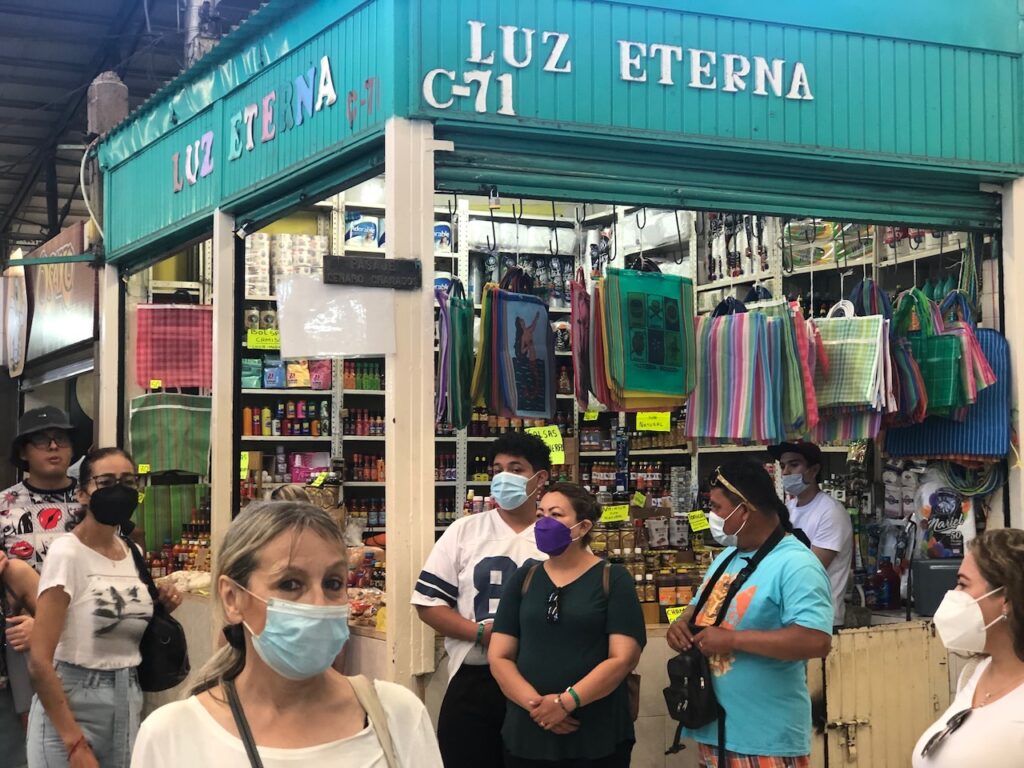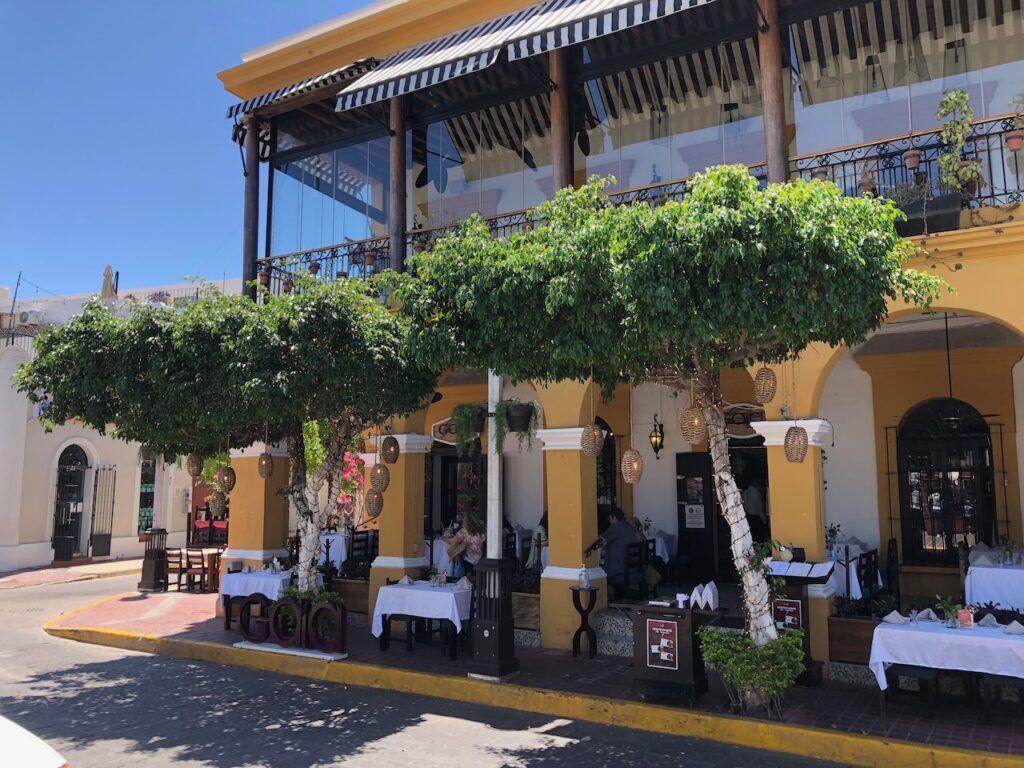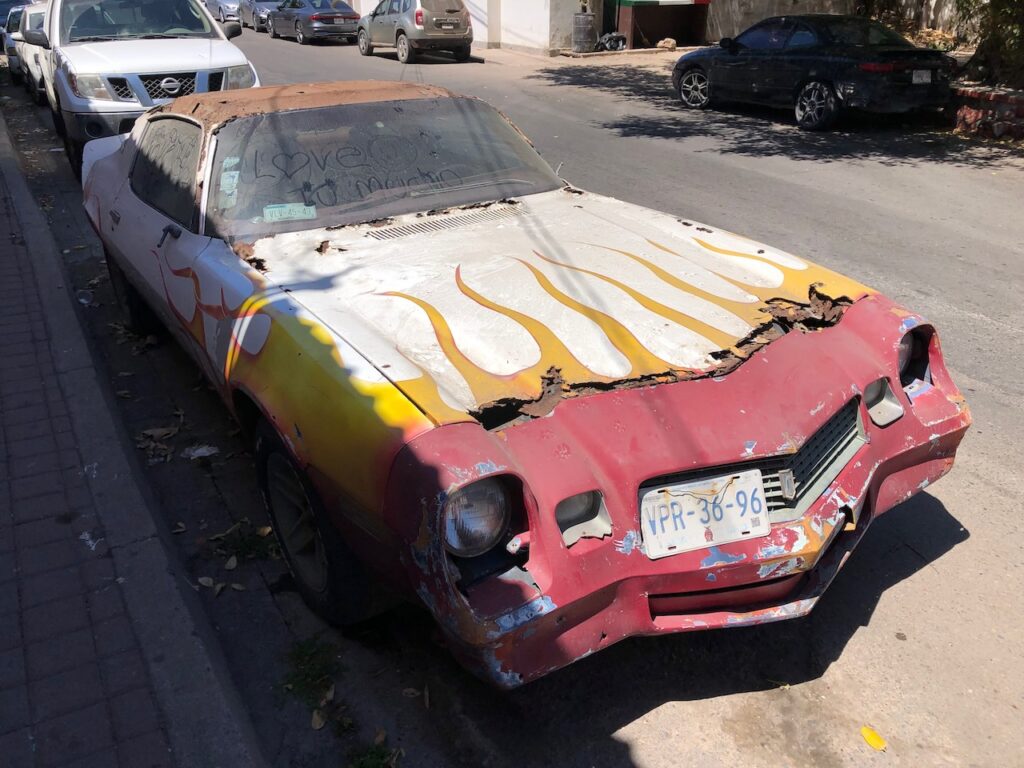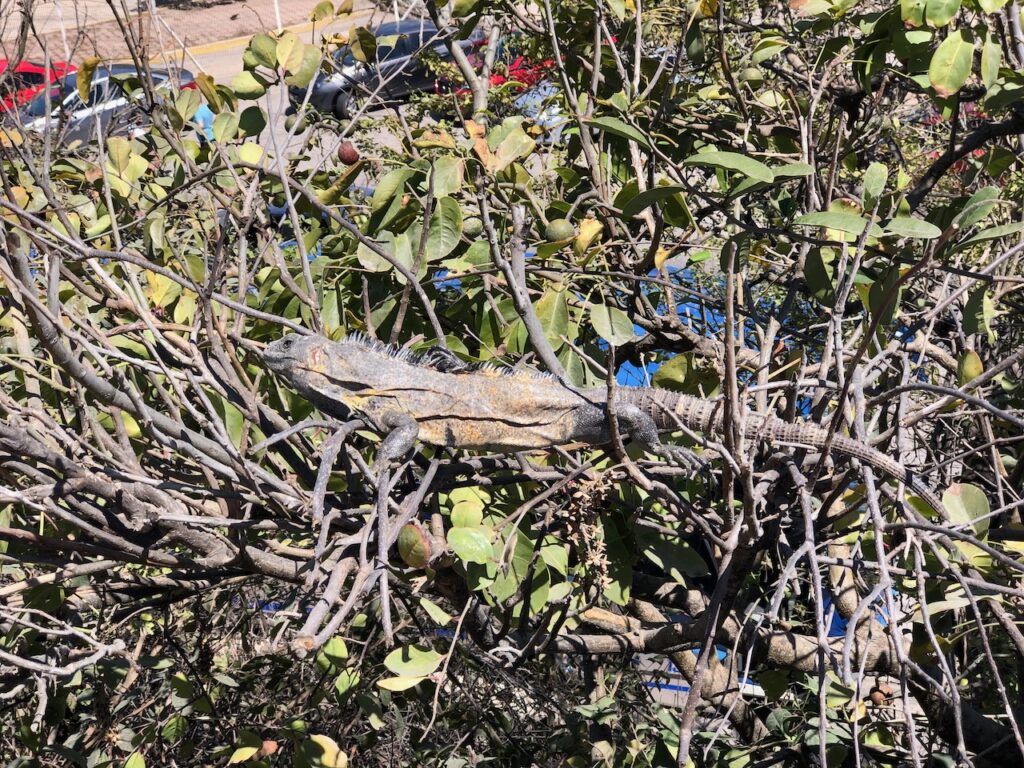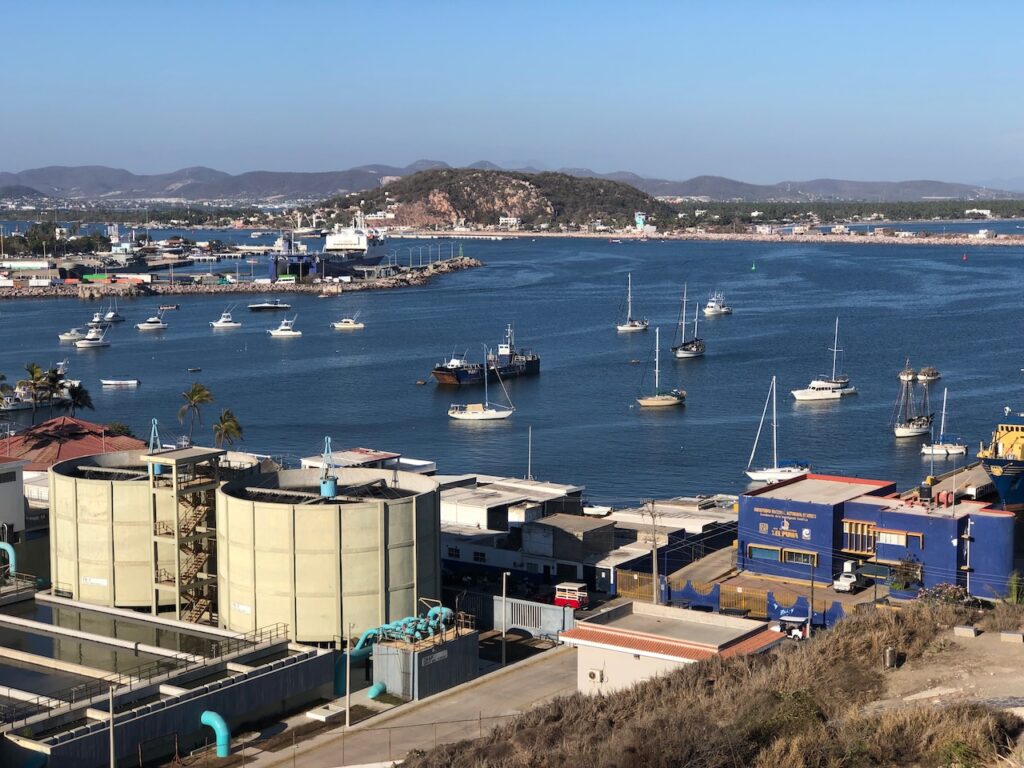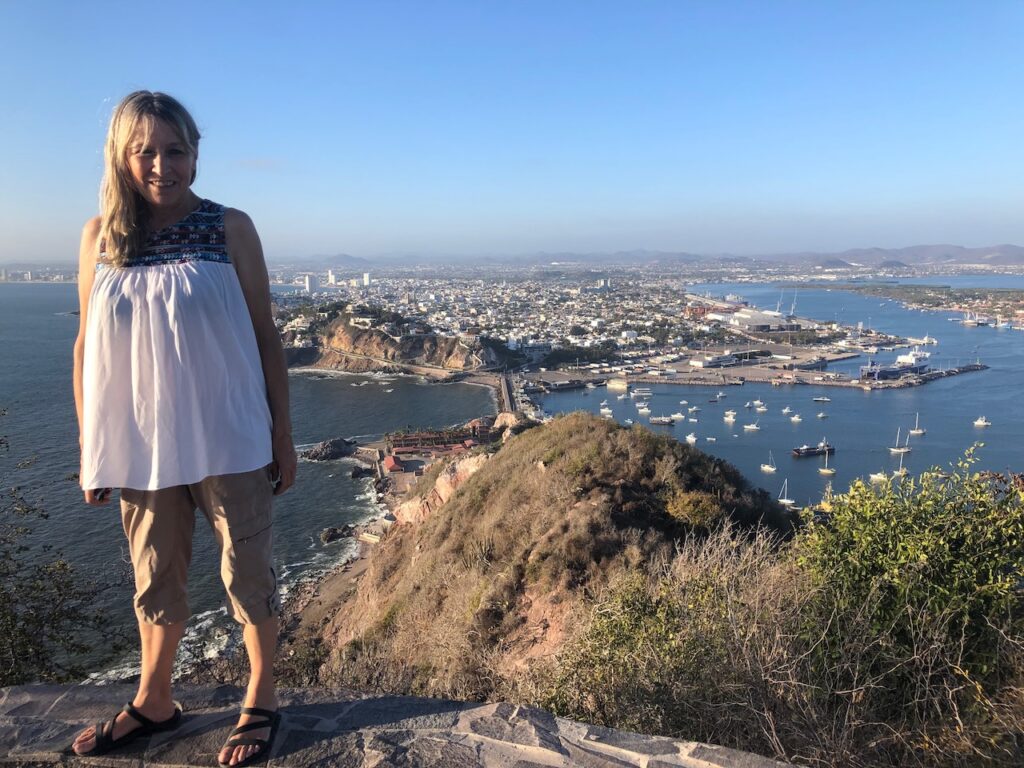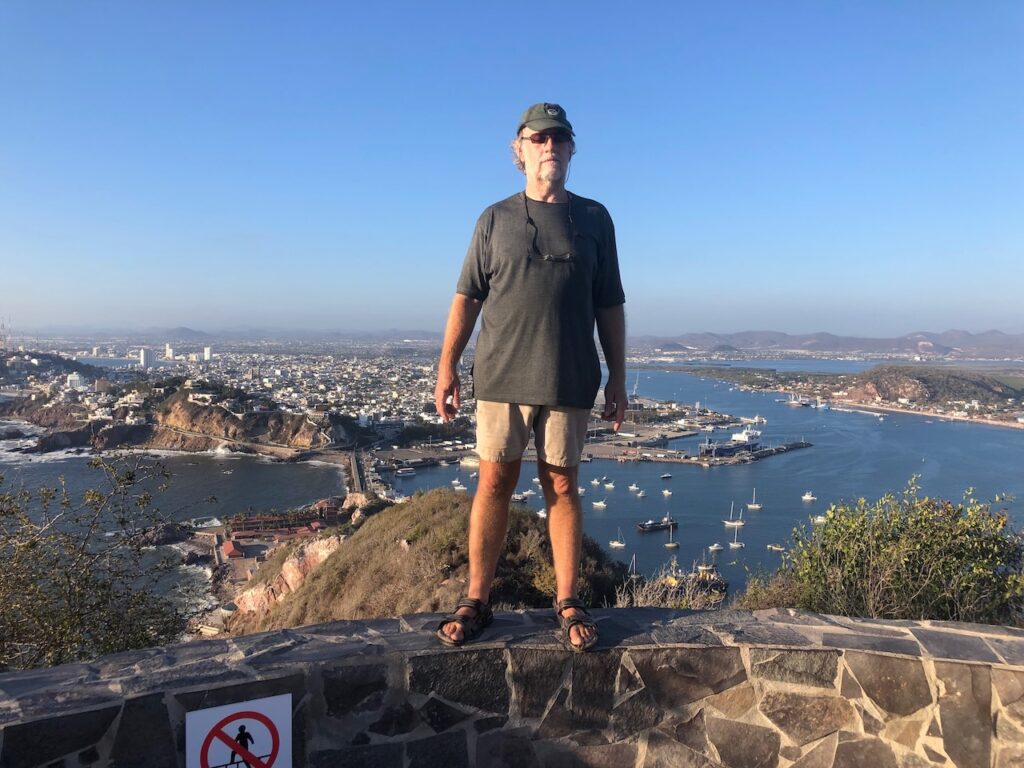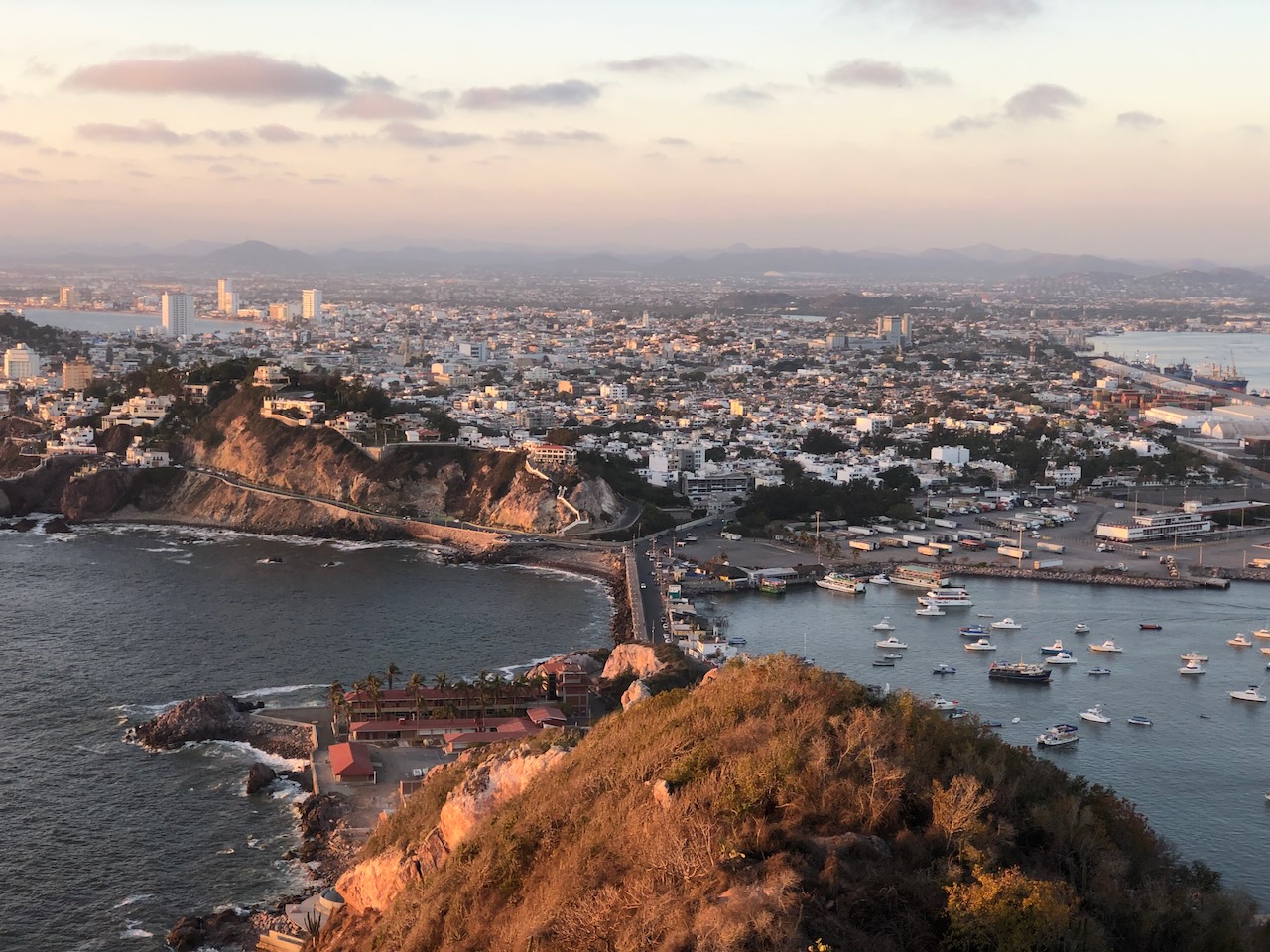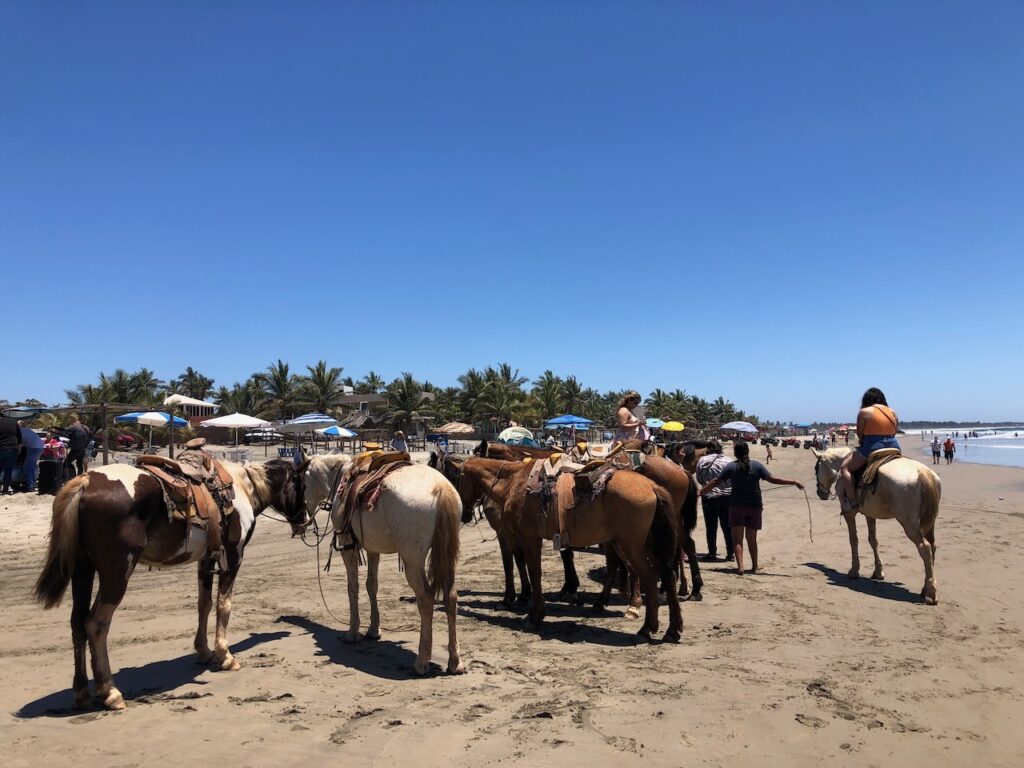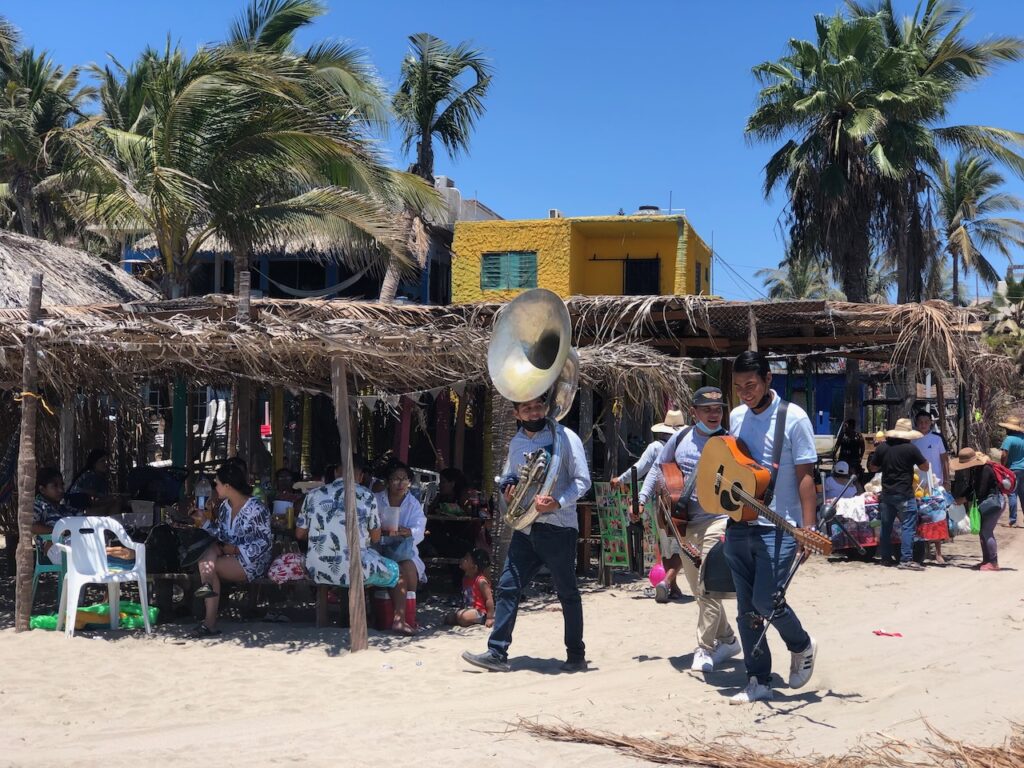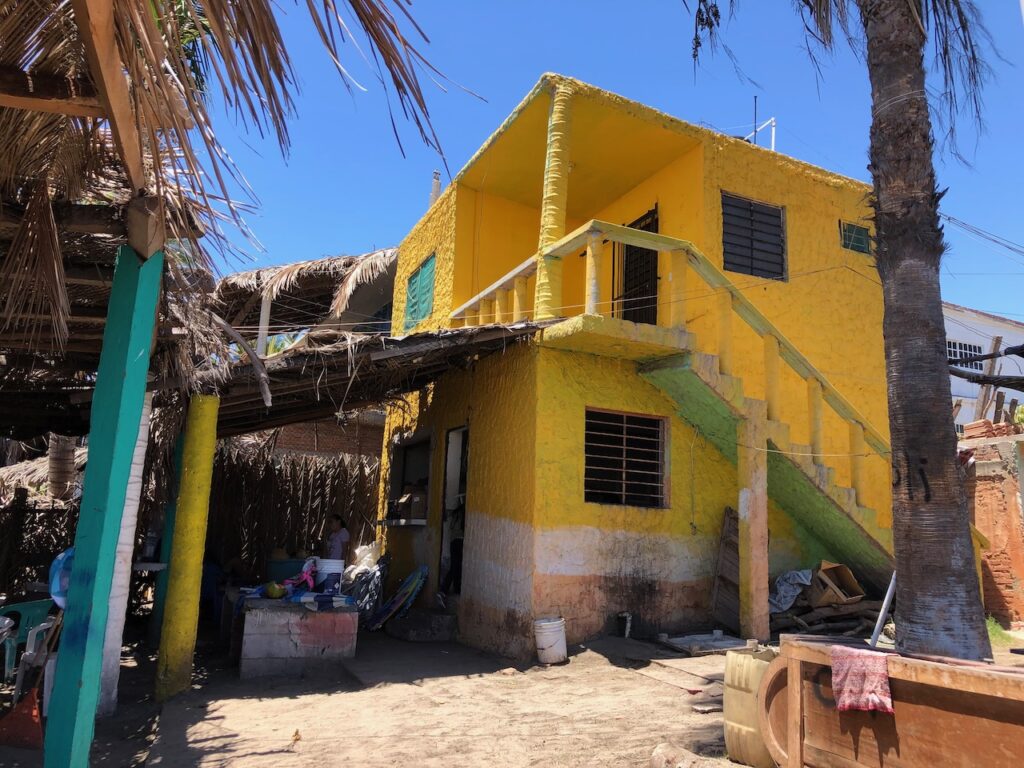 Paul Collister
30th Sept April 2020