Tuesday 28th Sept.
Today Carlos and his uncle Arturo arrived to clean the boats bottom, it looked bad from the waterline, but Carlos was happy to report the antifouling was doing a great job and what barnacles were there scraped off easily. For those who don't know, I have lumps of Zinc or Aluminium strapped to various parts of the boat underwater. These zincs, or sacrificial anodes, to give them a more proper name, exist to protect the boat from galvanic corrosion. Basically, the metal underwater, like the propellor/prop shaft, thru hulls and bow thruster will all dissolve in the water over time, due to small electric currents there. We put Zinc, or Aluminium in the case of the bow thruster, on the metal parts so that they will dissolve first before the less noble metals. Carlos told me the Zinc on the Max Prop had gone completely, which is bad news, he replaced it for me, the hull zincs are 80% good but interestingly the bow thruster zincs are down by a third. I told Carlos that I was pleased that they were working. I had replaced them in the spring because the previous anodes had not worn out at all in the 5 years since the bow thruster was fitted and I couldn't understand why. I showed the old ones, which I had kept, to Carlos and he quickly spotted that there was a sealant on the mating face of the anodes, he was right, and I didnt notice that when I replaced them at the last haulout. So the yard in Malaysia that fitted the bow thruster has put something like sikaflex behind the anodes and consequently they had failed to work, and had not been protecting the bow thruster properly.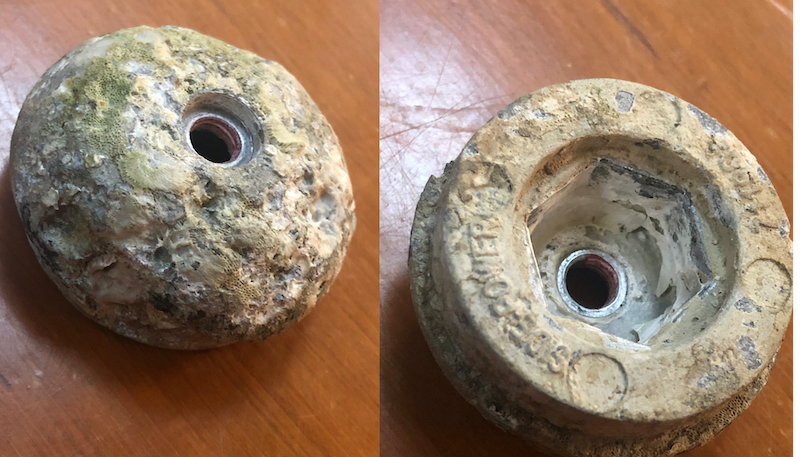 In the future somebody may be staring at the corrosion inside the bow thruster and scratching their head, being the optimistic type, I'm hoping there isn't much damage. At least the anodes are protecting the device properly now.
Having that job completed, the fridge was next. I had been researching options for a few days. Back home a complete replacement of the fridge system, all the parts, would set me back around US$1000, I could buy that system in the USA for the same price, however I would have to pay a lot in shipping and taxes, possibly another $500. I could replace the faulty evaporator only, this part is only around $250, but the connecters between it and the compressor have changed over the last few years, so I would have to buy one compatible with the old compressor, and if the compressor failed later, I would have to find a replacement compatible with the old connectors, which might be difficult in a few years time. Also the old connectors require you to get the gas refilled when the connection is broken/made, so that's two callouts to an engineer to cost in. So I took the plunge and ordered a new system, with shipping/taxes etc it's costing me $1400, a lot of money, but as Kathy says, we do need it. The current system has worked well for over 12 years so I can't complain.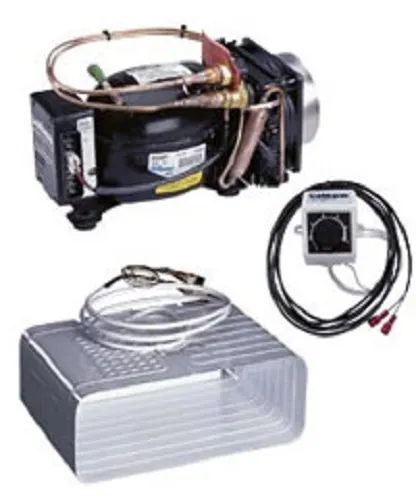 Wednesday
My fridge has been delivered to the freight forwarder DekoMarine in San Diego, So today I may start to remove the old system in preparation for the new. I'm waiting to get an idea of delivery times as I have never used this freight forwarder before, but they come highly recommended.
The morning VHF net mentioned that a boat was being moved into the anchorage by the navy, it's the closing stages in a sad story of a sailor with mental health problems that has been struggling for many years here to get his boat repaired so he could sail south. He seems to have become more and more delusional over the years and was living on his boat here believing the whole world was out to persecute him. Recently he had shot at fishermen passing too close to his boat on their way back to port. I heard he has now been deported after claiming title to a dissued boat yard. He keeps a blog, in which he appears to still be here, it's confusing. I can't help thinking if he could have got timely professional medical help things might have had a much better outcome. As it stands, one man loses his boat and dreams, and La Paz gets another rotting hulk to deal with one day.

Thursday arrives and I have stomach ache, last night I had a big fry up, it was meant to be a healthy salad, but something went wrong at Chedraui and I ended up with potato fritters/eggs/tuna steak and mushrooms.
I spend the whole day in bed. I receive an email to say the new fridge will arrive Friday, which is great.

Friday:
24hrs in bed, but I'm feeling better today. I check at the office in the afternoon and the fridge hasn't arrived yet, it's too late to do the install anyway. Arturo calls round for a beer later and we have a good chat and ponder over the anomalies of our respective languages, I get very confused over the word 'sided' as in 'two sided', and wonder how to explain to him the logic in that. He surprised me by not being able to hear any difference in the words, dog,dock and duck when I say them, presumably because of the 'g' sound in Spanish.
Just crazy wild evenings eh!
Saturday
Up early and the fridge has arrived. I'm impressed.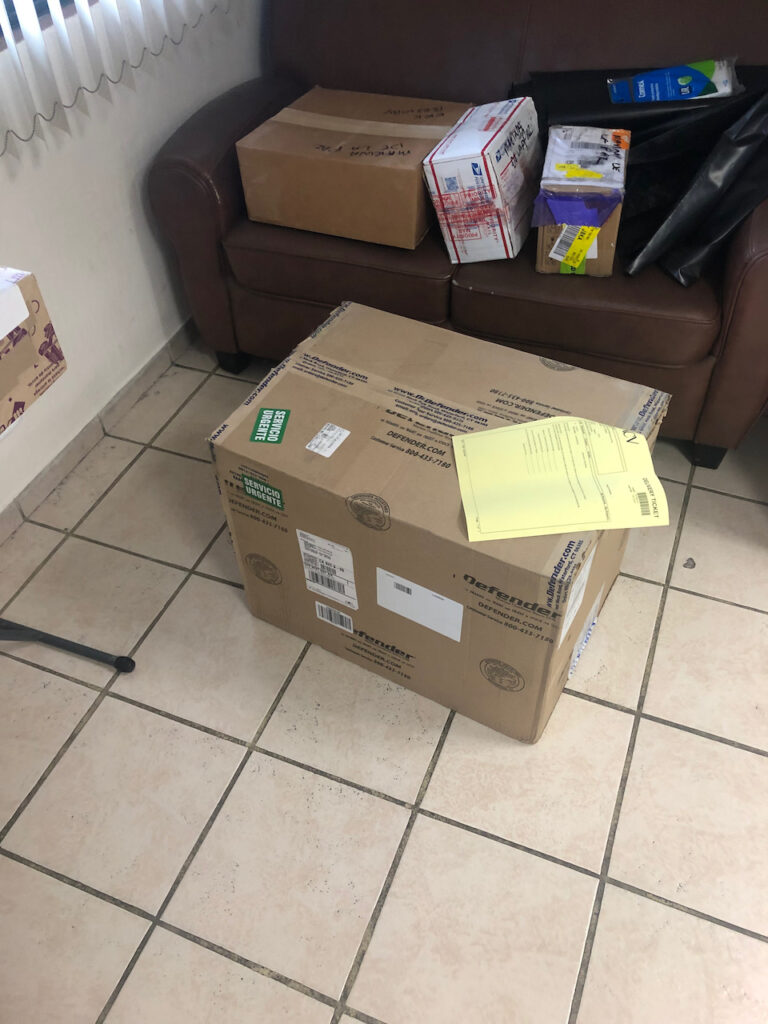 First all the old bits have to come out, the compressor, the evaporator and the thermostat.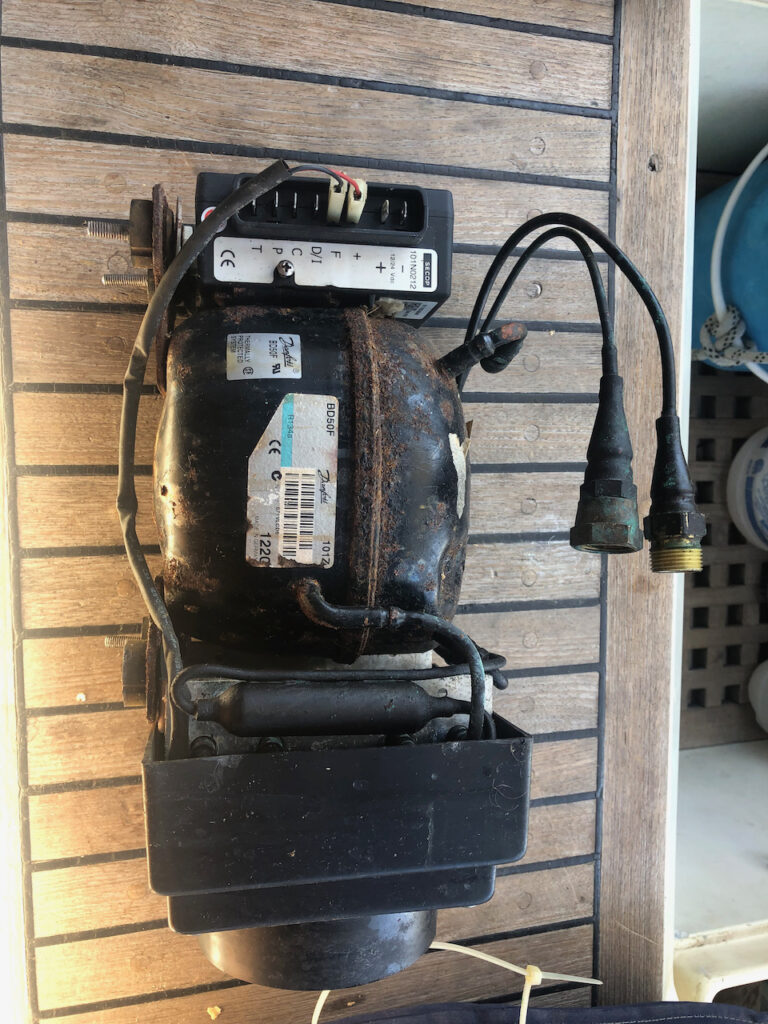 The new one is an isotherm 2501 model, it's top of the range in capacity, but quite heavy on the electricity, about 4 amps on a high cycle here. Made in Northern Italy.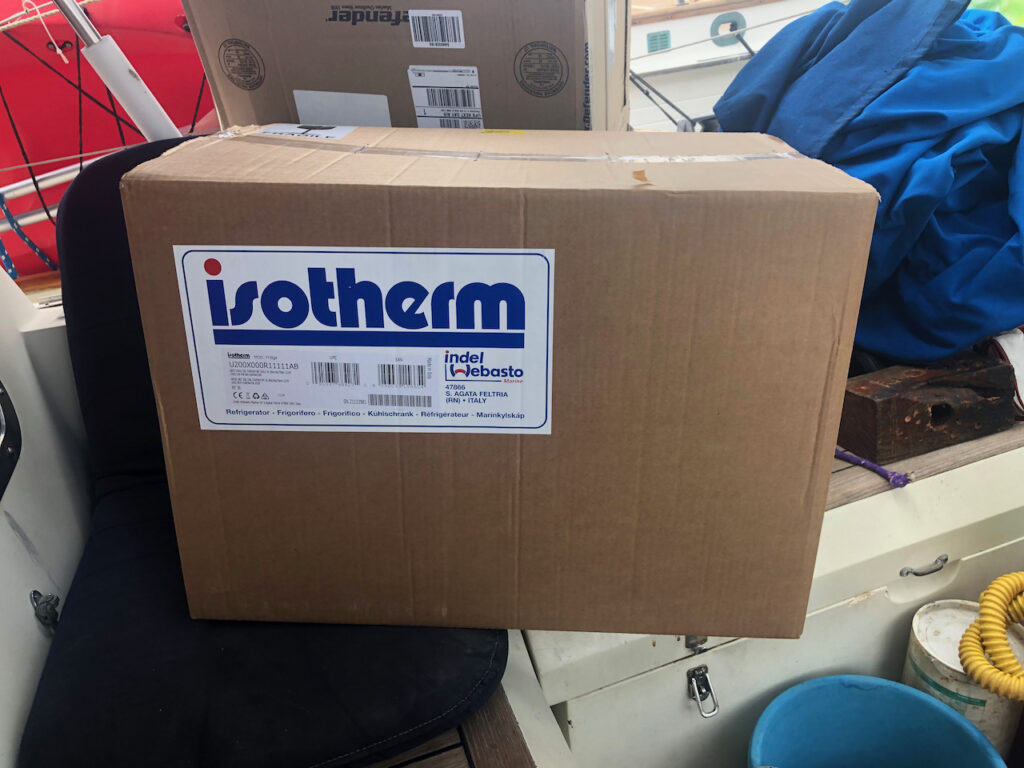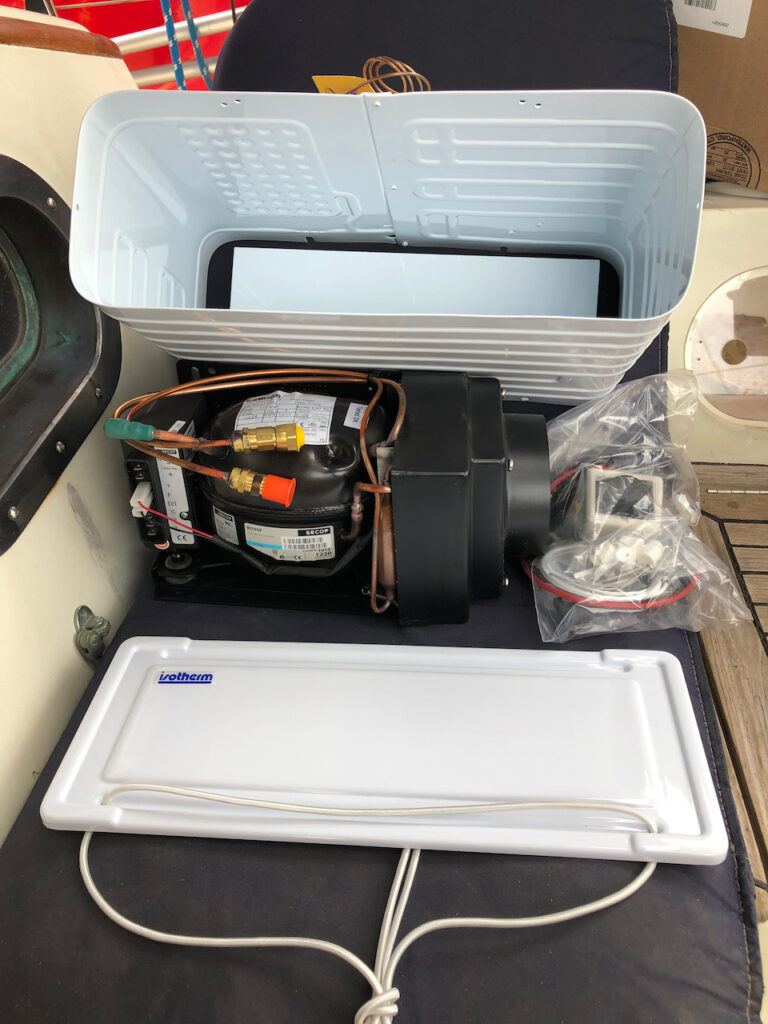 The fridge is surprisingly hard to work with, it looks easy, but all the angles are wrong to be able to turn a screwdriver and see what you're doing.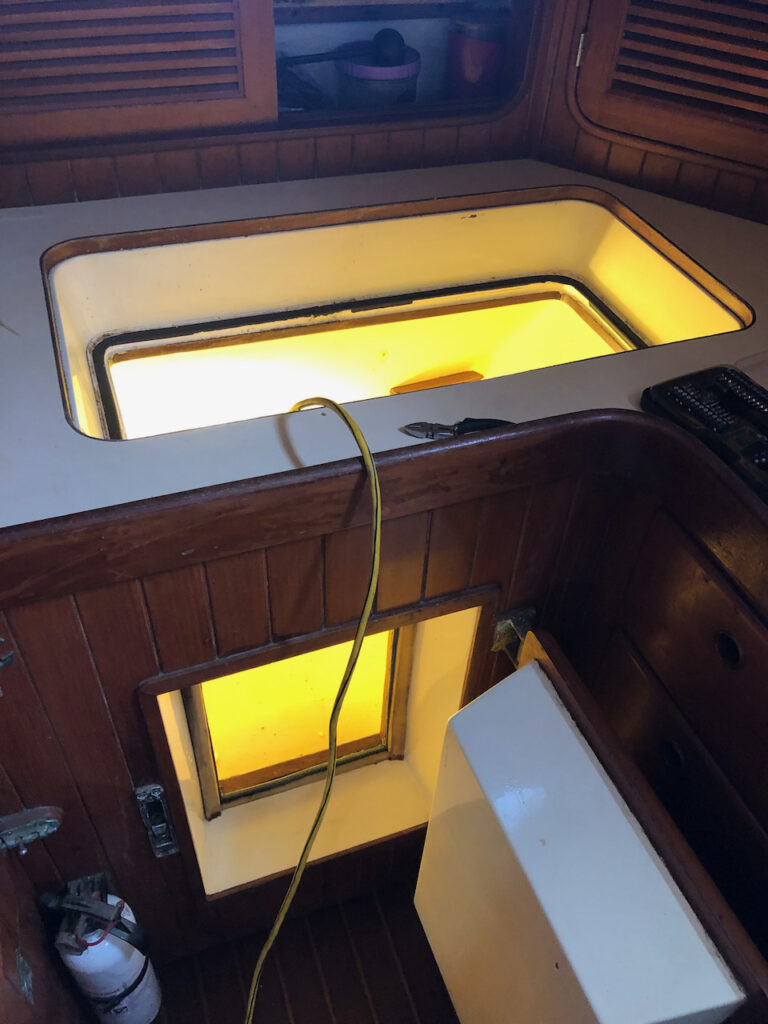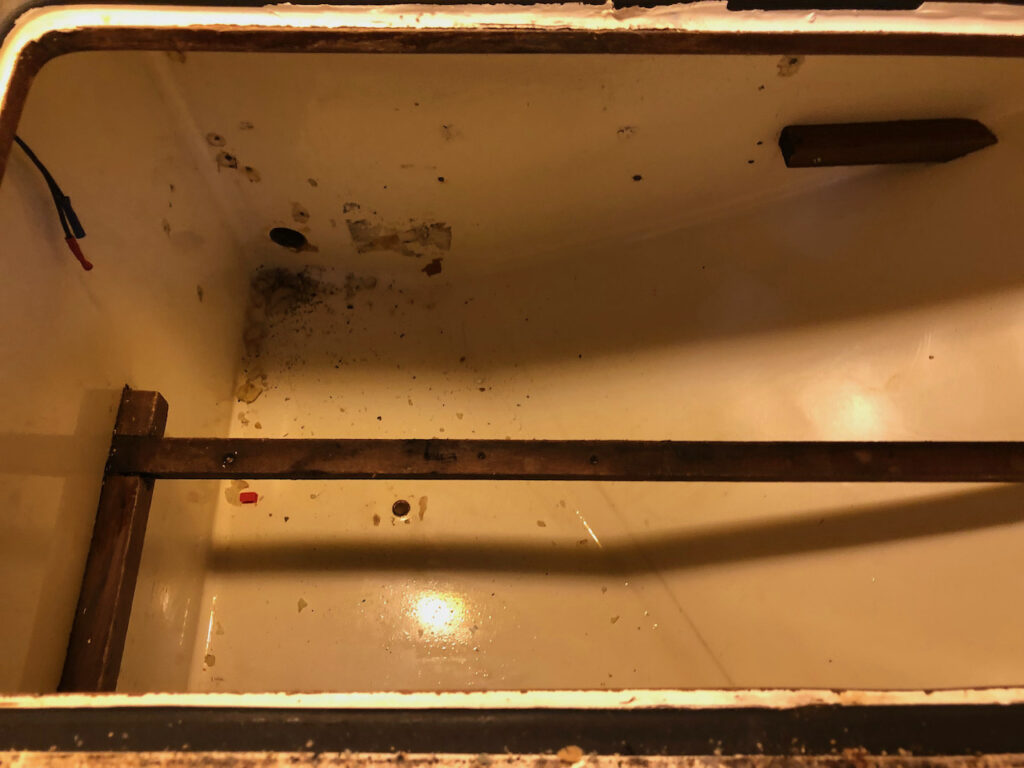 Eventually, after 6 hours of solid fiddling, I get the old evaporator out and the new one fitted in.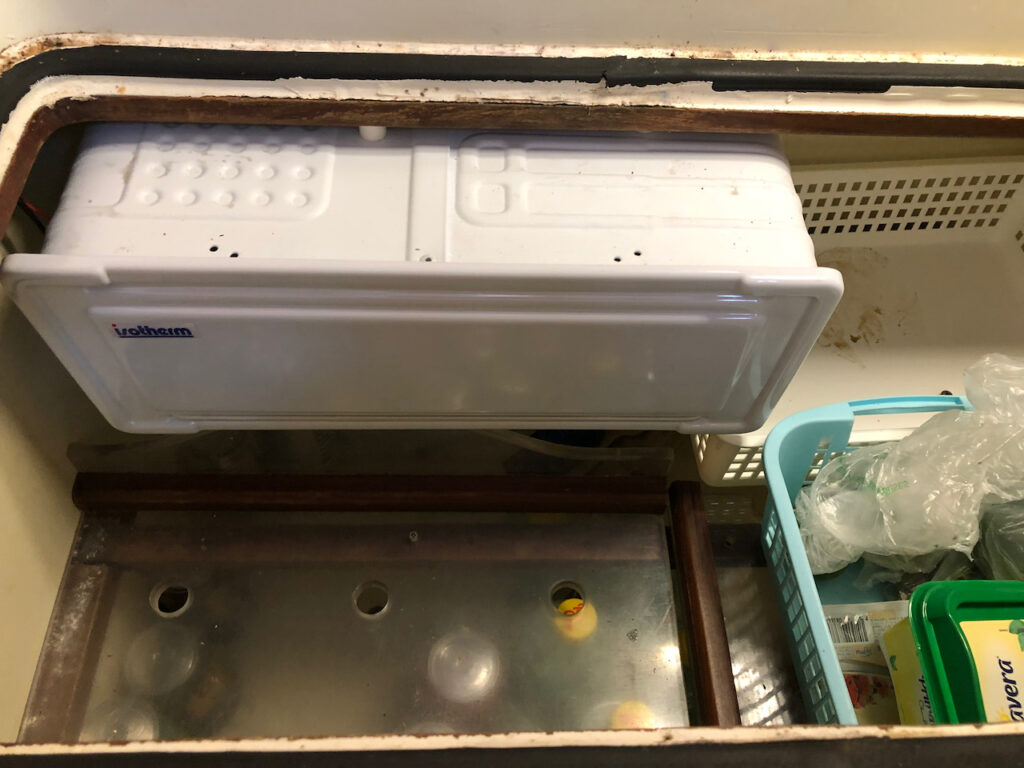 After that, the rest was easy, but I really struggle with the quick connect refrigerant line connectors, you have to tighten them just right (9.5n/m), and I worry I have over or underdone them. Anyway it fires up and the ice box is getting cold quickly. Success, I refill the fridge with cans of drink and head off to by some food to stock it up.
As the evening progresses I become more disappointed with how long my beers are taking to cool. By 10 pm I see the thermostat has cut out, meaning its as cold as it thinks it should be, however it's nowhere near cold enough yet. I'm wondering if it's because that whole area has been hot for a day or two now, or perhaps it needs to settle, maybe there's an air lock trying to work it's way through 😉 . I feel I already know way to much about fridges and don't want to have to learn more. I set the thermostat to maximum volume and decide to see what's there in the morning, probable some very frozen expensive lettuces! It's a price I can pay.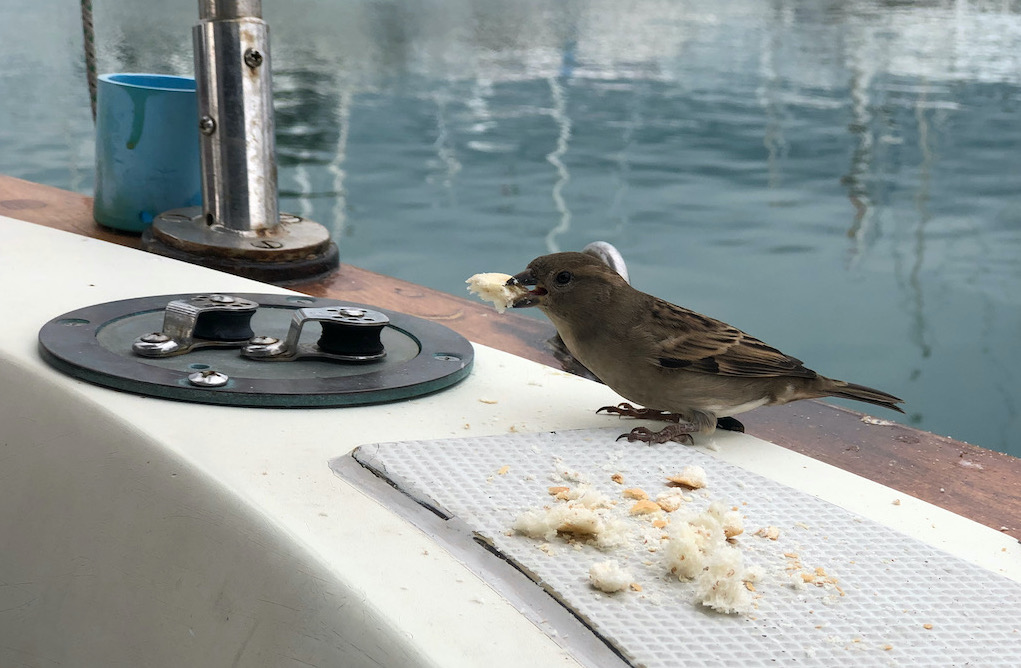 Sunday arrives and the fridge is very cold, but not freezing anything as it would have done on maximum before. However the cans of drink are just the perfect temperature, and everything is great, except I don't know if things will freeze in the ice box. Later in the day I work out the problem. There is an option for either the fridge thermostat or a fridge/freezer thermostat, a quick google reveals I had the fridge/freezer thermostat on the old system and the new one came with the fridge only thermostat. I'm still a little confused, but I'm happy I can fix things easy now, should I need to get it colder. We have a real torrential downpour in the afternoon, great for the vegetation, but the roads are all messed up and one young woman dies when a part of a road is washed away.
Once the sun comes back out I head off for a couple of hours kayaking around the moored boats, I'm interested to see what this troubled man's boat, SV Disperser, looks like. It's a huge ferro-concrete ketch with a Jet Ski on deck, two big wind generators, and looks in reasonable condition compared with many other older boats left to rot here. It needs to be protected and sold, I'm sure it could be fixed up reasonably easily, but I'm expecting it to be stripped, and left to drag onto the shore in the next big blow. Very sad.
I walk up to the cow supermarket later and get some fruit, I need to improve my diet. The rain water has brought mud, sand and possibly other less desirable things onto the malecon and adjoining streets. There's also a noticeable increase in bugs around the place.

Tomorrow I will try to hunt down some foam filler to fill the hole that the fridge hoses pass through, then I can put the boat back together properly and start making her seaworthy. Next weekend I may go out for a spin.

Paul Collister