I enjoy problem solving, which is just as well and probably why I'm living on a boat happily, there are no end of problems to solve, some not even boat related, like my next trip home. Firstly though an update on the fridge
Monday 4th October 2021
I head off to the ferreteria (Hardware store, I'm assuming from the latin Ferrum (iron), as in Ironmonger) to pick up some squirty expanding foam. As commented last week, you get a lot of foam, presumably reusable, but probably not in reality as it will gum up the nozzle and hose, still at $10 for a can, it's not the end of the world, and a small cost in the larger fridge scheme of things. I have read one should treat it like sikaflex, in the sense it will make a mess everywhere, but I think not, it seems easy to manage and it's only at the end when I try to wipe up some excess that I start getting it all over me and the locker. Fortunately it clears up well. I have the fridge on full now and I have just started to get ice crystals in my diet coke, so that's perfect. Also the Tilapia fish fillet I put in the freezer bit is rock solid.
Tuesday
Now the fridge is finished, I stow everything back in the Lazarette and tidy up the cockpit. I have the air con running a lot but I really don't care for it. The boat is either too hot or too cold and noisy, can't seem to find a good balance.
Wednesday
I have ordered a small ADC for the PI computer, in fact I ordered two from MecardoLibre, the Mexican version of eBay, postage was free for two and the same price as a second unit! This little device should plug into my Raspberry PI computer and allow me to monitor voltages (and currents via a shunt) around the boat. The plan is to get the data displaying on this website for all to see, in particular so that I can monitor the health of the boats batteries and also if the bilge pumps are running and when, while I am away from the boat over Christmas. In all honesty it's really just an excuse for me to do some programming and as I have said before, make a light come on in England when the bilge switch lever moves in Mexico. The ADC which stands for Analog (variable voltages) to Digital (0s and 1s) Converter, is very sensitive, and it will be interesting, and probably a challenge to use. I'm expecting large current flows, like the Starter Motor or the Windlass or Bow Thruster will create voltage swings in the earth loops that will cause it to go crazy with it's readings, then when you add in the fact that my cable runs to the sense locations will behave like antennas for the SSB, the data is open to much corruption. Perhaps software Low Pass Filters might be the answer, we will see.
I visit Arturo to try a selection of cheeses we have acquired here. I insist he tries the Brie, which he later admits to quite liking, despite the fact he winced the last three times I made him eat it. I think like most vices, smoking and spirits, there is a pain threshold you have to go through. I presume the French are fed it as babies so won't understand this.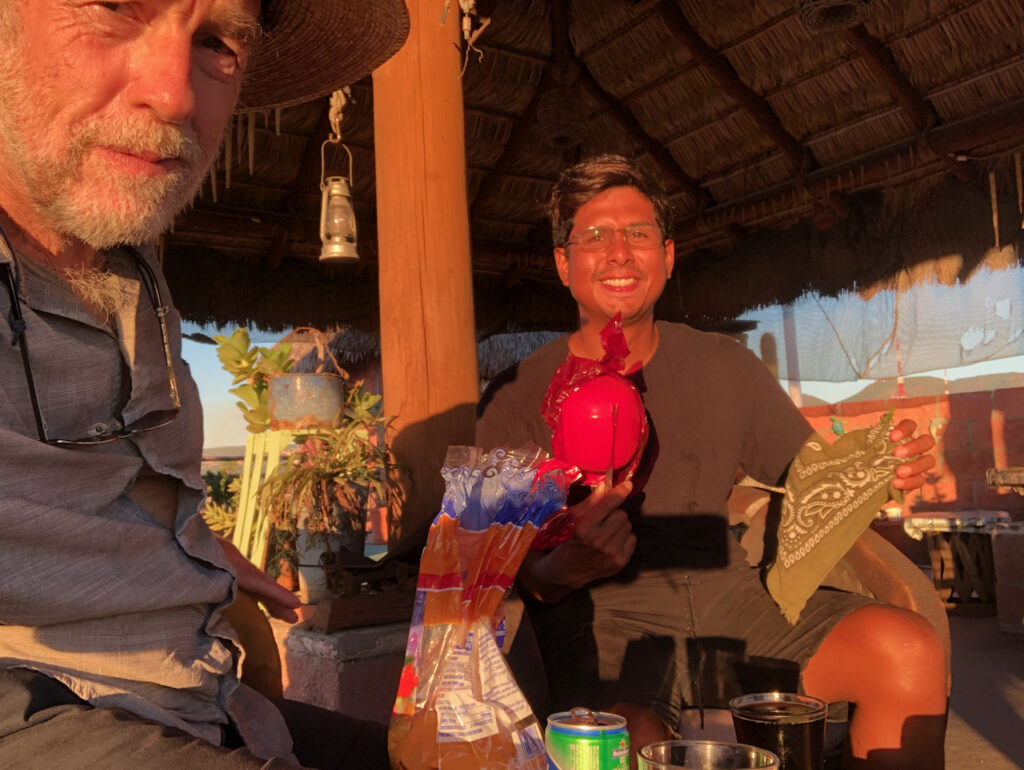 We sit on his rooftop terrace looking out over the bay, it's quite a view, perhaps one of the best in La Paz. In the distance the cruise ships are preparing to return to service as many have already done at various Mexican ports.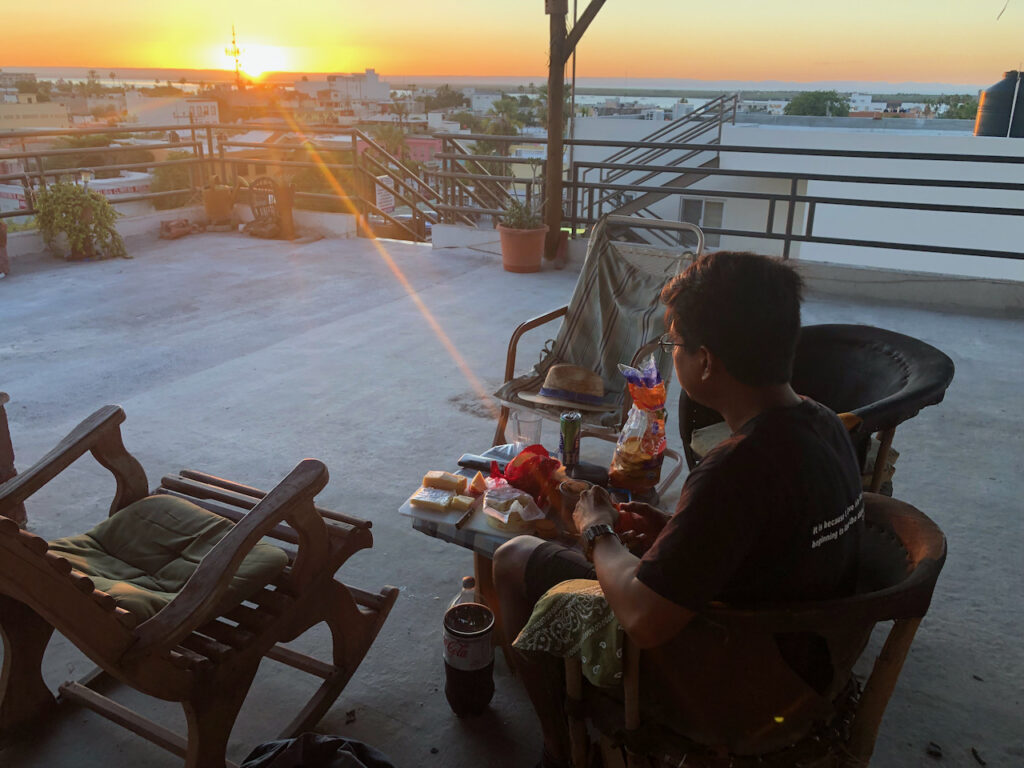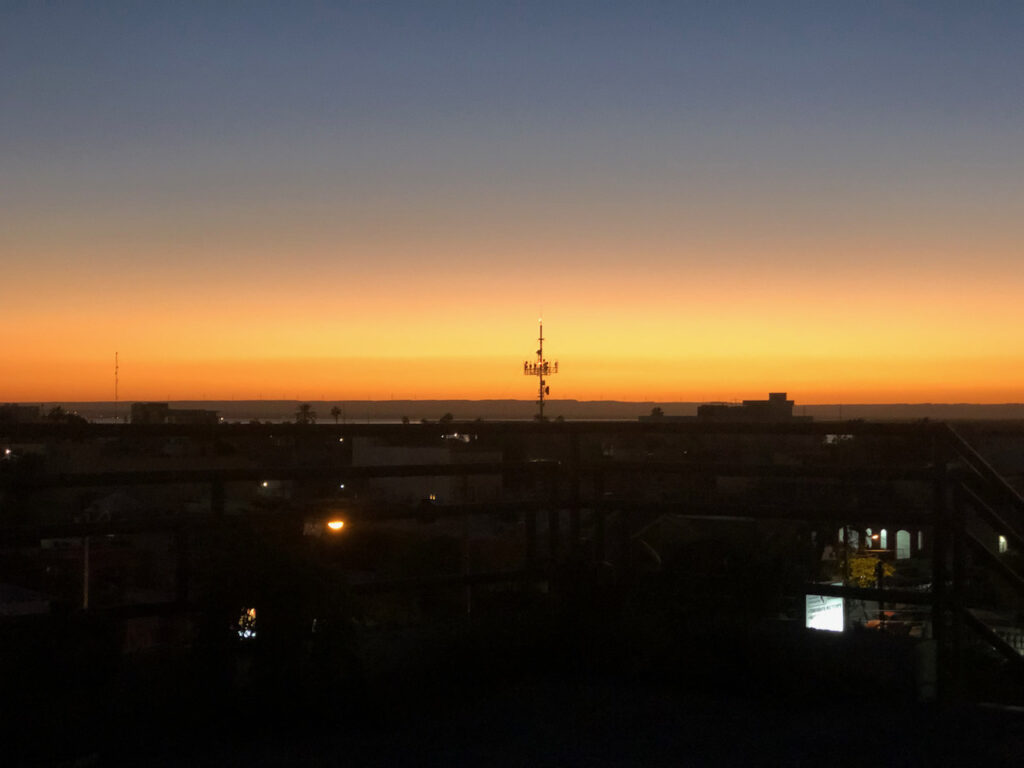 Thursday
A potential Hurricane appears on the forecast, a long way south, and not looking like a threat yet. I had secretly hoped we had escaped the season but hurricanes have been known here right up to December, albeit very rarely.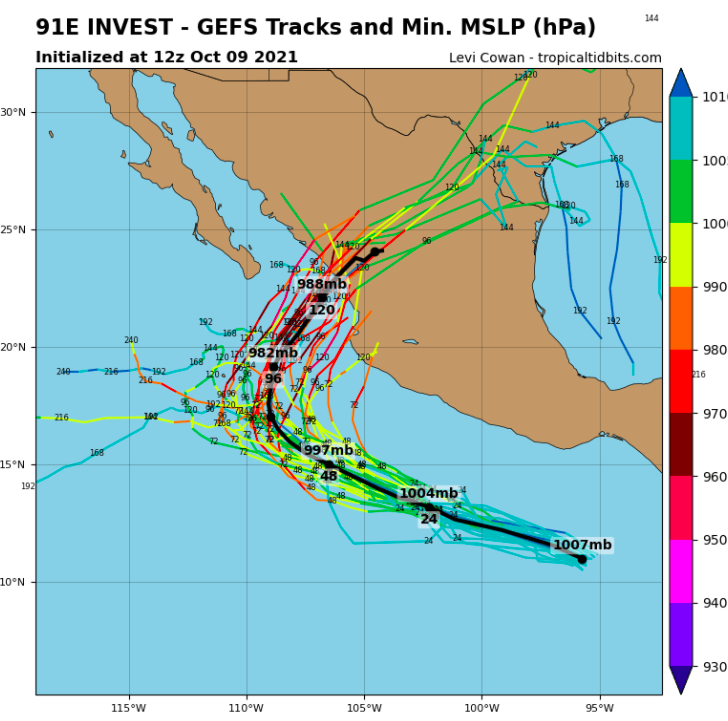 The UK government announced the removal of Mexico, and scores of other countries, from its Red List today, which makes it a lot easier to get home. I start to look for flights from Mexico City back to England but find the British Airways site crashing. I wonder if this is due to demand. Will demand mean prices rise now, or will more airlines start up old routes and the prices drop.
Friday
The plan is to leave La Paz in 3 weeks time, and spend November slowly sailing my way up to Puerto Escondido, near Loreto, so I can leave the boat there on a mooring ball for Christmas, and catch a flight from Loreto to England. I log on and find BA have sorted their website out, it's still a bit slow, but not crashing. It seems like the flights are very expensive £1000+ return, but when I check out the flights from Loreto to Mexico city I find there aren't any. This is a blow. I had just assumed all regional airports would connect to the capital. It seems if I want to fly back from there I will have to go via Phoenix/LAX or Dallas. It's difficult if I have to get back to La Paz or Cabo San del Jose, and will involve a long bus ride or taxi and hotel. So here's a rough idea of what I need to coordinate with my guess at prices so far
| | |
| --- | --- |
| Water taxi from Boat to marina | $5? |
| Taxi from Marina to Airport (Loreto) | $40 |
| Flight to Arizona (one way) | $300 |
| Arizona Hotel 1 night | $60 |
| Flight To Manchester via European Capital (return) | $900 |
| Train from Manchester Airport to Kathy in Liverpool | $15 |
| Total | $1220=£900 |
| Boat storage at Loreto for 2 months | $800 |
| versus Boat storage at La Paz for 2 months | $1630 |
Saturday
Up early and off to the street craft/organic market for some Vegan pesto. I manage to converse in Spanish, and the lovely lady there humours me and lets me pretend I can speak Spanish for the transaction, which included me asking if she would be there 'con pesto' on Tuesday. So after nearly 2 years in Spain, studying the language and I can now buy pesto in the market, to be honest, I was hoping for a bit more.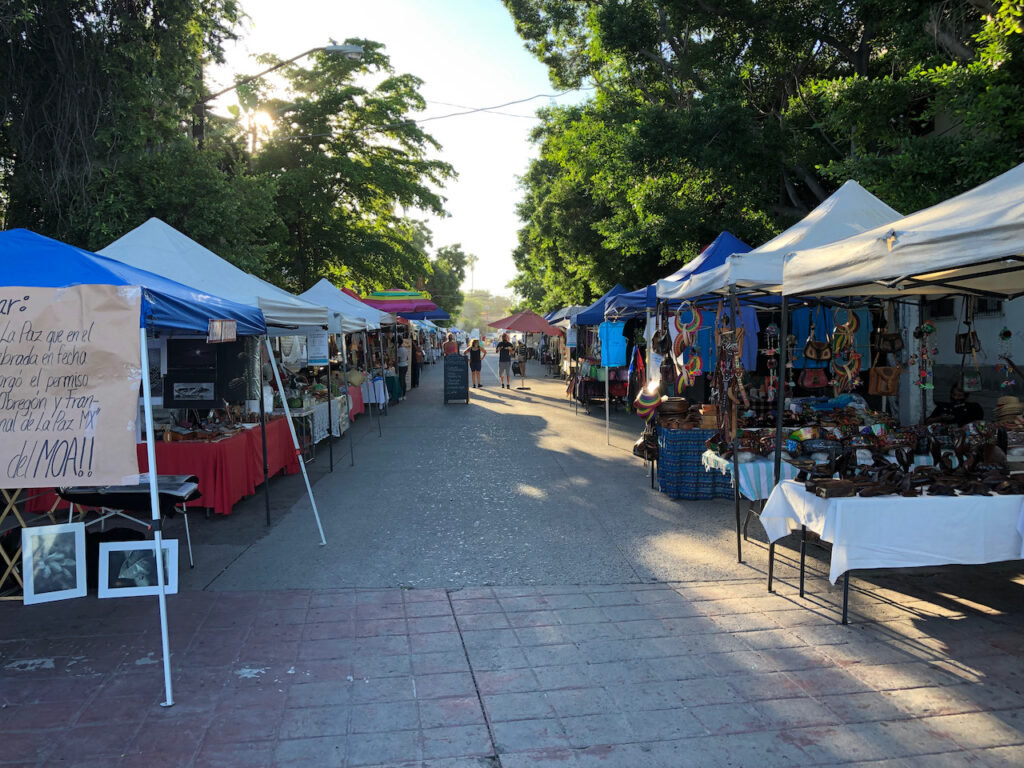 From there I head to Steren, this is a computer/electronics store, I think it's a bit like Tandy, or Maplin, I get there at 9AM it's starting to get hot now, and I'm pleased to be there before the sun starts burning me, however I see the store is not going to open until 10AM, I can't wait an hour here out on the edge of town. I cycle on to Home Depot, maybe they might have the cable I need. I want some two core shielded flex, I'm thinking or running this to the battery shunt and feeding into a differential input on the ADC which I believe has arrived. They don't have any, but I do buy 20m of Satellite receiver cable for about £10, this will allow me to run sensor leads that can be screened from RFI (SSB interference).

On my way to Home Depot I pass a very nice area with expensive looking houses down pretty side streets, when I emerge onto the main road, on one side there are lots of offices, mostly Abogados (Lawyers/Solicitors) and on the other side of the road a big prison.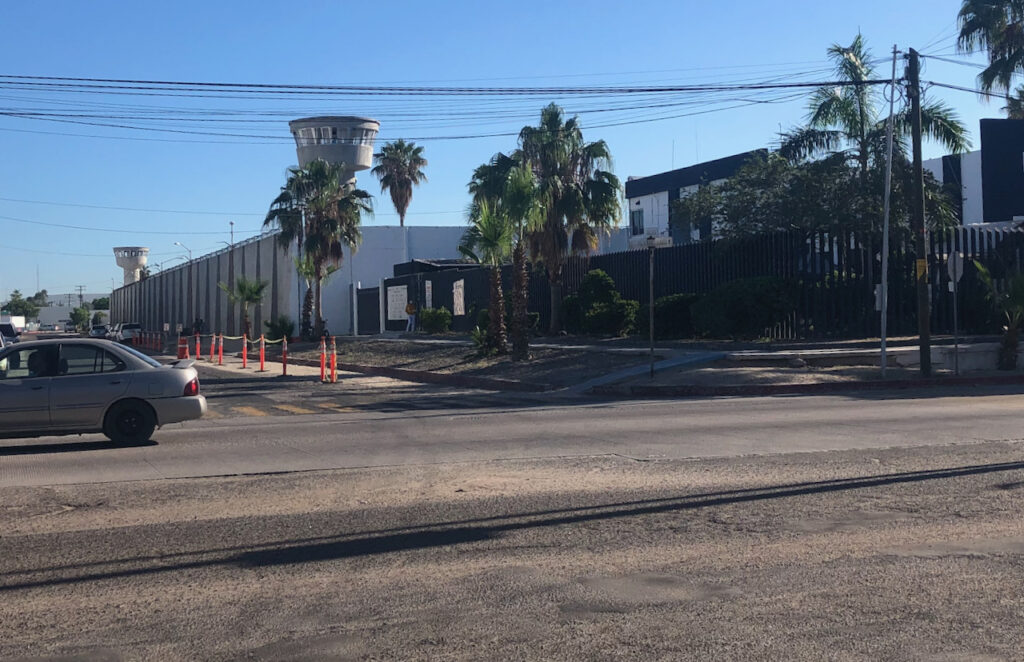 I can see why the legal fraternity might have offices close to the jail, but I wonder if they live in the fancy houses too. everything on your doorstep.
I cycle on to the best electronics shop in the centre of town, and he has some microphone cable with 2 cores, so I buy 10 metres of that, it may come in useful, who knows. What I can't find is a 12v USB Hub, I have seen them online, I want to find a way to power the PI computer and an attached hard disk all from 12v.
Cycling along the waterfront at the western end of town, I see it's a big tide and the car park has flooded. I'm not sure they are quite ready for a 1m sea level rise here.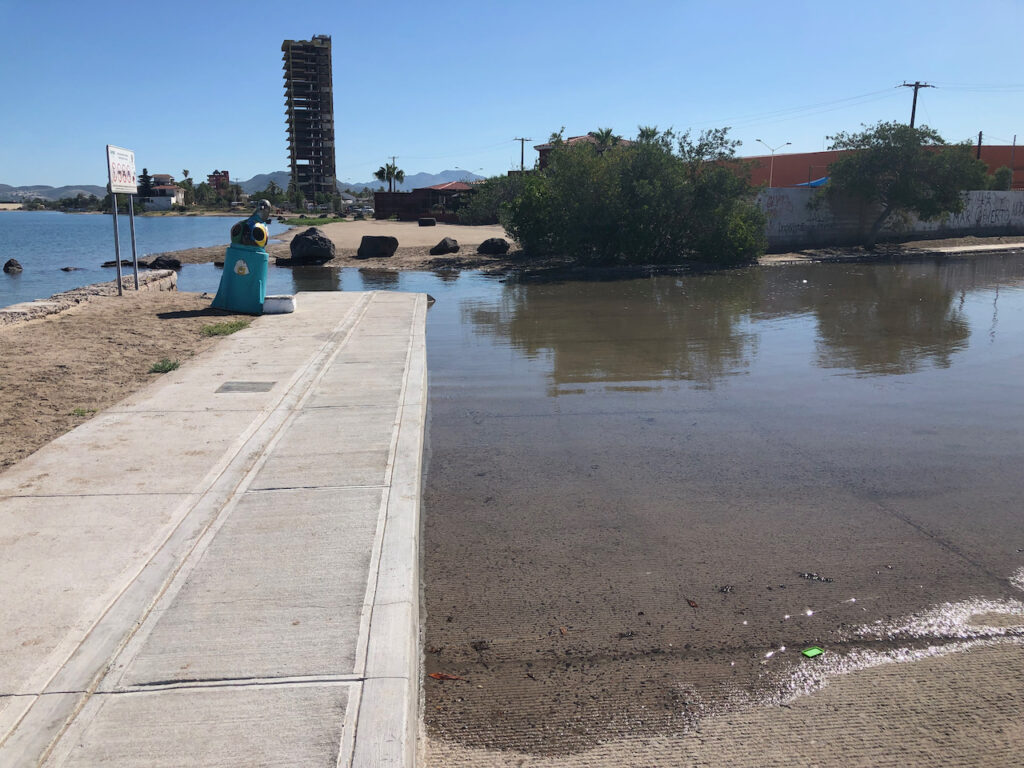 Looking out into the bay, I spot the remains of another abandoned ship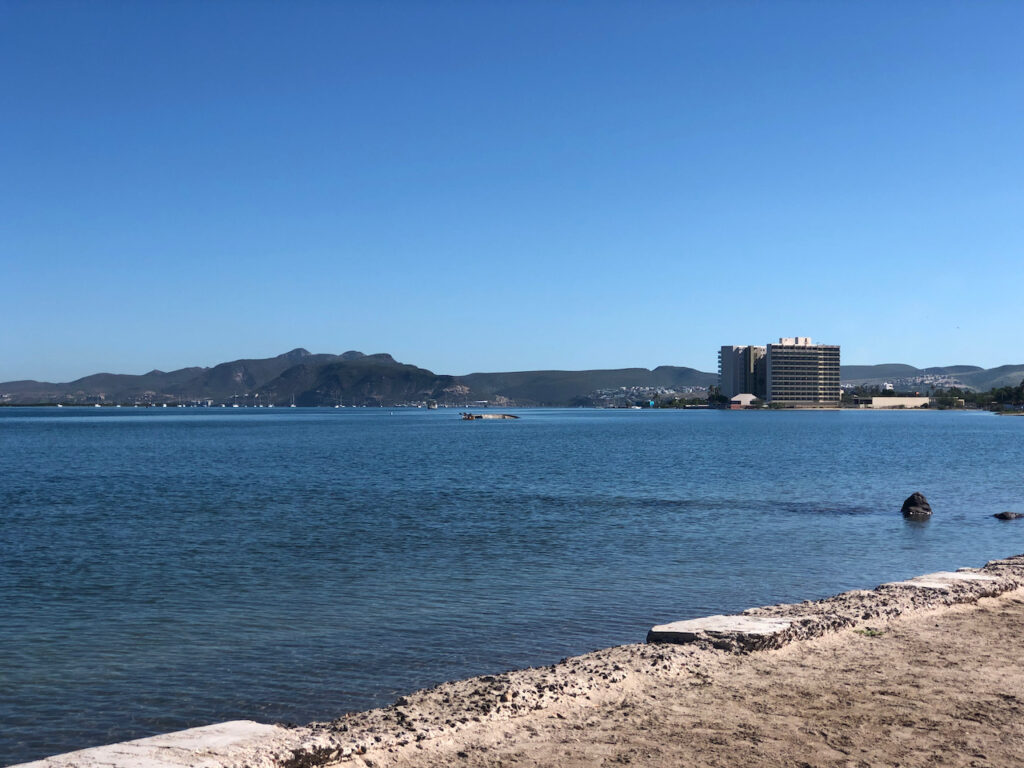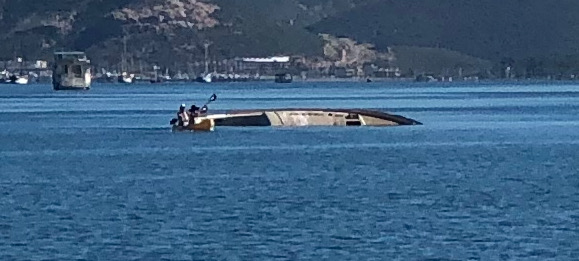 Sunday
Arturo had left some items in Ventana on Saturday, so for a change I decided to hire a car for the day, head over to ventana, an hour drive and then afterwards we would use the car to do a big shop. Ventana is some distance along the coast from here and is much more exposed. It's opposite Jacques Cousteau Island. Arturo is doing his divemaster course here at the weekends. We hire a car for just MEX$800 around US$40, or £28, which is not bad for a day however no sooner had we left the centre of La Paz than I was pulled over by a policeman on a motorbike.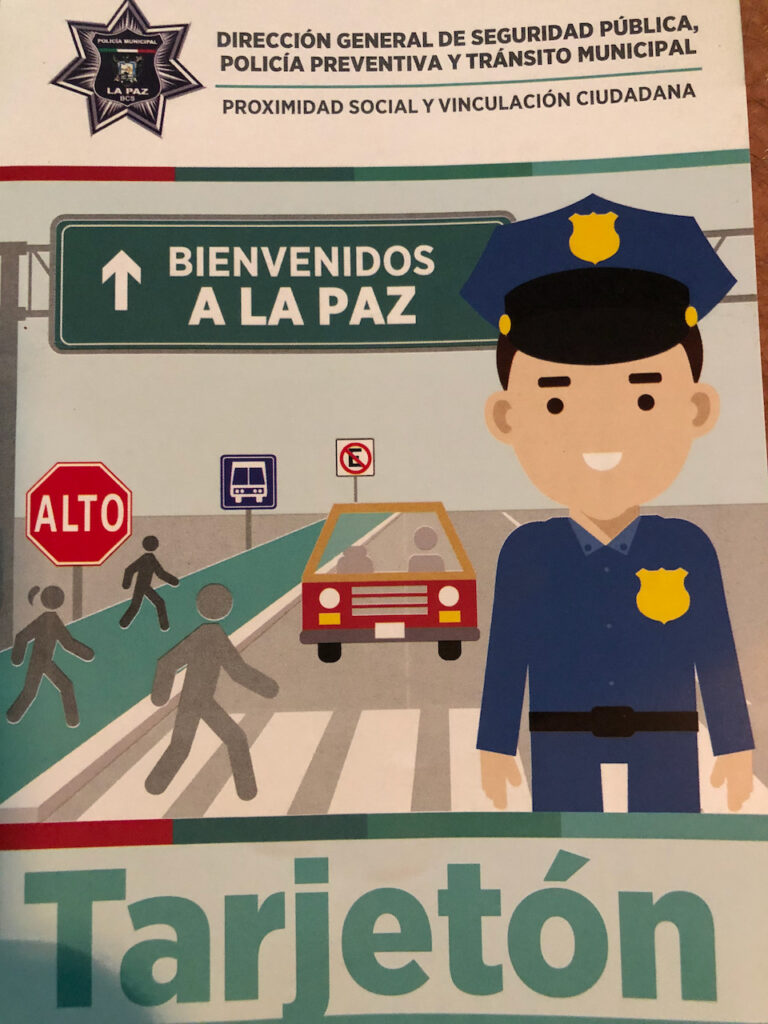 He informed me, via Arturo, that I had gone through a red light, I didn't think I had, but they are easy to miss, so it's possible. He took my driving license off me and explained there was a fine of 1660 pesos. Around $80 or £60. Arturo offered him 100 pesos, but had to up his offer to 200 quickly as the cop was not amused and kept saying it was 1660, even producing a sheet of fines I suspect his mate had printed for him. He also explained the fine could not be paid at the station as it was closed on Sundays and so I would have to visit the station on Monday to get my license back. I suggested to Arturo we offer him 1000 to be on our way, but stupidly, I took it as a chance to practice my bigger numbers in Spanish, as soon as I said mille peso, the cop's eyes lit up, and Arturo gave me evils. The cop took the 1000 pesos and we drove off with Arturo cursing me, convinced the cop would have accepted 200 pesos if we had tried harder and I hadn't been so stupid to say mille peso out loud. Anyway, I figured £35 to get off with a traffic violation, which would have got me points on my license back home was not the end of the world. Arturo disagreed for the next 15 minutes, until we were pulled over by another cop in a big 4×4 travelling the other way, he thought perhaps we were going too fast, but somehow, despite the fact we were in a group of ten cars all travelling at the same speed, it was me, Mr Gringo, that caught his eye. Arturo was quick off the ball to tell the cop we had just given a fortune to his mate down the road, and wasn't that enough for one day. Amazingly the cop looked a little embarrassed and wished us well and took off, probably after his mate on the motorbike. It was turning out to be an expensive trip.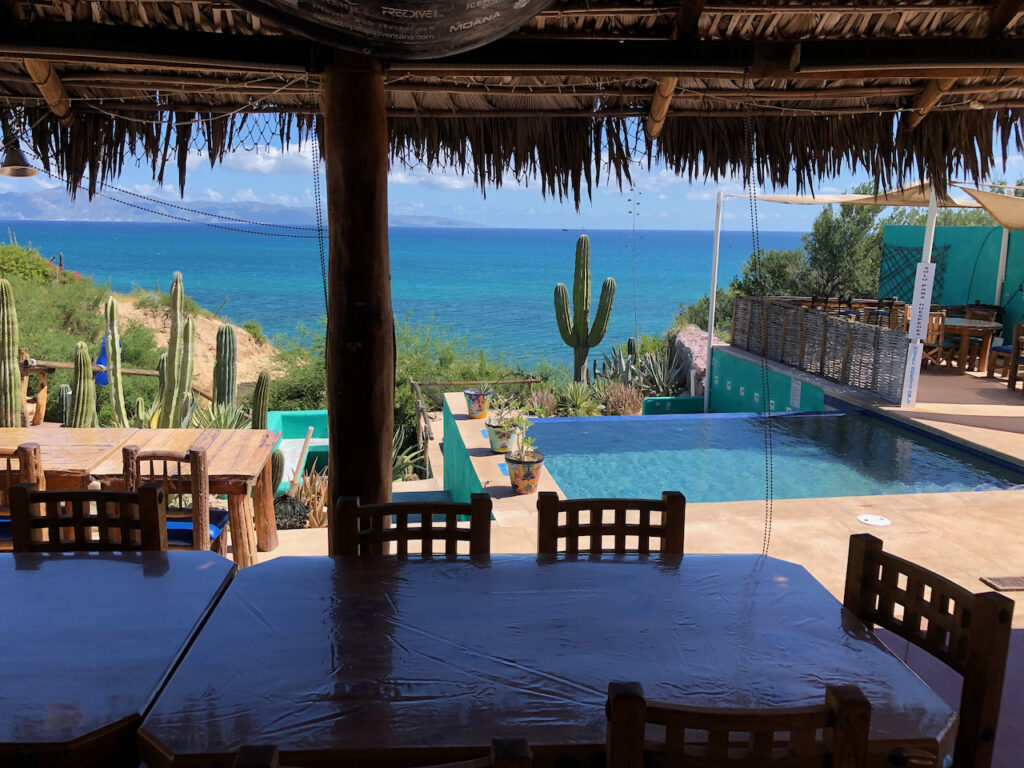 Arturo is doing his divemaster course at a dive centre/family resort in Ventana, the place has lots of cabinas (chalets) were people stay and can take boat trips to go fishing/snorkeling/diving or learn to kite surf. It's a fantastic spot and we had a huge breakfast before exploring.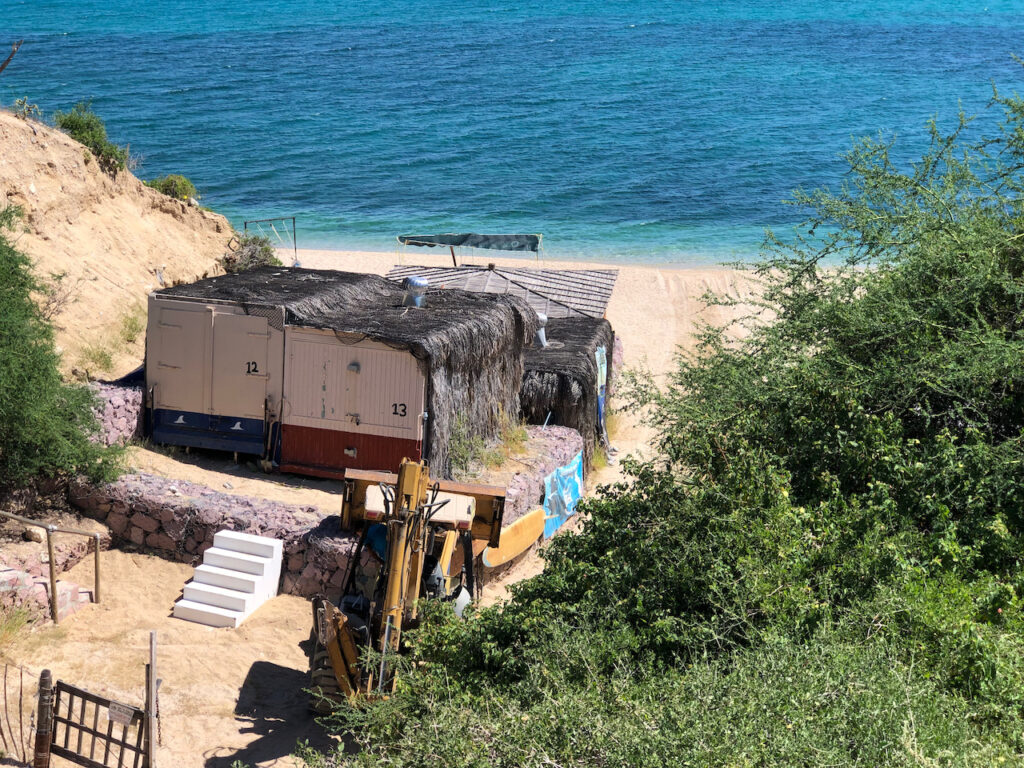 There were a group of buzzards flying around, they look like eagles to me. I caught a bit on video which might work.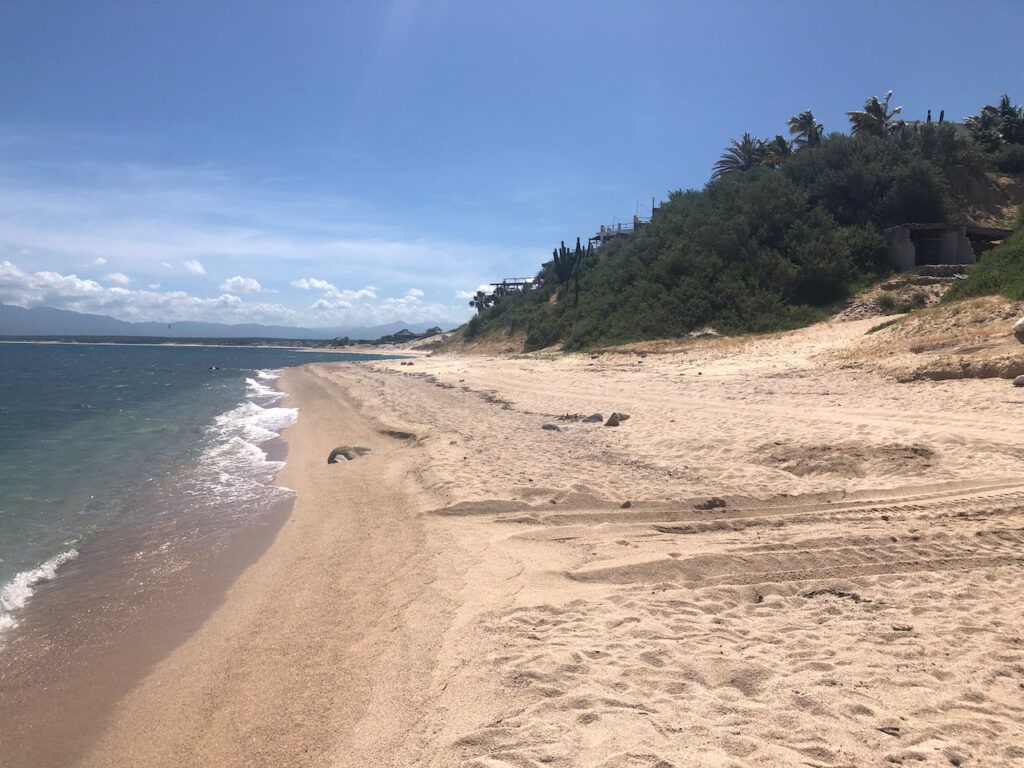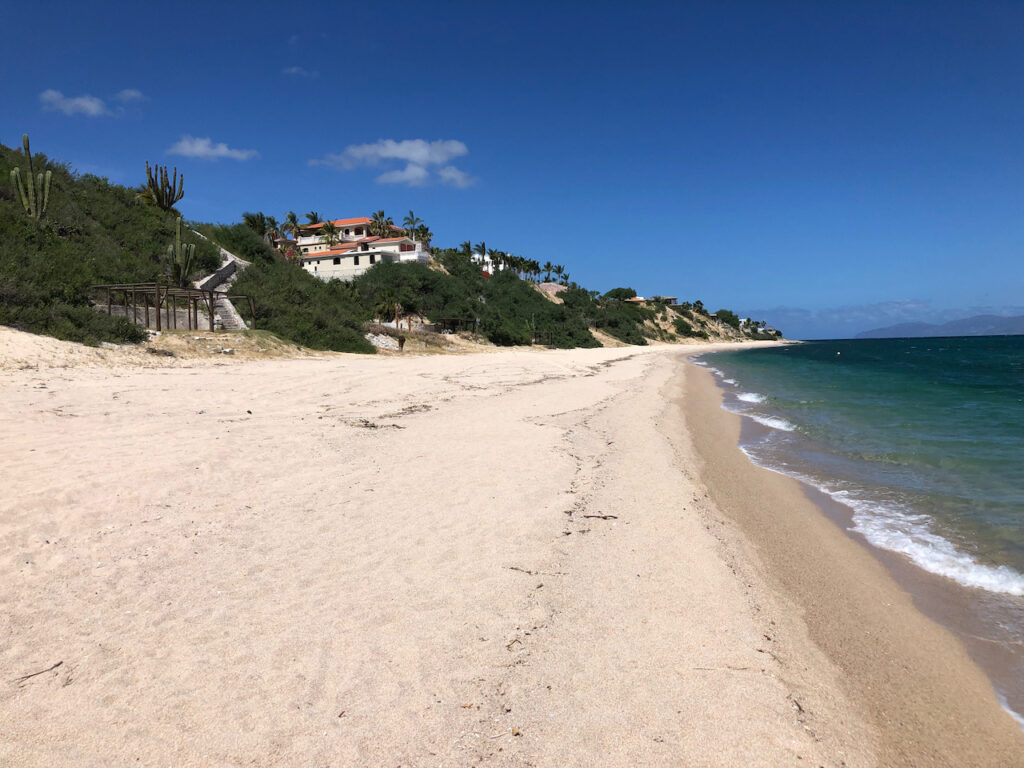 The countryside is looking pretty green thanks to the recent close passes of hurricanes which dumped a lot of water. Much more may arrive next week.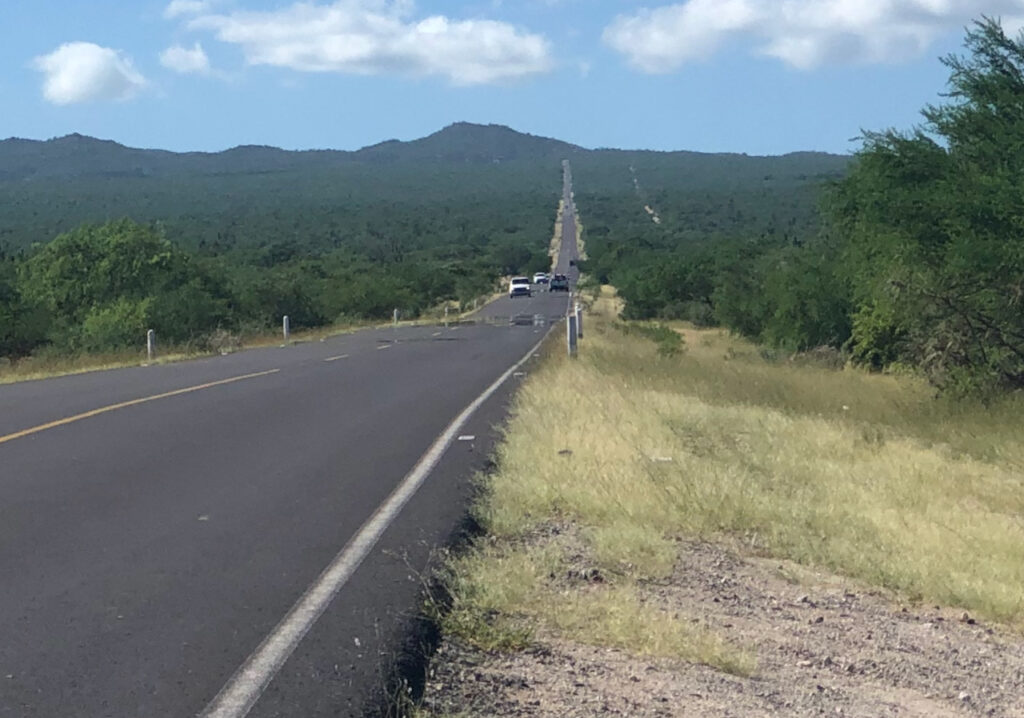 One of the problems with driving at night here is that cows and other largish animals can wander out onto the road, and without any lighting, they can be a big problem.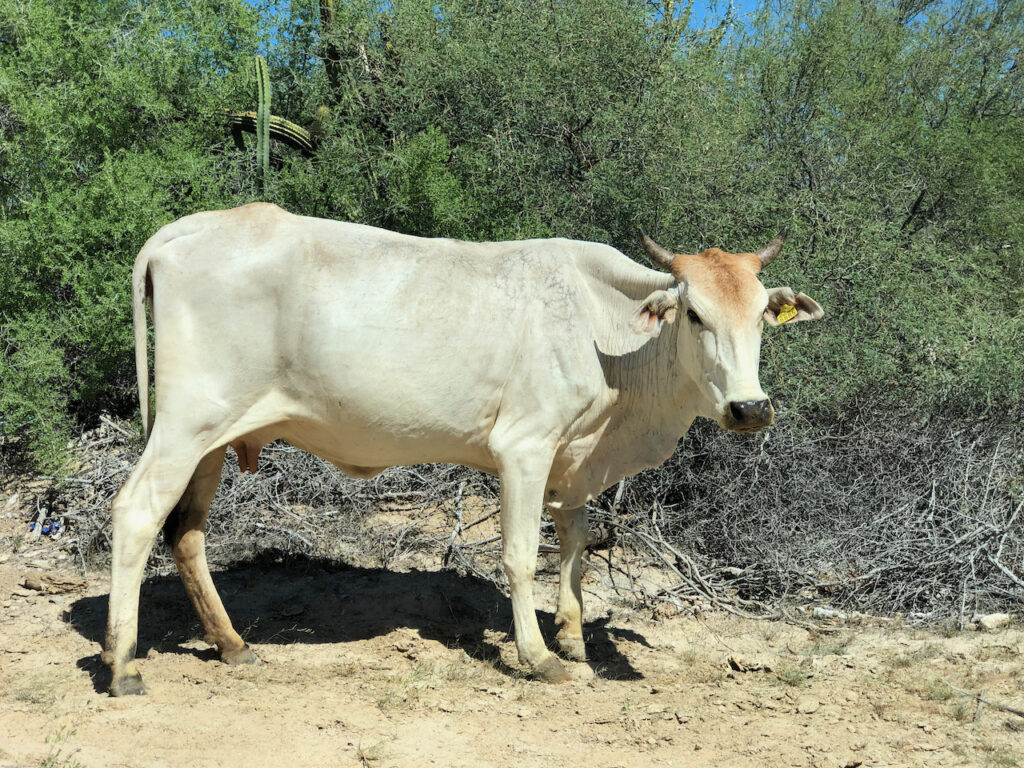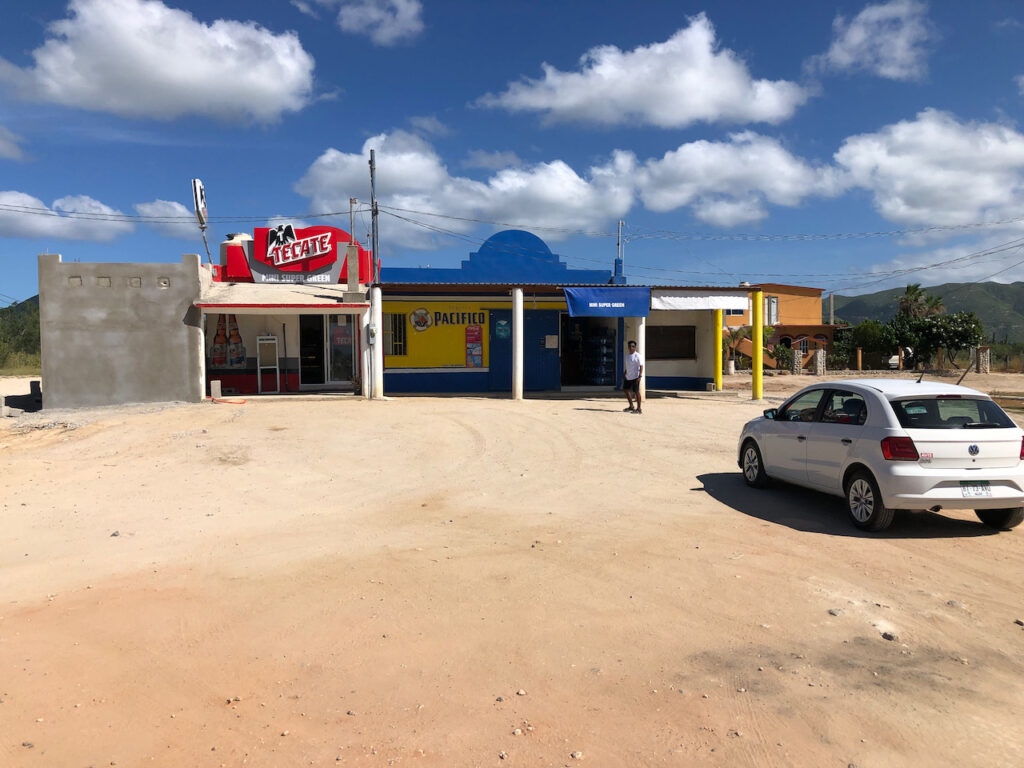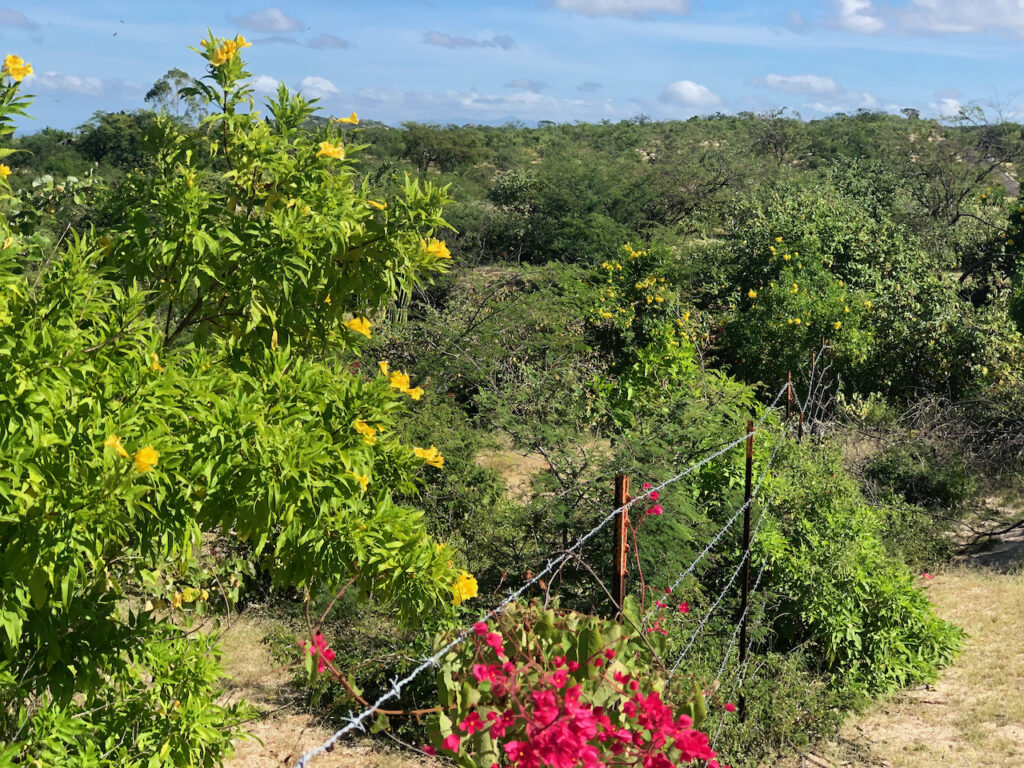 Once we were back in La Paz, we scooted up to Walmart and I picked up a stack of drinks which are always a pain to fit on the bike. Just need to stash them all away now.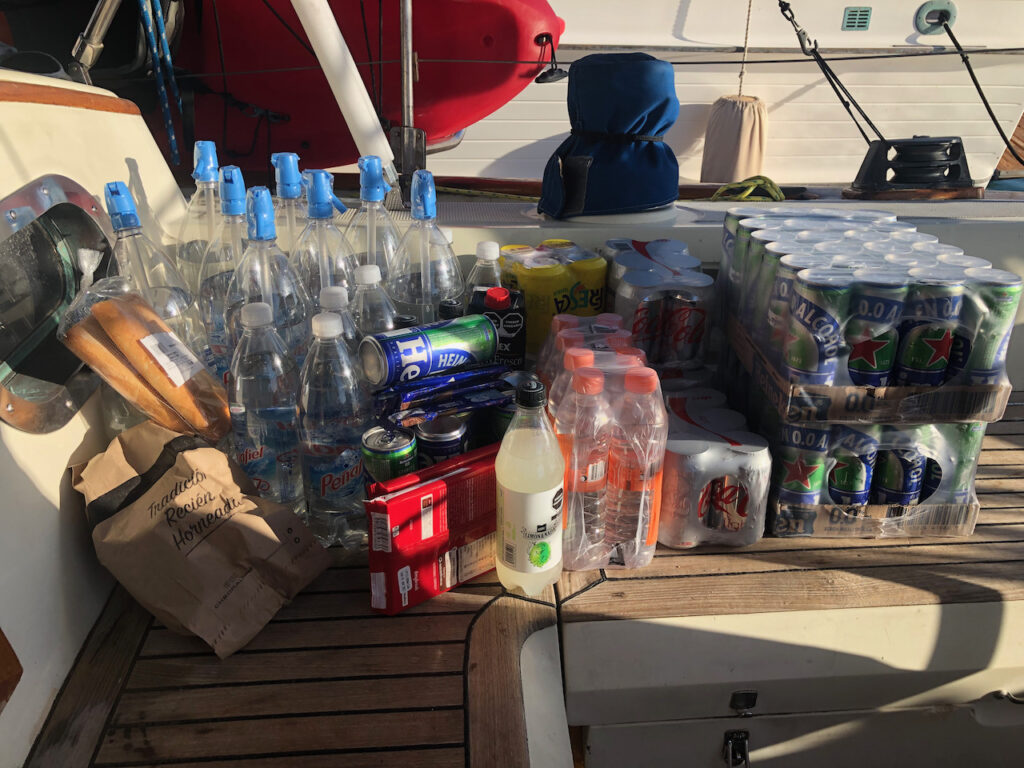 Back on the boat I sorted out Kathy's paperwork so she can get back into the UK from Italy and also checked to confirm my flight booking for Loreto to Phoenix hadn't gone through, despite American Airlines saying they took the payment. They didn't take the payment, but I bet they will the minute I rebook it and refuse to refund me. I'm looking forward to some fun on the helpline tomorrow. It seems by some convention, a Brit can only pay in pounds and a Mexican can only pay in Pesos. Good games.

Paul Collister.